HUSKER FOOTBALL
Steven M. Sipple: Frost's vision is modern version of Husker powerhouse teams of old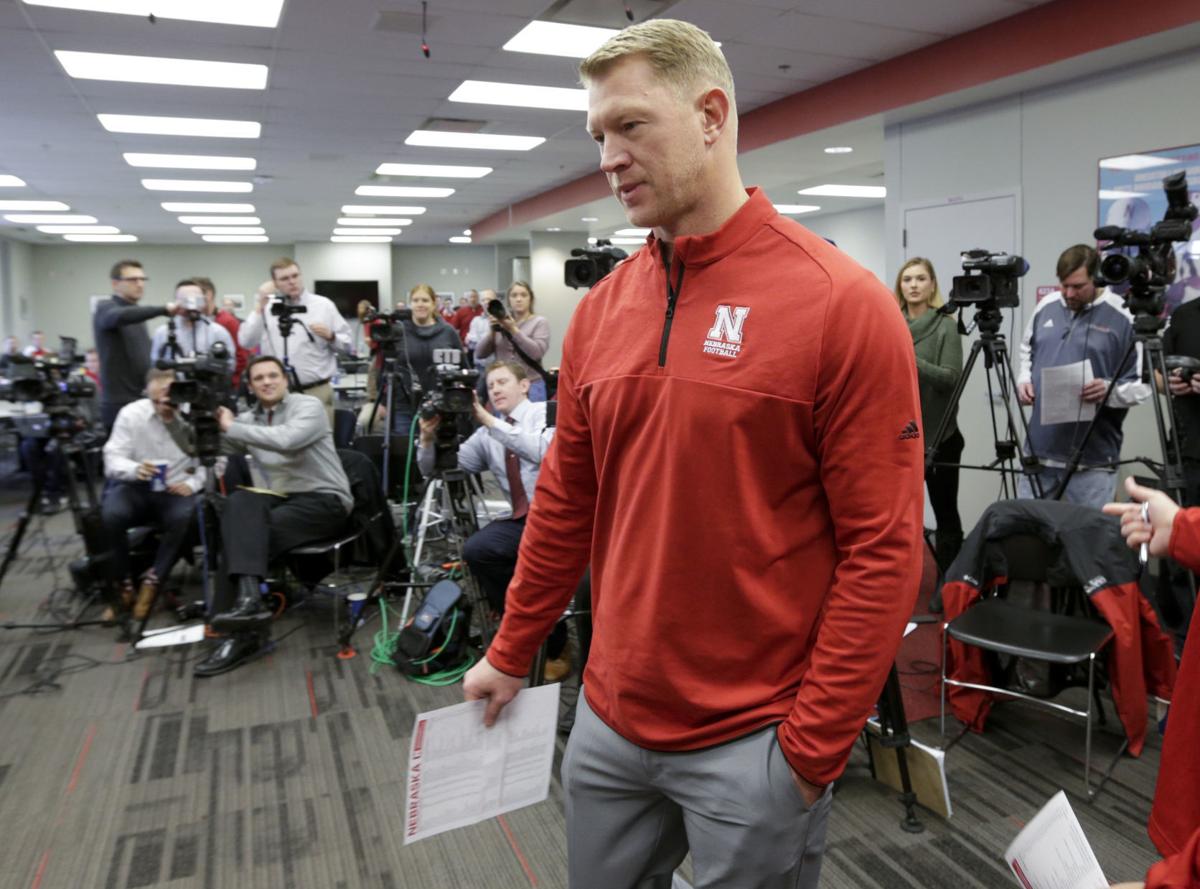 Scott Frost didn't want to talk about Ohio State. Not on this day.
We spoke Thursday in his office. I wanted to get a feel for the first-year Nebraska football coach's mindset in regard to goals, and what he feels he's chasing.
Of course, Ohio State is the gold standard in the Big Ten. I mean, the Buckeyes are a ridiculous 47-3 in league play under Urban Meyer.
"Our first goal here is getting better day by day," Frost said. "Our next goal is going to be compete for our half of the conference. Once we get to that point, the next step is try to give Nebraska its first conference title in a long time."
So, about those Buckeyes. …
"I'm not going to praise Ohio State publicly," Frost said flatly.
Nice. The new guy has some piss and vinegar. That'll be needed. Plenty will be needed for Nebraska to reign supreme in the Big Ten.
These days, beating Purdue is a chore.
These are fascinating times in Big Red land. A tug-of-war of sorts is particularly compelling. On one side is Nebraska fans' utter joy that accompanied Frost's hiring. On the other end is the sobering realization that Frost inherited a daunting challenge. After all, the Big Ten is a bear. In the West Division alone, Wisconsin was 13-1 last season and could be better in 2018.
Plus, perhaps you've heard about Nebraska's 2018 schedule. At Michigan. At Wisconsin. At Northwestern. At Iowa. And, yeah, at Ohio State.
Does Frost have concern about Husker fan expectations being out of whack early in his tenure?
"Concern? No," he said. "Understanding that it's probably going to exist? Absolutely."
"One of the reasons I wanted to come back here was I knew that we could build Nebraska into what it should be again," Frost said. "Even if that takes time, this job was appealing because I thought with my past here, and with a lot of our coaches' experiences here, and where the program was (in 2017), and the support we have — that this is one of the places that would give us time to fix it and fix it the right way."
I'm skeptical whenever someone suggests a fan base will be patient. But if there's a coach on this planet who might elicit patience, it would be the one who just earned six national coach of the year awards and happens to be a homegrown Husker.
As Frost has mentioned, his overarching approach to building a program is being better today than yesterday. In the context of where Mike Riley left the Nebraska program, that shouldn't be overly difficult.
"Day by day, we get better and better," Frost said.
Where have I heard that before?
"It is not going to get better overnight," Frost said. "We're not going to turn into the 1995 Cornhuskers overnight."
I appreciate it every time I hear someone say "Cornhuskers." It's old school. It evokes images of tear-away jerseys, Mike Knox's neck roll and Bob Devaney, then Tom Osborne with sideburns. It evokes images of when Nebraska was not always the best team on the field, but was typically the toughest.
Which brings us to Frost's long-range vision for the Nebraska program.
"I would say a modern version of what it was," he said. "I've said this publicly: If you had a business that ran for 30 years and was the envy of every other business and the best in its sector for 30 years — that's what Nebraska football was (in the 1990s) — then you'd be a fool not to look at what made it what it was and try to emulate a lot of those things.
"Now, there are a few of those things that might not be relevant today. But a lot of things are: developing players; getting local kids who care about the program and developing them and giving them a chance to play; being strong and physical; getting a lot of reps in practice so that your execution is better; getting the entire state behind it all."
Frost also knows the college game has evolved since his days in the program (1995-97). Science has changed. X's and O's have changed to a certain degree. Recruiting has changed in that there are fewer hidden-gem players. Everybody knows about players because Hudl is everywhere.
"Listen, I don't want to dwell on the past here," he said. "This team needs to be its own team. There are some things that used to happen when I was here and Coach Osborne was here that I think are going to help us. But it's not about 1995. It's about 2018. We're just going to try to teach the guys to embody some of those principles."
Some will learn and adapt more quickly than others. In that regard, Frost mentioned Ben Stille and Mick Stoltenberg — of Ashland and Gretna, respectively — as players who are holding teammates accountable in winter conditioning.
"We used to have that here in spades," Frost said. "If you stepped out of line, Grant (Wistrom) and Jason (Peter) were on you. Every team's better when players are fixing problems instead of the coaches having to fix everything."
Grant and Jason and Frosty. Nebraska fans feel the excitement. Hope is plentiful.
Ah, but don't forget Ohio State and Wisconsin, and that godforsaken 2018 schedule.
That'll keep you grounded — somewhat, at least.