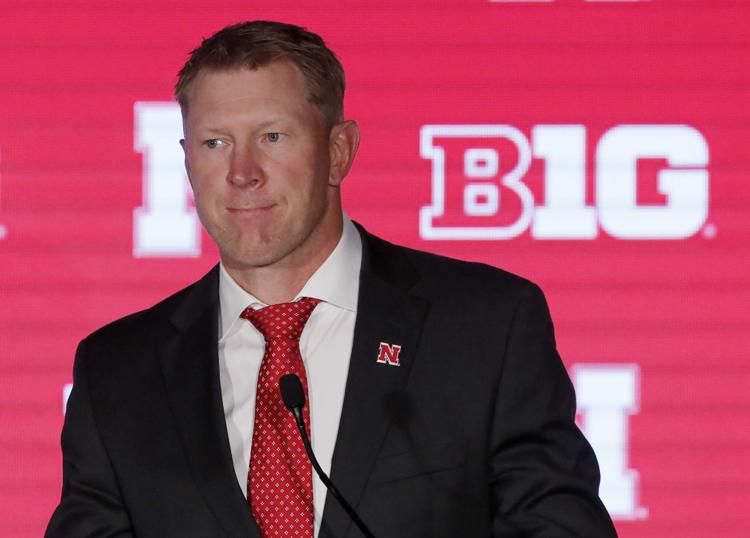 Nebraska athletic director Bill Moos was handed an opportunity to wriggle free from a comment that raised eyebrows among Husker fans this past week.
It was teed up for him to reconsider his words.
It's not Moos' style to waver. And he didn't waver at all.
By way of review, the question was this: How would he characterize a successful season for the Nebraska football team in the second year of Scott Frost's program?
"We really need to get to six (wins)," said Moos, who hired Frost. "We need to get in the postseason and get all those extra practices and get that recognition in college football."
Moos made the comment to a group of reporters Thursday in a hallway at Hilton Chicago shortly after arriving for Big Ten Media Days. When I told him that I felt six wins seemed a little light in terms of declaring success for the regular season — after all, NU twice has fired nine-win coaches — he essentially reiterated his original answer.
All things considered, Moos' answer makes sense. If he had said Nebraska needs to win eight games — following last year's 4-8 finish (3-6 Big Ten) — it would have put at least a modicum of pressure on both him and Frost. It would've been an unnecessary headache.
Not that Frost needs anybody to ease pressure on him. In fact, his reaction to his boss' six-win comment — Frost right away chuckled — tells you plenty about the 44-year-old former Husker quarterback and his mindset entering the 2019 season. His reaction indicates that he's unwavering in his confidence that he and his staff are in the midst of establishing a championship-level program that's built for the long haul.
His reaction also indicates he's plenty confident in his 2019 crew, albeit with an overarching understanding the program has a ways to go to achieve elite status.
"I'm not sure any of us would be happy with six," Frost said.
I'm guessing most of the fan base applauded that statement.
"But I'm not worried about the number right now," he said. "I'm worried about getting better. And we are better."
You have free articles remaining.
How much better? Therein lies the intrigue. Frost's reaction to Moos in a roundabout way suggests eight wins or more is indeed feasible. I've felt throughout the offseason that 8-4 is a reasonable prediction for this Nebraska team, although I've been trending toward 9-3 of late. Quick, somebody smack me upside the head.
Let's face it, if Nebraska stays healthy (especially at quarterback) and gets some breaks, it's capable of having a big season, as in winning the Big Ten West Division and being a genuine threat to win the the conference crown. That was the vibe among many media in Chicago.
But with bad luck and/or injuries in the wrong position groups — offensive tackle, inside linebacker and running back come to mind — NU could indeed slide to 6-6.
A ton of teams occupy that sort of realm nationally. In fact, the top teams in the Big Ten West occupy that realm, which helps explain why it's a wide-open race in the division.
So, what might give Nebraska an edge in a tight race? I think that conversation begins with Frost. He has a clear vision for the program and expresses it fabulously. In Chicago, with hundreds of reporters on hand, he was upbeat and engaging. He actually seemed to enjoy the discourse.
Moos notices Frost's swagger and calm manner. The coach has an edge about him that's hard to describe. Whatever, Moos likes it. He told me that the team is starting to take on Frost's characteristics. That's what happens in sports — not always, but often. Nick Saban can be surly and tough; Alabama is surly and tough. Mike Riley is an "aw-shucks" sort. You get the idea.
Frost inherited a lot of issues from the Riley years, but he no longer talks about it much. Good leaders push forward. I believe Frost may be an elite-level leader. We saw it last September at Michigan right after the Wolverines pummeled Nebraska 56-10. Frost's postgame message was brilliant. Memorable. Worth revisiting.
"We're not ready to beat a team like this yet — but the key word for me is 'yet,'" he told reporters. "I know where it's going. It's certainly not happening as quickly as I'd like, but I'm kind of excited. It's not going to get worse than this. It's only up from here."
Turns out, Frost was right. Michigan was rock bottom. By early November, Nebraska had eighth-ranked Ohio State on its heels in the Horseshoe before falling 36-31.
Frost said last week that he's proud of how his entire coaching staff persevered through last season's struggles.
"I think if the players would have seen us panic, if the players would have seen us change our minds about how we expected things to be done or the approach we're going to take, I think things would've gotten worse instead of better," he said. "But we were consistent. We didn't break under pressure. Eventually, it started to look like what we want it to look like."
It's easy to trust Frost's vision for the program. It's also easy to believe him when he says Nebraska will be better this season.
Granted, six wins would represent improvement. Moos' take is OK in that regard. But just six wins? Really?
Frost's immediate chuckle told you plenty.