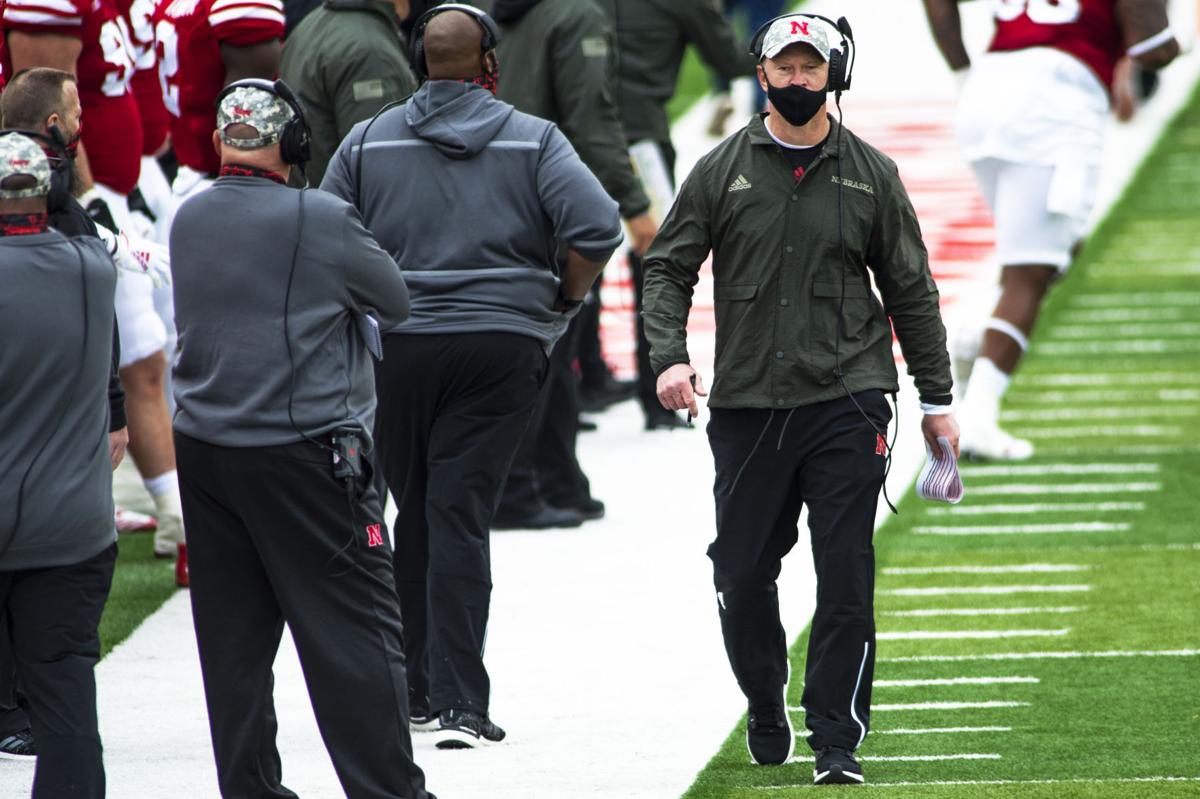 Austin Allen has noticed something interesting about Nebraska's offense this season.
It has expanded in scope. 
"It's making me be a little bit more patient throughout the week," the junior tight end said. "I know Monday and Tuesday and Wednesday, I'm getting a little frustrated, thinking I don't really know what we're trying to accomplish here. As we get into Thursday and Friday, watching more film and slowing practice down, that's when I start to understand. I know what we're trying to accomplish versus this defense.
"That's something different than I've seen in the past years. We were just running the play based on rules, whereas (now) we can understand what we're trying to accomplish against this certain defense and how they play." 
Allen's comments are interesting in the context of what third-year Nebraska coach Scott Frost has said recently about the challenge of getting his young receivers involved in all of the offense. 
"It's easier for a guy like me to understand what we're trying to accomplish because I have a background of all the rules that we've had in place for three years," Allen said. "I know for sure it'd be hard for a young guy right now to understand what we're trying to accomplish when you don't have a big foundation of the rules and how it applies to the plays we're dialing up for these teams."
By the way, Nebraska (1-2) is starting a redshirt freshman at quarterback, and a true freshman is seeing time at running back. 
So, perhaps Frost should simplify the offense, some people suggest.
Yeah, maybe a little. But there exists at least a couple of easy-to-understand issues with such a suggestion. 
For one thing, Nebraska competes in the best coaching conference in the country. What's more, that conference has several excellent defenses. 
Last we checked, it's not 1995 at Nebraska. The Huskers can't simply line up and overpower people.
Simplify the offense? If an offense goes too far in that direction, the Big Ten will devour it. 
Even an 0-4 team can devour it, or at least hold it to 95 second-half yards, as Penn State did to Nebraska last weekend.
"I thought their front seven was better than Ohio State's, athletically," said Nebraska tight ends coach Sean Beckton, referring to the winless Nittany Lions. 
The fact Penn State is winless sheds light on what has to be the worst job of coaching in the nation. Talk about underachieving. No way that roster should be winless. James Franklin is a proven head coach, for sure. However, he and his staff are having an awful 2020 season. But I digress. 
"I thought they moved extremely well at the defensive end spots," Beckton said. "I thought they gave us a lot of different looks as far as speed and being able to play a little bit more finesse. So we had to be really, really solid in what we were doing as far as executing up front." 
For what it's worth, Penn State ranks 37th nationally in total defense. Ohio State, which thumped Nebraska 52-17 in the opener for both teams, ranks 34th in total defense, but c'mon, it's Ohio State. The Buckeyes are loaded with talent. 
"It gives us a little bit of confidence," Beckton said of the rugged early schedule. "Obviously, we still haven't put together an entire game offensively. We're building toward working the kinks out, with some of the things we're trying to do differently to get those guys to finish games." 
As for this Saturday's opponent, Illinois (1-3), "I know the stats don't say it, but they're very talented, also," Beckton said of an Illini defense that ranks 104th. "We're just trying to progress every week. We wanted to finish that (Penn State) game off a lot better than we did. Our goal this week is to do better — to come out of the tunnel like we did this past week, then sustain drives in the second half." 
Of course, there's a bottom line to this discussion other than Nebraska's win-loss record. That is, the Huskers rank only 110th nationally in scoring offense, averaging 20.0 points a game. They're 84th in total offense. That's unacceptable, even considering the strength of the defenses that Nebraska's faced.
So, yes, Frost faces significant challenges in finding answers for this offense. He has more than once referred to the challenge of getting the right personnel on the field at the right times. Translation: Some of the young skill players simply don't know what they're doing in certain situations. 
On the other hand, it can't be hard for a young receiver to run a go-route. How about one such pass per quarter? Frost has to find ways to keep teams from bunching defenders near the line of scrimmage. 
As players grow in the system, Frost's play-calling job should get much easier. However, in his third year, one would think it would be easier already. 
Allen recalls his first spring at Nebraska, as Frost installed the offense. Allen felt like he was treading water. But he gained a better understanding during the summer, and it really began to click in his mind during preseason camp in August. 
"I know exactly how confusing this offense can get sometimes when we're trying to learn our rules and what we need to get accomplished," he said. "I understand that these young guys have been here for two or three months — four months — and are trying to get playing time out there. Trying to learn this offense. 
"It's allowed me to understand their side of it and bring a little patience to it. I just have to talk them through things sometimes on the field, even if we have to go a little bit slower." 
Be patient. Slow down. Yes, I guess Frost has to have a degree of patience with younger players. That's his reality. But being patient can't be easy for any of the Nebraska coaches, especially considering they're trying to win in the toughest coaching conference in the land.