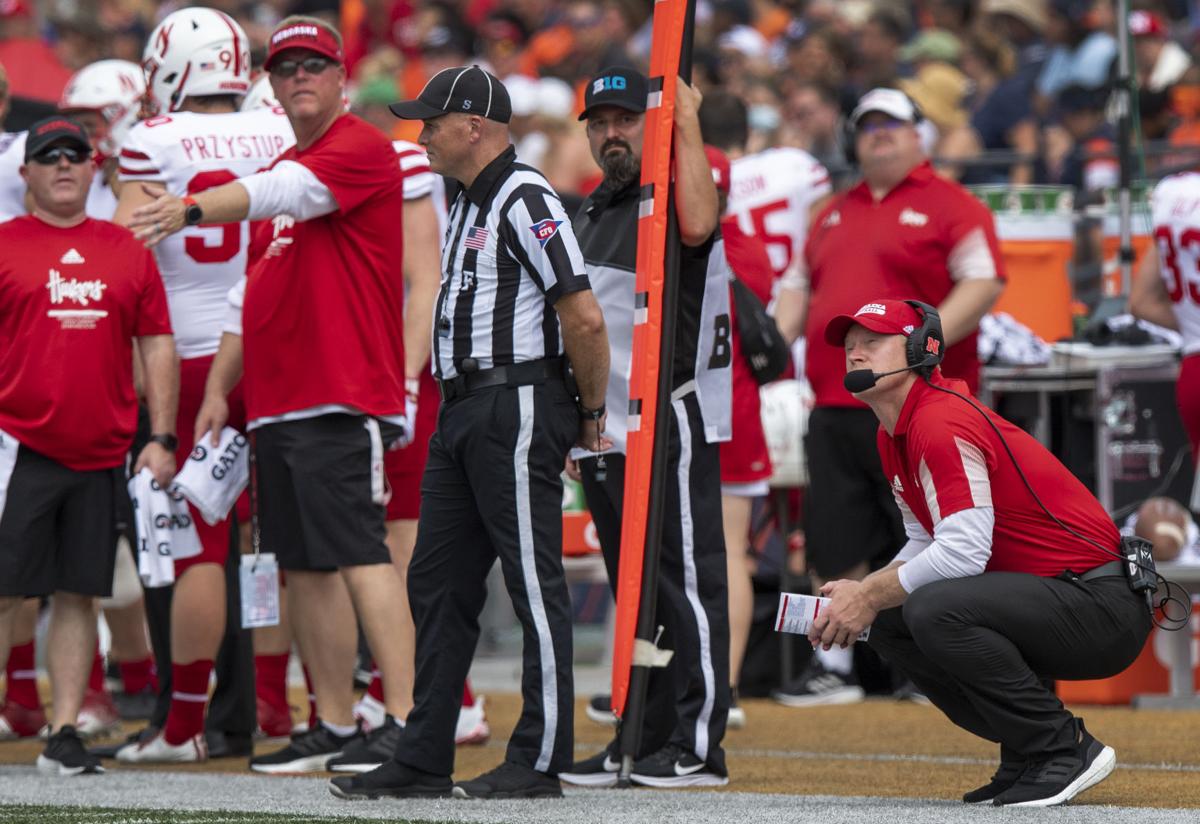 From Memorial Stadium, Parker Gabriel and Steven M. Sipple discuss the Nebraska football team's 28-23 loss to Purdue on Saturday.
You perhaps know the drill by now. 
Nebraska football coach Scott Frost and several of his players take questions from media on Mondays, and we come up with a few takeaways.
1. Heart of matter: An excellent question led to Frost giving a response that will be discussed thoroughly by Nebraska fans in the coming days.  
The question: You're in Year 4 at NU. How much time will it take to get the program to where you want it to be? 
Frost responded immediately with a familiar refrain: "We're close," he said.  
It got much more interesting when the coach elaborated. 
"I don't want to overstep here," Frost said. "But I'm really excited about the rest of this year, (and) I'm really excited about next year. I hope we get it. I think we should."  
That's the ongoing debate. Should Frost get another season? Based on what I've heard from Nebraska fans since Saturday's loss to Purdue, Frost retains a significant amount of support. My read is there are still a lot of people who badly want Frost to succeed and have trouble letting go of the idea that it can happen.
Of course, there's also plenty of people who think it's definitely time for NU to make a change. 
Yeah, it's another one of those seasons in Lincoln. 
I keep saying it: Both sides of the aisle can make valid arguments.
One part of the discussion is particularly interesting. Following Nebraska's 32-29 loss to then-No. 9 Michigan on Oct. 9 — just three weeks ago — there was a strong feeling among many Husker fans and media that Frost's crew was indeed close to turning the corner. After all, NU pushed the Wolverines to the absolute limit, just as it had done against No. 3 Oklahoma and No. 20 Michigan State.
But the conversation shifted hard and fast toward the naysayers' direction in the wake of losses to Minnesota (30-23) and Purdue (28-23). 
Then came Monday, when Frost said he's excited about next year. Stopped you in your tracks, right? 
I just know that Nebraska's program seems to be in a heck of a fix, with no easy fix. 
2. Vision of redemption: Frost noted that entering Saturday's game, Nebraska quarterback Adrian Martinez had thrown only three interceptions on the season. 
He threw four Saturday, with another throw that was dropped by a Purdue defender.  
Frost, as you probably would predict, remains squarely in Martinez's corner.  
"I look up at the (video) screen before the game and see him (ranked) second in the league in offense," the coach said. "He's doing so many good things, I really want him to have the experience where he comes through and wins us a big game, and kind of gets redemption at the end of the ups and downs he's been through. 
"Waiting for that to happen for the whole team, and Adrian, too."  
Three games remain on Nebraska's regular-season schedule, starting with sixth-ranked Ohio State. Kickoff is set for 11 a.m. at Memorial Stadium.
Of course, Martinez is technically a junior and could return next season. Was Frost hinting that the QB's time in Lincoln is nearing an end?
We can table that one for now. 
3. Cam's confidence:  You can debate Cam Taylor-Britt's answer to the question. But it's impossible to knock his confidence.
How close has Nebraska's defense come this season to maximizing its potential?
"Very close," he said, adding, "It's a little hump. A little speed bump, maybe. A pebble, maybe." 
Ohio State averages 47.2 points per game, which leads the nation. The Buckeyes' offense is definitely fast, Taylor-Britt said.  
"We match up great, though," he said. "Their offense is great, and I feel like we have one of the best defenses in the Big Ten. So, those (47.2) points put up against different teams, that shouldn't happen (to Nebraska)." 
He's a cornerback. He has to be confident.   
4. One more from Cam: Taylor-Britt mentioned an important task for Nebraska's defense. 
That is, rattle freshman quarterback C.J. Stroud's cage. 
"We've got to get back to the quarterback," Taylor-Britt said. "He's young. We've got to get to him. We've got to get him rattled. A lot of people haven't been able to get to him, so we've got to get to him and make him make some bad decisions. 
"Like I said, he's a young guy. He's mature and all. But we're going to try to get to him early and get some picks on the back end." 
5. Best answer of the day: If every player on Nebraska's roster had Luke Reimer's mindset (and ability), the Husker program wouldn't be in a fix at all.  
Someone noted that Reimer made 19 tackles against Purdue, tied for the most by a Power Five defender this year.  
"I was just playing the calls," he said. "It wasn't anything special I was doing out there. I was trying to do my responsibility on each different play-call we had. It just so happened that I had 19 tackles, I guess. Nothing special."  
He added, "I just want to have our score be higher than the other team's score at the end of the game. It doesn't matter how many tackles or what my stats are. That doesn't affect me at all."