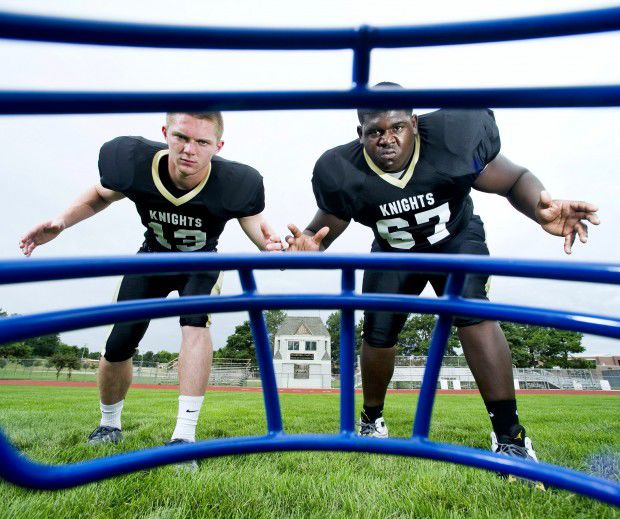 Fear of public speaking is a common condition, but something Jerald Foster knows little about.
He may just be a budding Winston Churchill.
"Every opportunity I've gotten, I've always been someone who wanted to talk," the Nebraska senior offensive guard said. "Now that I'm older, when I get a chance to go out in the community, I love being out there and just talking and allowing myself to be around more people and being able to understand them. I feel like it's something I was raised to do."
As years have passed, Foster came to understand himself better, which helped him understand people better.
"I feel like that's really what got me to where I am today," he said this week.
Foster has much more to him than just an engaging personality, Lincoln Southeast football coach Ryan Gottula said. Foster's strong work ethic dates to his early days in Gottula's program, where Foster became a standout lineman as a sophomore for a Class A state championship team.
"He was a kid — and you don't have very many of these — who was ready to play varsity football and junior varsity football as a freshman," Gottula said. "Especially on the offensive line, guys usually need a little more time to mature. But he was pretty dominant there."
Meanwhile, Luke Gifford also started as a sophomore for Gottula, at safety, for the Class A state title outfit. Both Gifford and Foster went on to become captains as seniors at Southeast. Then, last week, they were among four Nebraska players voted by Husker teammates as captains for the 2018 season, the first pair of in-state high school teammates to serve as NU captains together in a season.
Jerry Tagge and Jim Anderson in 1971 were the last high school teammates to serve together in that role. They played at Green Bay (Wisconsin) West High School.
First-year Nebraska coach Scott Frost last week announced this year's captains — Foster and Gifford are joined by Stanley Morgan and Mick Stoltenberg — during a team meeting.
"Man, I can't even explain it to you," Gifford said of his reaction. "Literally a dream come true. I've been thinking about it ever since I was little. To know that's what the guys think of me and I'm able to represent them is awesome."
A 6-foot-4, 245-pound outside linebacker, Gifford won a starting job on this year's defense even though he missed the last five games of 2017 and all of spring practice because of a hip injury. He told me this summer the injury was in some ways a blessing, because watching from the sideline gave him a different perspective — in some ways, a better perspective.
"Everybody talks about accountability and how it had been a problem in the program the last few years," he said. "When you're a player, people tell you it's a problem, but you don't necessarily see it. You don't see it like a coach would. But being able to see it from the outside, it was very, very evident."
People often ask what went wrong as Nebraska slid to 4-8 last season under Mike Riley, who was ousted as coach one day after the final game. Obviously, a lot went wrong during Riley's three-year tenure, but a lack of accountability among players would rank near the top of any list.
Once Gifford was able to leave the vortex of the storm, during rehab of his injury, that deficiency became clearer to him.
In Saturday's 2:30 p.m. game against Colorado (1-0) at Memorial Stadium, Gifford will help lead what he hopes becomes a significant turnaround for a unit that last season ranked 100th nationally in average yards allowed (436.2) and 115th in points allowed (36.4). Make no mistake, the Buffaloes will offer a formidable early-season test for new Husker defensive coordinator Erik Chinander's crew.
Gifford is a critical piece of the puzzle. He was arguably Nebraska's best defender coming out of fall camp.
"Like Jerald, he's a guy who's going to demand a strong work ethic from his teammates, and not in a confrontational way," Gottula said. "He just has high expectations for people. I'm really proud of him that he's been able to deal with some injuries and adversity in the last couple years and battle through that and still be productive on the field."
As for Foster — just the 11th two-time team captain in Nebraska history — he's part of an offensive line that's struggled the past two seasons but seemingly gained confidence during the offseason in Zach Duval's strength-and-conditioning program. With 16 career starts, the 6-3, 335-pounder trails only Morgan (20) and offensive guard Tanner Farmer in that category (19).
Foster perhaps trails nobody on the team in terms of willingness to mingle with reporters, or anybody else for that matter.
"I've always been someone who gets asked to talk because I feel like people just feel comfortable when I'm out there saying what I need to say," Foster said.
He evidently hit the right notes as a leader early this week, as Nebraska practiced exceptionally well following last Saturday's weather-induced cancellation of the original season opener.
"I needed to be mad Sunday and ready Monday," Foster said.
Well said. He's got that part down pat.
Be the first to know
Get local news delivered to your inbox!