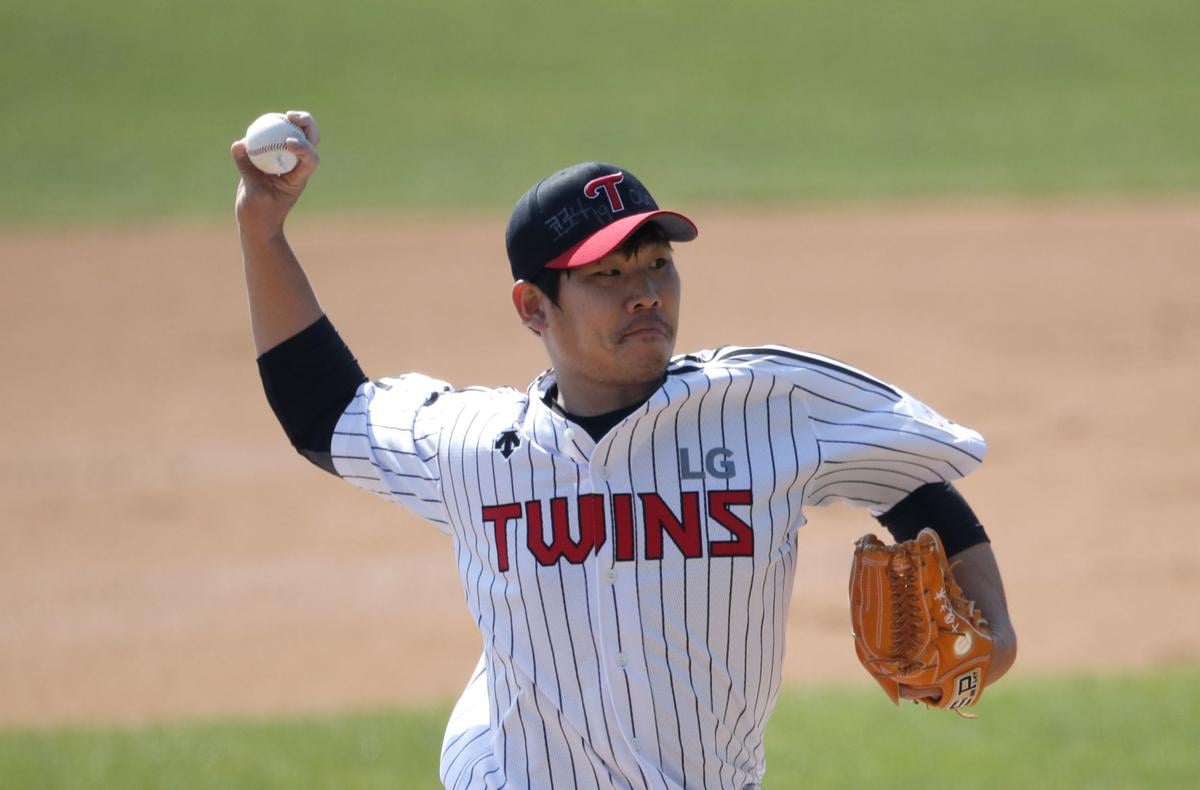 For veteran ESPN baseball analyst Kyle Peterson, this part of the calendar is ordinarily when he begins what he describes as "a month of craziness." 
If not for the coronavirus pandemic, the 44-year-old Elkhorn native would be in the midst of serving as a lead voice in ESPN's college baseball coverage. This week, he would've been at the SEC Tournament in Hoover, Alabama. After that, he would've been a key part of the NCAA Tournament selection show from ESPN headquarters in Bristol, Connecticut. Then it would've been on to NCAA regionals and super regionals followed by, of course, the College World Series in Omaha.
Now, however, Peterson is pleased to tell you that he's heavily involved in a different sort of craziness, a wonderful sort of craziness, as an analyst for ESPN's coverage of the Korea Baseball Organization.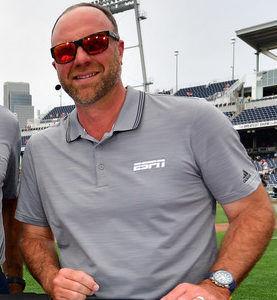 In an interview Tuesday, Peterson thought back to a recent conversation with an ESPN producer.
"About three weeks ago, he called and said, 'Hey, I want to give you a heads up that we are finalizing a deal with the Korean Baseball Organization. We're going to do six games a week, and I need you to do one to two a week. We'll set up a studio in your house. And the games start anywhere between 3 and 4:30 local time,'" Peterson recalled. 
By the way, that's 3 a.m. and 4:30 a.m., Central time. 
Peterson's next game will be at 4:30 a.m. Friday on ESPN2, for a game pitting the KT Wiz against the LG Twins.
"I told (the producer) a few days after our initial conversation that I was honestly waiting for him to say, 'Ha ha, I'm just kidding,'" Peterson said. "I mean, every statement he made, I'd never heard before, let alone five of them put together. A week and a half later, we're doing Korean baseball games and I have a studio set up in my basement." 
His dog, Buddy, has even found his way into the business. More on that in a second. 
"I'm thankful, quite honestly, that I've still got a job and that we've got things to cover, and that there are still sports going on in the world," said Peterson, who also co-owns a commercial real-estate firm, Colliers International, in Omaha. "This is an experience I never thought would happen, but at the same time I'm thrilled to be doing it, honestly." 
It's that sort of can-do spirit and enthusiasm that no doubt helped lead to ESPN in February reaching an agreement with Peterson on a multi-year contract extension. He's in his 18th year with the network and, yes, it's been an interesting one. He has two KBO broadcasts under his belt, including a 3 a.m. Saturday game for which he set his alarm for 1:20. 
It helps that he simply heads down to his basement. No morning traffic jams, for one thing. He watches the game on a laptop and does his thing. He's joined by Karl Ravech (stationed in Connecticut) and Jon "Boog" Sciambi (New York). A producer presses buttons in Bristol, and the game's played in Korea. 
"It's pretty standard, really," Peterson said. 
Well, sort of. Peterson has three children -- a freshman in high school, a seventh-grader and a fifth-grader. They know not to hit up dad for cash while he's working in the basement. But Buddy, well, that's another story. 
"He came rolling in (for a broadcast) twice," Peterson said with a chuckle. "I was 'live' at the time. I knew what would happen if I closed the door at that point. He would sit outside and bark. He jumped up and was on my lap. Whatever. You're just hoping that he doesn't bark. If he does, you say, 'Sorry, but my dog came in.'"
SEC presidents and chancellors are scheduled to vote Friday on whether to allow their schools to open athletic facilities to student-athletes for voluntary workouts in June.
Fortunately, the cameras weren't quite working at that point. 
"The next time, I just left him in the bedroom," Peterson said. "But, shoot, it's 1:30 in the morning. He kind of looked at me like, 'You're an idiot' and rolled over."
At this point, you might be wondering why we haven't gotten to the key question: How does Peterson feel about bat flips? After all, if you heard anything about the KBO before this season, it was probably about the league's epic bat flips. They're part of the KBO like spiked footballs in the end zone are part of the NFL.
"The pitchers there don't see it the way pitchers here (in America) see it," said Peterson, who pitched at Stanford and was a first-round MLB draft choice in 1997. "There have been Korean hitters who've come over here and immediately are told, 'Hey, it's viewed differently here.' 
"The reality is, it's probably a little too old-school the way some people here see it. It's just an expression in Korean baseball. It's OK."
So, if a sports fan wanted to climb aboard the KBO train, what would be Peterson's first piece of advice? View it as its own entity, he said, as opposed to comparing it to MLB. One major difference is the way Korean fans -- by the way, games are being played in empty stadiums this season -- regard a swing-and-miss. They're frowned upon more than they are in the United States. 
The top-end pitching is very good, Peterson said, but depth is an issue. 
You don't see as many fireball throwers in Korea, Peterson said. According to ESPN, the average fastball travels 88.6 mph. 
"The Korean game itself, I genuinely enjoy watching it," he said. "There's a joy with which the game is played there that you don't always see." 
Makes me want to get up early and check it out. My dog, Bullet, just might join me.
Be the first to know
Get local news delivered to your inbox!