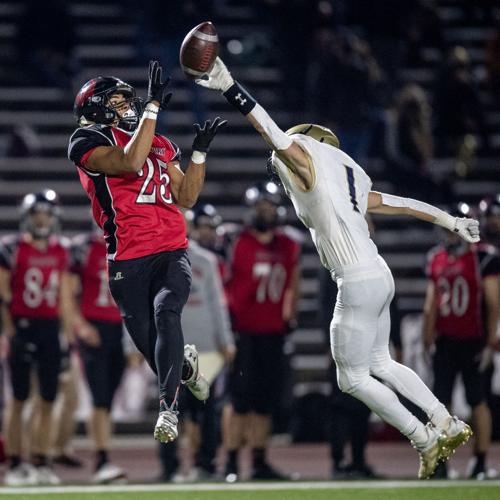 The first National Signing Day of the year in college football went smoothly for Nebraska. 
If there was drama, I didn't notice it. 
The Huskers seemingly have a decent haul of signees. As of late Wednesday afternoon, the class was ranked 19th nationally by Rivals.com and 23rd by 247Sports.com.
1. As a program, Nebraska is essentially required to blow up National Signing Day to a certain extent, with slick videos on social media and all that wonderful stuff. The world sort of demands it at this point, unfortunately. 
However, Husker coach Scott Frost was generally low-key as he discussed NU's class of 2021 for a little more than 20 minutes on Zoom. Oh, he clearly feels good about the group, especially tight end Thomas Fidone. But NU pretty much kept the coach's session short and sweet. That was refreshing. 
By contrast, Minnesota coach P.J. Fleck spent 1 hour, 9 minutes discussing his signing class. 
This isn't necessarily meant to poke fun at Fleck. He's had Nebraska's number on the playing field the past two years, obviously. 
I just much prefer a signing day that doesn't involve a lot of hype and "look-at-me" videos by high school kids. 
One other thing: Get off my lawn. 
2. So, please allow me to gush a little about Koby Bretz of Omaha Westside. 
(Hey, I feel obligated to have a sleeper pick in Nebraska's class. It's part of what media does, right?)
Bretz is my sleeper pick. The 6-foot-2, 195-pound safety comes downhill fast and hammers ball carriers. He had 54 tackles this past season for Omaha Westside's state championship team. 
In a Huskers.com video, current Nebraska corner Dicaprio Bootle points out Bretz's physical nature in run support. The kid attacks people.
"I expect him to be one of those guys who comes in and is really physical on his first day," Bootle said. "He just has a knack for the ball. Finds it and sniffs it out."
It's also intriguing that Bretz is an accomplished diver. 
You just know he's a great athlete.
3. So, Nebraska's class of 2021 — the majority of it, anyway — is in the books. A lot of these guys don't know each other all that well, yet, although an ongoing group chat helps matters, quarterback Heinrich Haarberg says.
"Everyone has a different comfort level with the other commits," he says. "We just try to get to know each other's personalities. Obviously, there are guys who aren't going to talk a lot, and there are a couple guys who are especially active."
Offensive lineman Henry Lutovsky (Mount Pleasant, Iowa) is the most active of anyone on the chat, Haarberg says. Linebacker Randolph Kpai (Sioux Falls, South Dakota) is also high-end active. Plus, "Thomas likes to contribute every once in a while," Haarberg says of Fidone (Council Bluffs, Iowa), the most high-profile player in the class.
"There are a couple guys who will talk once every two months, and when they do, it's like a monumental event," Haarberg says. 
Different strokes, right?
4. You may have noticed Nebraska had only one player (cornerback Cam Taylor-Britt) named either first- or second-team All-Big Ten by the coaches. 
The Huskers need more players represented on these annual lists.
Nebraska's lack of representation continues a recent trend of it having few if any players named to these teams. How could it not matter? Ohio State placed a total of 11 players on the first and second teams this year. Indiana had eight, Iowa seven and Penn State five. 
Northwestern's defense had four players represented, yet some Nebraska fans try to sell me on the notion that the Huskers have more talent than the Wildcats. 
Didn't look like it to me Nov. 7 (Northwestern 21, Nebraska 13).
When Nebraska's program was riding high during the 1990s, the Huskers routinely had seven to 10 first-team all-conference selections. Maybe NU's class of 2021 will have a few all-conference caliber players. The program needs it to happen if it expects to be a serious threat to win conference championships.
5. Those who follow college football recruiting closely are interesting sorts to me if only because of their willingness to learn about players — in great detail, I might add — who never will see the field for Nebraska. The recruiting-oriented media learn a lot about players that you'll never hear from again, especially the players who come close to choosing the Huskers but end up elsewhere.
I have a hard enough time remembering everyone on the Huskers' current two-deep.