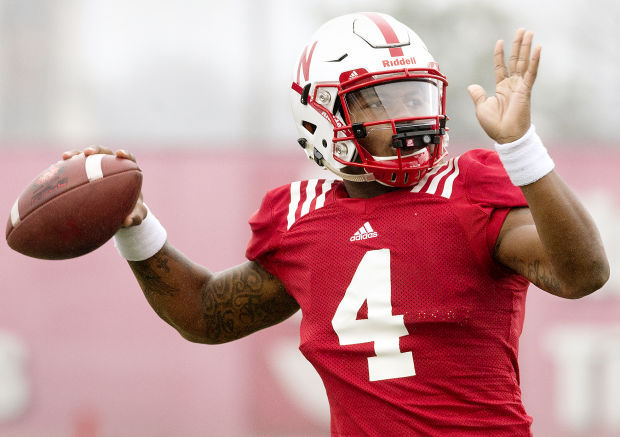 As Tommy Armstrong patiently answered question after question from reporters after practice, what seemed like a gallon of sweat streamed from his head.
Never underestimate the heat of August, and I mean that figuratively as much as literally. This month always is intense at Nebraska, and it's especially so when the Huskers are undergoing a significant change in systems, as is the case under new head coach Mike Riley.
Perhaps that's partly why Stewart Mandel of Fox Sports picks the Huskers to finish tied with Iowa for fourth in the Big Ten West Division behind Wisconsin, Minnesota and, ahem, Northwestern. It should be noted Mandel is a Northwestern grad.
I've watched three of Nebraska's five practices since preseason camp began last week. Nothing's changed in my way of thinking. I still don't have a strong handle on how the Huskers' season will go. It's been a long time since I've felt this clueless in that regard (left you an opening).
Nebraska has 10-win talent, enough to win the division. But how well will the players handle all the change?
In formulating a season prediction, much of the discussion comes down to quarterback play. Armstrong, the projected starter, has had his ups and downs early in camp, according to offensive coordinator Danny Langsdorf, who is earning every penny of his salary this month.
"Overall, I think he's doing OK," Langsdorf said of the 6-foot-1, 220-pound junior, who tossed a couple unsightly interceptions Tuesday.
Avoiding picks would be particularly wise with punter Sam Foltz in the fold. He's been booming punts that I swear come down with moon dust.
In Sunday's practice, Nebraska passed the ball plenty using West Coast offense concepts. That's right, the passing game resembled Bill Callahan's offense at NU. A lot of Husker fans don't want to hear that, even though NU ranked among the top 15 in total offense in each of Callahan's final two years in Lincoln, 2006 and 2007.
Armstrong also ran zone-read option plays Sunday, a staple in former coordinator Tim Beck's system.
"The coaches said they'd utilize our talent the right way, and that's what they're doing," Armstrong said.
Riley and Langsdorf obviously have difficult decisions to make regarding how to best use the personnel on hand. To wit: The best skill players on the team appear to be, in order, receivers De'Mornay Pierson-El, Jordan Westerkamp and Brandon Reilly (he's having an excellent camp). But can Armstrong consistently deliver the ball to them? Can Armstrong consistently read defenses properly, which has been a challenge for him dating to last season?
Consistency is the key word. Consistency could be the difference between seven wins and 10. As we well know, the margin is ever so slight.
Junior tight end Cethan Carter also has been practicing well, with increased energy, from my layman's point of view. He has a total of 16 catches the past two seasons; don't be surprised if he surpasses 25. Senior receiver Jamal Turner possesses the attitude of someone determined to end his college career with a roar.
As for the running backs, it's difficult to draw meaningful conclusions watching practices in which there is no tackling (Nebraska donned full pads for the first time in camp Tuesday night). But the Huskers will take a step back at the position, and that is no slight to the guys on hand. Ameer Abdullah was just that special.
He took pressure off everyone, including the offensive line -- which has looked good, not great.
Redshirt freshman Mikale Wilbon is the player to watch at running back. He appears to fit the zone running game well -- sticks his foot in the ground and gets upfield in a burst.
Did I mention that Langsdorf is earning every penny of his salary?
"He gets disappointed when he tells you three or four times in the meeting room, 'Hey, you have to fix this,' and then you go out and make the same mistake anyway," Armstrong said.
The changes on defense also are extensive.
For example, "This year, it's more of a zone scheme so we can look at the quarterback more," said sophomore safety Kieron Williams. "That's what I need to work on most to improve -- getting my eyes on the quarterback and not looking at routes."
Prevailing wisdom is Nebraska's defense might have to carry the offense, at least early in the season. But the Husker defense has issues of its own, most notably a lack of an explosive pass-rusher at the end spots and -- this has been a bit surprising so far in camp -- the secondary allowing receivers to break open on deep routes.
Of course, Maliek Collins has been a wrecking ball in the middle of the defense, which takes heat off those ends, and everyone else.
Not that the heat ever really goes away, in a figurative sense. The month is a grind. The players typically arrive at the football complex at 9:30 a.m. and leave at 9:30 p.m.
"We have longer days (than last season), and we're working harder," Williams said.
They really have no choice, considering all the learning that must take place. You feel the urgency. Virtually every minute, and drop of sweat, counts.