Things I know, and things I think I know:
Josh Davis noticed it during a visit to Memorial Stadium nearly a decade ago.
A plaque on a wall in South Stadium recognized him as the school's all-time kickoff return yards leader with 2,265. He mentioned to then-Husker athletic director Tom Osborne how much he would like to have that plaque in his home.
"I asked him, 'How much would I have to pay for it?'" Davis said last week from Colorado. "He asked for my address and not long after that, here comes a replica plaque through the mail. He doesn't charge me a penny. Of course, I was very gracious. I also remember thinking: Wouldn't it be great if all the athletes — male and female — who competed there and lettered got something like this?"
So, an excellent idea was hatched. Davis, who played for Nebraska from 2000-03, created the Alumni CAP Foundation as a way to recognize all Husker student-athletes who lettered. The foundation's main purpose will be to create career achievement plaques (CAPs). Davis is getting help from two former NU running back greats — his father, Tony Davis, and Ahman Green — to get the project off the ground.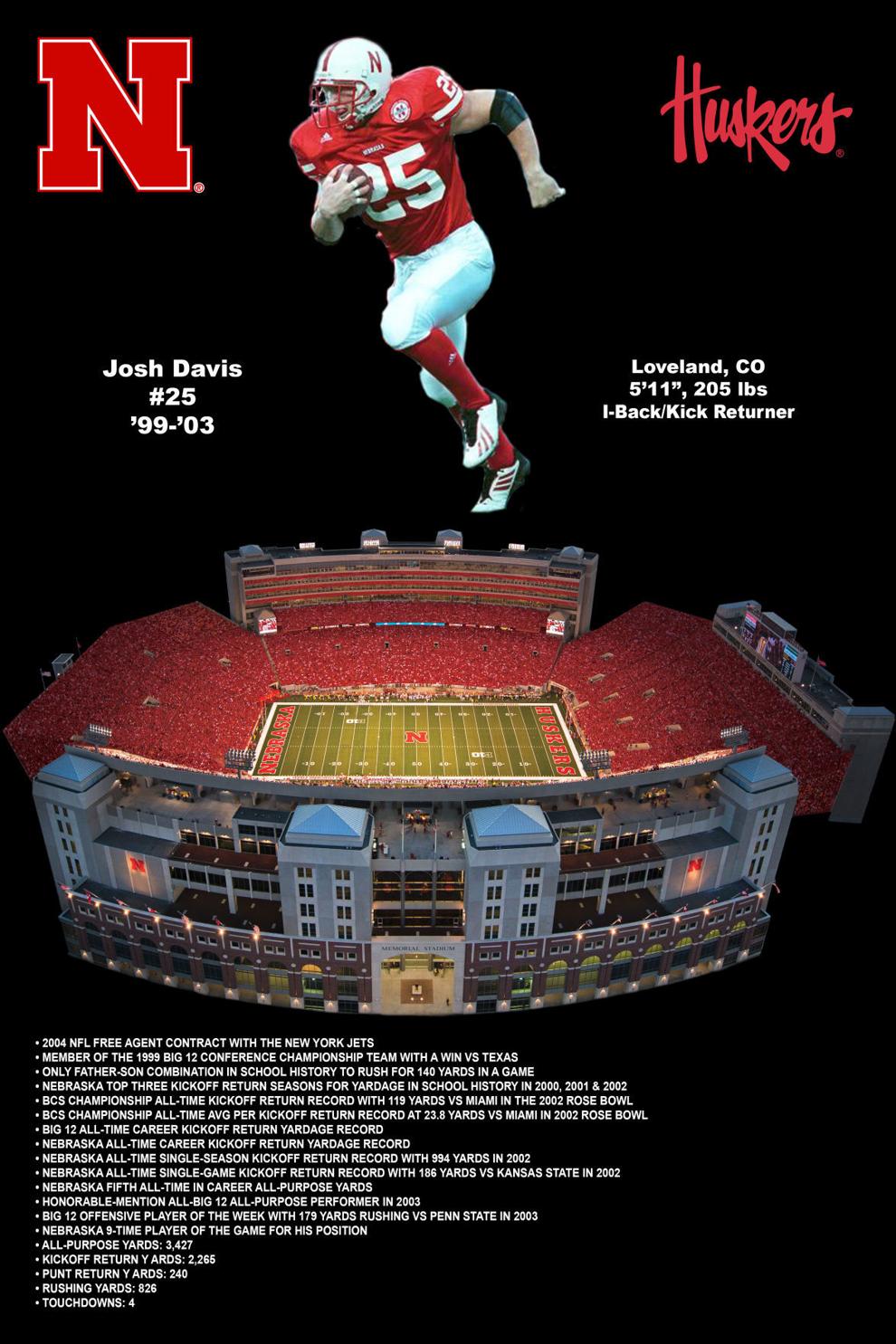 Funds have been donated for handsome plaques for the first 25 honorees, and those ex-Huskers will be formally recognized June 14 during a banquet at the Champions Club in Lincoln.
Josh Davis plans to hold a banquet annually and eventually two of them.
"We kicked the idea around before going forward because it's a lot of work," he said. "There's a lot of dedication needed. You wondered how people would react. You wondered if anyone would slow us down with the process. You have to go through several layers to get approval for something like this. One is the athletic department. Another is the university's director of licensing. But we were very organized. I did months of work before we even approached the athletic department.
"When we presented what the career achievement plaques would look like for alumni, and why we wanted to do this, the idea took hold."
It's easy to understand why it took hold. I can envision other athletic departments developing similar ways of recognizing letter winners.
A Nebraska starting running back for much of 2003, Josh Davis grew increasingly excited about his project after creating a plaque for his father, "Tough Tony," who closed his career in 1975 with 2,445 rushing yards, then a school record.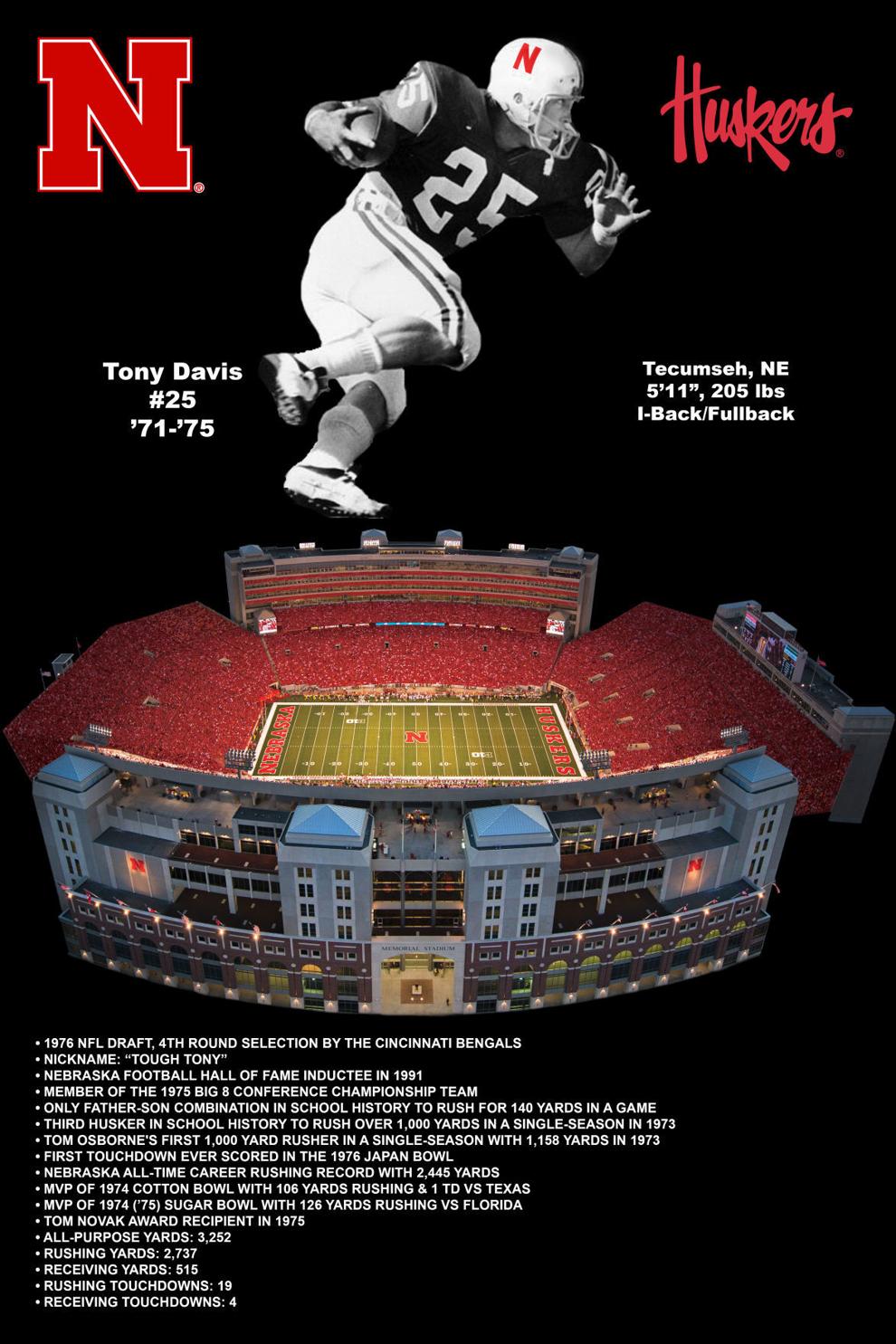 "It had his image on it, and Memorial Stadium from an aerial view," the younger Davis said. "I plugged in all the key stats from the athletic department's web site. I found some more stats and put it all in bullet-point form. I can tell you, I didn't even know how many yards he rushed for at Nebraska or how many touchdowns he had there (18).
"Those things are important to players. These plaques are a connection back to the university for these former letter winners, but it's also a way for their families and friends to actually see their careers displayed in an easy way to remember. In a sense, it seemed obvious that it needed to be done."
I've had the pleasure of knowing Tony Davis for several years. He's always been deeply passionate about the Nebraska football program. So, it comes as no surprise that Josh Davis would go to this much work to help recognize ex-Huskers. He put up the funds himself to get the project off the ground and oversaw the creation of a website that soon will be launched that will explain logistics.
* Think about this year's NFL Draft, with only one Nebraska player (quarterback Tanner Lee) selected. Think about the Huskers who didn't get drafted, including pretty salty defensive backs in Joshua Kalu and Chris Jones. Kalu put up excellent numbers at the combine.
Now, tell me there's anybody beside Stanley Morgan on the 2018 Husker roster who's a lock to be selected in the 2019 draft.
Obviously, the lack of draft picks — a total of two players selected in the last two drafts combined — is a troubling trend for Nebraska, especially considering there's at least one 2019 mock draft that has four first-round selections for both Ohio State and Wisconsin. Yikes.
* You often hear strain and fatigue in Tyronn Lue's voice. The former Husker point-guard great, as coach of the Cleveland Cavaliers, is under a microscope. Scrutiny is intense. Which perhaps makes his rather bold lineup decisions Sunday all the more impressive.
He inserted veteran Tristan Thompson as a starter, moving LeBron James to point guard. Thompson responded with 15 points and 10 rebounds. What's more, Lue has shown patience with Kevin Love, who came through in the fourth quarter with eight of his 14 points (on 3-for-5 field-goal shooting).
James' averages in seven games against Indiana: 34.4 points, 10.1 rebounds, 7.7 assists and 1.4 steals in 41.2 minutes per game.
He reportedly spends in excess of $1 million annually to keep his body fit.
Lue, who makes $7 million annually, might volunteer to kick in a few bucks for the King's training.
* If you're a young point guard, watch the Pelicans' Rajon Rondo manage a game. He barks orders even without the ball in his hands, and teammates actually listen.
But the Warriors will win in four.
* NBA analyst Hubie Brown (nobody does it better) says "Now" to begin a lot of sentences. You should try it sometimes. Gets people's attention.
* One more thing: Cavs in six over the Raptors.