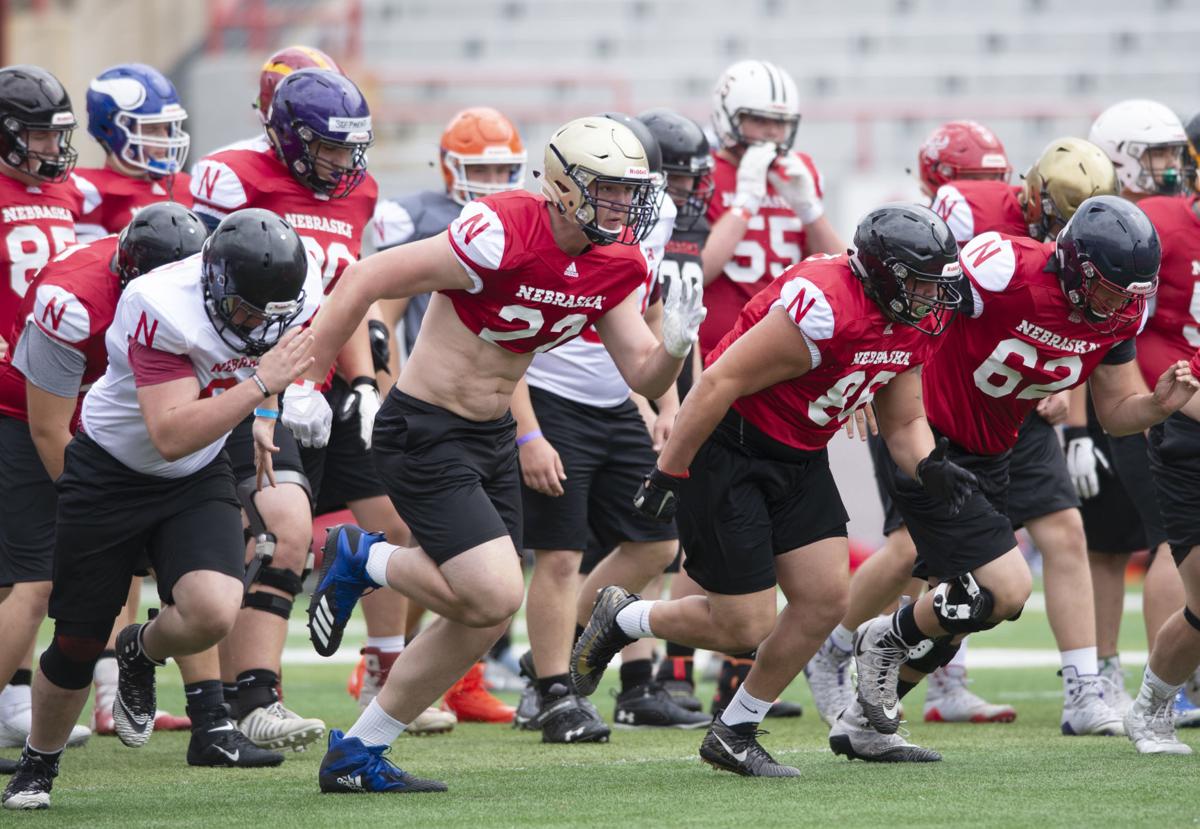 It's 10 a.m. Sunday, and Matt Vrzal is making pizza and talking football. You get the feeling he would do this all day long.
You get the feeling he does this all day long.
He's a conversationalist, for sure. And he knows what he's talking about.
"If we sit down and have a couple beers and talk football, that's one of the greatest days you can have," says the former Nebraska offensive lineman (1992-96) who stays busy running his Piezon's Pizzeria near Omaha Skutt High School.
He's also the offensive line coach at defending Class B champion Skutt, just a wily dude who loves to learn new tricks of his trade.
During the past few months, he's added a twist to his world. He started working with a handful of high school offensive linemen in the offseason, most notably Teddy Prochazka, the four-star class of 2021 prospect from Elkhorn South. At 6-foot-8 and upward of 260 pounds, Prochazka has the attention of college coaches from all over the nation. But it probably doesn't matter. It's safe to say Scott Frost's crew is the prohibitive favorite in this recruiting race.
I like the look of this picture: An old-school Husker getting the up-and-comer ready for Big Ten wars. It just feels right. Ah, but Vrzal treads carefully in the conversation. When the player's father, Jeff Prochazka, asked Vrzal if he would be willing to tutor Teddy, Vrzal was mindful of stepping on the toes of high school coaches. He wants nothing of that. He's sensitive about the topic.
But make no mistake, Vrzal thinks he can help young offensive linemen of all shapes and sizes learn the finer points of their craft.
He emphasizes the importance of getting in a proper stance and maintaining a strong base. He stresses the need for active feet and having those feet work in unison. He teaches the intricacies of how to punch with hands.
Mind you, this isn't Vrzal leaning on everything he learned at Nebraska. The game's evolved, and he's kept up.
But some things never change.
"One foot can't take an 8-inch step and the other a 10-inch step because then you're out of whack," he says.
Vrzal makes a great point about offensive line coaching. It's often viewed as a luxury, he said. A luxury? That's sort of ridiculous considering it's arguably the most valuable group on a team.
Quarterbacks go to QB gurus, receivers to receiver coaches, basketball players to shooting coaches. Athletes in general go to strength and conditioning experts. Vrzal again treads lightly in the conversation, hesitating to portray himself as an "expert." He has his reasons.
You have free articles remaining.
Boy, does he have his reasons.
"I think a lot of those gurus are full of s---," he says. "All I am is an avenue for a kid to continue to refine his craft. You won't see 'hashtag Vrzal' and this and that on Twitter. You won't see me retweet stuff. Screw all that. Those people are in it for themselves. I get it. You want to start a business and do that stuff, great.
"So put a result on the court or the field and have the kid be your conduit."
Vrzal still won't say he's an "expert." However, "I do feel I have an eye that watches the game just a little bit differently, and I can try to get an offensive lineman into the best spot to efficiently use his body in a game," he says. "That's all we do. Now, do I have little tricks and tools?"
I'll answer that: Heck, yes, he does. A 1991 Super-Stater at Grand Island High School, Vrzal played for Nebraska during a time when the offensive line's prowess was something to behold. He was a utility man of sorts, appearing in every game except for one in 1995 and 1996, when the Huskers were a combined 23-2.
"This (coaching) is the best way for me to pass on one of the greatest educations in the game of football that I could have ever had," he says. "Let's be real. I know what I am. I had the best seat in the house to watch some of the greatest offensive linemen. I got to work with them and learn every day. If a kid wants to go to work, I'll help."
Here's hoping Prochazka soaks it all in.
"Here's the deal: He's pummeling kids as Bambi," Vrzal says. "If you watch him run, there are arms and knees and elbows flying everywhere."
Vrzal goes back to a key word: efficiency. We're talking efficiency of movement. And you know what? You know what I really like about all this? It's the fact we're talking about offensive line play at all. If Nebraska is going to get back to being Nebraska, it'll start up front, in the trenches.
If you're snickering, you simply don't understand.
Vrzal stops our conversation for a moment to instruct one of his employees.
"The old grill needs to turn up to 650 degrees — slow turn," he says. "Both fryers work now, so turn them on very, very slowly."
He understands the finer points of making pizza. But that's not all he knows.
He believes the state of Nebraska should be, and can be, a factory for producing offensive linemen. Preach on, pizza man.
"I love to help people who want to better themselves on the football field," he says flatly.
He'd talk to you all day, but there's pizza to make — and linemen to teach.