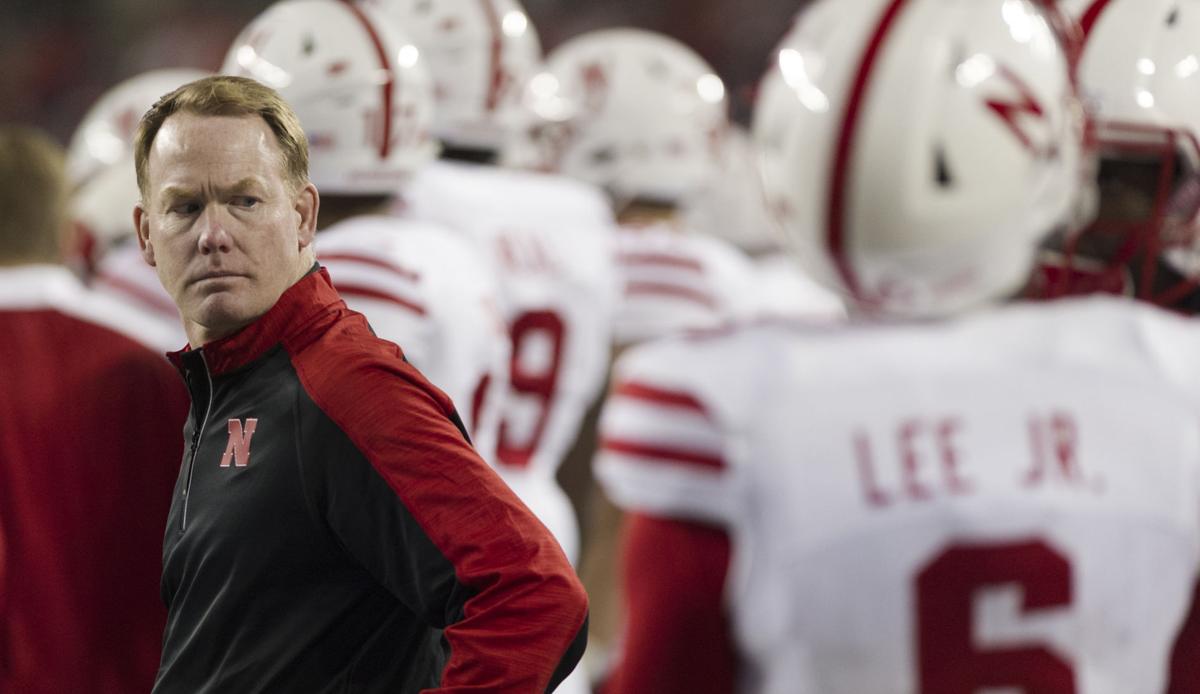 NASHVILLE, Tenn. — No sense mincing words.
When you have 15 minutes with the Nebraska athletic director, it's best to cut to the chase.
Shawn Eichorst, the fourth-year Husker AD, took time Wednesday for a Q&A as the NU football team practiced for Friday's Music City Bowl against Tennessee.
He clearly was upbeat about Mike Riley's program, while understanding there were a couple of rough losses this season.
Eichorst leaned back on a metal bench and gave us his thoughts, including a few at the end of the discussion about Nebraska men's basketball coach Tim Miles and the direction of his program.
Q: What elements of Riley's football program make you confident that it's on the right track to winning championships?
Eichorst: "Well, we were in the championship hunt this year, there's no doubt about that. I think from Year 1 to Year 2 we've seen huge advances in almost every area. I think the tenacity in recruiting, you know, building the roster — not only in talent, but in depth — is key. We're on our way. We have some work to do. And I know you've followed it and analyzed it — not only at Nebraska, but across the country. Talent. You have to have talent to compete at the highest level.
"And this league is so deep now and so talented now. I was looking at the All-Big Ten team on the coaches' side. On the first, second and third teams, I think we had two guys total. …"
(He's right. Michigan had 17, Ohio State 14, Iowa nine and Wisconsin eight).
Q: So, do you feel like Riley came upon a situation in which there wasn't enough talent?
Eichorst: "I'll let other experts … Mike would be a better one to sort of analyze that at the end of the day. I know this: We played hard. We prepared hard. We had a chance to win a championship this year, and we came up a little short. And when you look at those things I just described, I think there's great optimism and hope in the program. And I know that we are on some really good students — prospects — and we've redshirted some good players. And we have some good young players on this roster.
"We need to finish strong here. We play a really good Tennessee team, and we need to play well —  which I know we will. Let's get headed in the right direction. But I feel really confident about where we're at."
Q: Riley obviously is trying to push the program to the next level. When I say "next level," what does that mean to you?
Eichorst: "What it means to me in the general sense is just daily improvement. Let's work together, putting our resources and support all in the same direction — that's both inside and outside the building. And let's get better. I know we have a leader who thinks that way (in Riley), who's very positive and has a bunch of really good people around him, both from a coaching perspective and from a student perspective.
"I suppose the next level for us is to get that elusive (conference) championship that we've been looking for since 1999."
Q: Did the losses to Ohio State (62-3) and Iowa (40-10) affect the way you regard this season, considering what you said in firing Bo Pelini about him not "winning the games that matter?"
Eichorst: "You need to win those games to win championships. That's the goal. I'll let the experts dissect how those games played out and why they played out the way they did. It hasn't discouraged my perspective on where this program is and where we're going. You put yourself in a position to be successful, and you go out there and try to make it happen.
"We know this: We've come away from the regular season knowing we need to get better, and we need to acquire more talent."
Q: Riley has fired two assistant coaches in two years. What was your level of input in those decisions?
You have free articles remaining.
Eichorst: "Mike's in total charge of the football program and his coaches. We talk almost every day. We have a standing meeting every week, and we have great respect for one another. So, when I have something on my mind, whether it's related to football or life in general, I'll ask him what he thinks and most often he'll ask me what I think. But ultimately, those (firings) are Coach Riley's decisions to make, and I'm here to support him. He's an exceptional leader. He's got a lot of experience, and he handles things with such professionalism and such thought."
Q: So, it would be inaccurate to say you recommended the firing of Bruce Read?
Eichorst: "That's not my role."
Q: You're more visible now around the football program. You're on the sideline. You're at practice. That wasn't necessarily the case when Pelini was the head coach. Why the change in your approach?
Eichorst: "I don't know if there was a change in approach. I love the game of football, as you know. We've gone into depth on that. When you transition into incredible positions like at Nebraska, there's a lot of looking, listening and learning to do. I would attribute it more to having a lot of things to do, a lot of people to get to know, more than anything. I now think I know the place a little better than when I first came in, know the people better. That allows me a little more flexibility to get around and to be available."
Q: Riley's made what I would characterize as an aggressive hire in adding Donté Williams to his staff to replace Read. Did you and Mike talk through that hire?
Eichorst: "Mike aggressively pursued Donté, did all of his due diligence. Generally, when (Riley) gets all of that stuff done, he'll run what he's thinking by me. And I'll ask him, 'What are the things you're looking for? Does this person meet those things you're looking for? And how can I help?' The things I heard about Donté, and the excitement in Mike's eyes and his voice, it was easy to support that decision.
"You guys (media) have been around (Williams) in a short period of time. He's an impressive guy."
Q: Recruiting obviously is on your mind. Do you feel good about the allotment of resources in that area? Do you need to add further in that area?
Eichorst: "I think I've said this before: All the resources and support are there. I don't think we want for anything. I know Mike's a great steward of our resources and he's very, very pleased with what he has."
Q: Let's switch gears to basketball. What do you want to see from the Nebraska men's team the rest of the season that would show you satisfactory progress?
Eichorst: "Continued growth. They've really worked hard. Tim (Miles) has worked his tail off. He's got a great group of assistants around him. I really like the nucleus — the young nucleus. Obviously, I think he would want them to be a little bit further along. But they've played a really good schedule up to this point. No one's making any excuses. We will never do that. I just think we want to see improvement."
Q: So, you gauge it by what you see?
Eichorst: "I think that's right. And I think we just need to have reasonable expectations around it, and support. We'll kind of dissect it all at the end. We're in the middle. The Big Ten's a formidable league. I know this: The effort's been there. The preparation's been there from what I've seen in practice. And we've had some guys dinged up. Again, there are no excuses there, but you have to take that into consideration as you look at the whole thing.
"I'm very, very optimistic about where we're at."
Q: Is there anything to read into you deciding not to extend Miles' contract after last season?
Eichorst: "It's a fair question. He doesn't read into it. I haven't read into it. I think Tim and I come from the same backgrounds. He comes from a small town, I come from a small town. He worked himself up through the ranks, I worked myself up through the ranks.
"We're not working for contracts. We're trying to do the right thing, and we're trying to be successful and represent the institution the right way. We know when all of that comes together we'll win ballgames. He's a winner. He's won every place he's been, and I'd like to think I've had success every place I've been. Tim and I see life the same way, and I think we see basketball the same way.
"We'll just keep working hard."