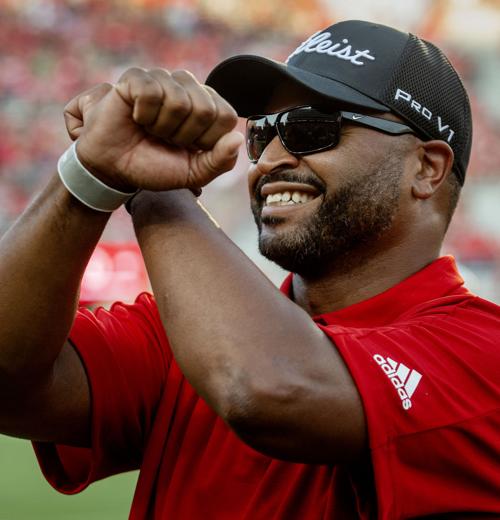 Maybe Nebraska players don't need to know Jay Foreman's credentials as a former Husker and NFL player, at least not all of them. 
Maybe they don't need to know that Foreman was a starting linebacker on Nebraska's 1995 and 1997 national championship teams and went on to be a fifth-round draft pick of the Buffalo Bills. Maybe they don't need to know he recorded a whopping 143 tackles for the Houston Texans in 2002 and 136 in 2003. 
As for Foreman, he thinks it might be most important that they understand he was once one of them and conquered a challenging road. 
"I had to come in and work," he said Monday morning on "Early Break" (93.7 FM). "I started out in spring ball (in 1994) seventh on the depth chart. So I know what it's like to be looking up at that mountaintop and wondering if you can get there. I worked myself into being a decent player in college and was up for the Butkus Award and ended up lasting eight, nine years in the NFL. 
"I still have a lot of connections in the NFL. When I talk to (Nebraska players), I think they know. But I don't want them to be intimidated by it or think that I'm trying to be something more than what I want to be to them, and that's an asset." 
Enlisting the help of Foreman and Peter strikes me as a wise move by fourth-year Nebraska head coach Scott Frost. You don't see such a move every day in college programs. But someone needs to tell me a good reason or reasons why it doesn't make sense. As Foreman points out, he's not there to step on any Husker assistant coach's toes; he's just there to add support, wisdom and motivation. 
Organizations all over the world bring in outside voices to address employees. Think of it that way.
This is Frost pulling levers to try to push his program — which is only 12-20 since he took over in 2018 — to a higher level. 
This is Foreman giving back to a program he feels strongly about, a program that helped mold him into the man he is today. The same goes for Peter, one of the most ferocious defenders to ever play for Nebraska. But there's something else that should be mentioned about Peter besides his ferociousness (and status as a consensus All-American in 1997). That is, he can't remember ever drawing a personal foul penalty.
"I think I had an (incidental) face-mask penalty in 1996 against Colorado that was questionable," he once told me.
At the root of his restraint was accountability to teammates and coaches, an area the Nebraska program is striving to improve. Let's face it, organizations of all kinds are forever trying to improve in that area. 
Foreman says he can help the program by letting players know how to avoid the mistakes he made. There's a certain humility that both Foreman and Peter possess that is appealing and probably helps explain why Frost sought them out. 
It also helps that they both still carry themselves with a hard edge. They certainly played the game with a hard edge. 
I think it's safe to say Nebraska's program needs to sharpen its edge. Winter conditioning is a good time to instill good habits in any team. 
"They've been in the weight room with our guys just kind of observing and giving guys advice," Frost told the Journal Star on Saturday. "I guess at the end of the day, I just think if a little bit of their intensity and experience rubs off on our guys it's a good thing."  
Frost speaks with confidence about his program, saying he genuinely believes it has the firepower to make significant noise in the Big Ten. Yes, I know, he's said it before. A lot of fans now scoff when they hear him express such confidence. But Peter backs up Frost, saying he firmly believes there's enough size and athleticism in the program to compete at a high level. 
It was interesting to hear Foreman drive home the same sentiment, praising head strength coach Zach Duval's work. 
"I don't want to say that was one of my biggest surprises, but you just assume that a team that's been struggling in the win column, that they didn't work hard in the weight room — because that's really where it starts," Foreman said. "That's where you can really get a landscape of the team. Are these guys late to workouts? Do they not finish their workouts? Are they not physically fit? 
"Let me tell you something: They check every single box from how they look physically to how hard they work. The numbers they're putting up in the weight room, it's all there." 
Something's missing, though. Something's keeping the program from getting to where it wants. If Foreman and Peter can help the coaching staff instill a tougher mindset and improve accountability and even confidence in some players — we're talking intangibles here — well, every little bit helps when you're staring up a steep mountain.
Foreman's been at the bottom of a depth chart. He knows what it takes to climb to the top. Of course he can help. It's really that simple.