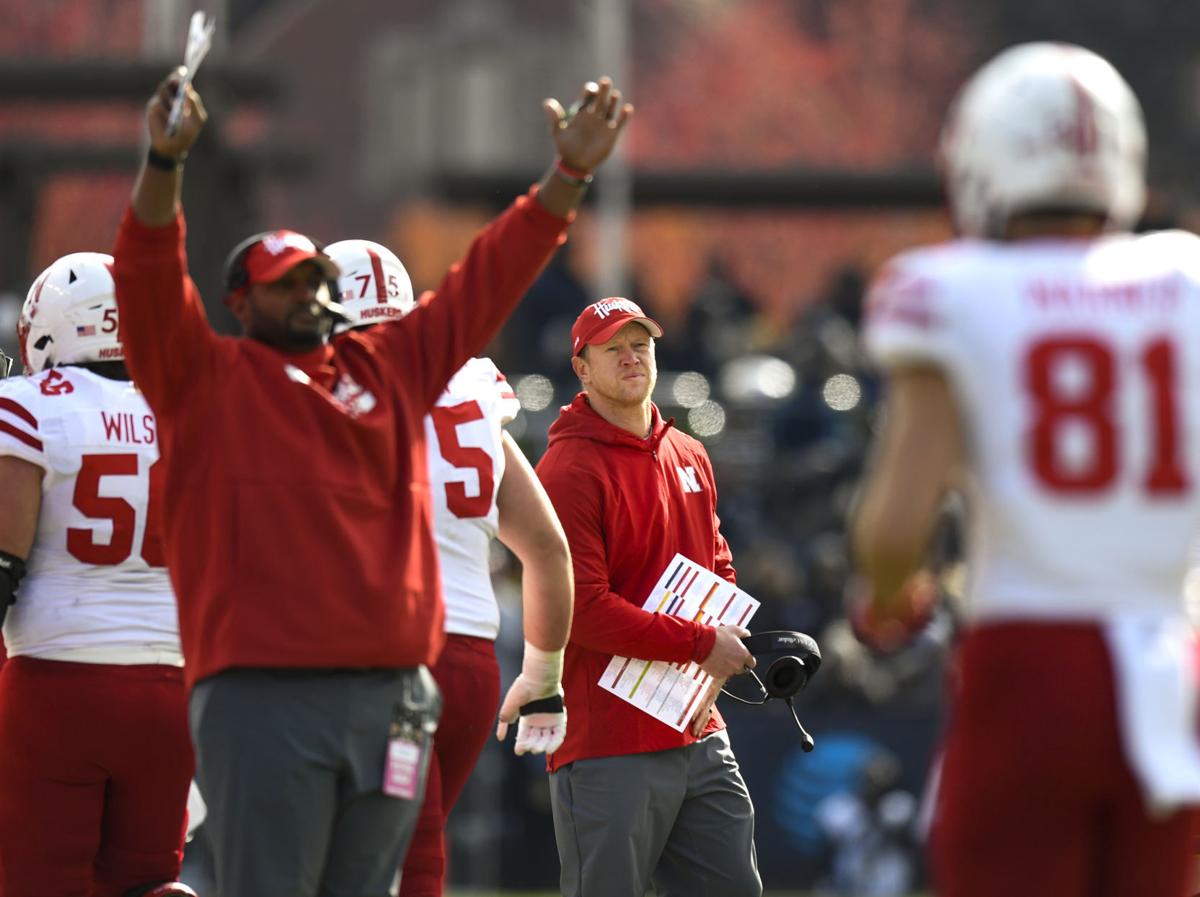 Things I know, and things I think I know (rare Saturday edition): 
Gerry DiNardo was generally impressed with what he saw from Nebraska last week in its season opener.
Let's keep this in perspective, though. The veteran BTN analyst doesn't regard the Huskers as a serious threat to win the Big Ten West Division.
He obviously feels there's plenty of room for growth in Scott Frost's program. 
"I think what he needs is two bowl-game years," DiNardo told me this week. "Then the recruiting improves, and enthusiasm builds even more."
By the way, "It doesn't matter what bowl games they are," he said. 
This awkward pandemic season doesn't necessarily factor much in the discussion. It can be difficult to judge programs in this mess. Besides, who really knows what the coming bowl season will look like?
"I'm just saying before Scott can take the program to greatness, and before he can challenge for the West, he needs a couple bowl games and then he can start talking championships and recruiting better, and get that thing out of the train wreck," DiNardo said. 
Frost has a 9-16 record in two-plus seasons at Nebraska. The Huskers haven't played in a bowl since 2016, when they fell to Tennessee in the Music City Bowl.
A Music City bowl bid nowadays would feel like mega-progress for NU.  
Back-to-back bowl games definitely could help matters.
Standards have dropped around here, at least temporarily.
"Scott needs something that says, 'We've stopped the bleeding,'" DiNardo said. "They need to have some success. It doesn't need to be big success right away."
Nebraska, which fell 52-17 at Ohio State last week, doesn't appear quite ready for "big success," although it's not like my predictions in recent years have been particularly stellar. 
If you're a Husker fan, you just want to see mounting evidence that the program is headed in that direction. 
A win Saturday against Wisconsin, even a depleted Wisconsin team, obviously would have helped. The Badgers canceled that game due to COVID-19 concerns. 
Bottom line, DiNardo sees a lot of balance in the Big Ten West. He has Wisconsin and Minnesota as the favorites to finish first. But he sees no clear choice for third place. 
Keep an eye on Northwestern, he suggests. The Wildcats were 3-9 last season (1-8 Big Ten) but hired Mike Bajakian from Boston College to take over the offense. It'll no longer be dominated by spread alignments, DiNardo said. What's more, Indiana transfer Peyton Ramsey enhances the quarterback position.
Voila! Northwestern hammered Maryland 43-3 last week, gaining 537 yards in the process.
DiNardo also keeps an eye on Nebraska's quarterback situation.
"Luke McCaffrey looks like the real deal," he said of the redshirt freshman.  
He thinks Frost can effectively manage the Adrian Martinez-McCaffrey duo going forward. 
"One of the things Scott's really good about is communicating with the players and having good morale," DiNardo said. "If he's going to mess with that whole situation at quarterback, I have a lot of confidence he'll do it the right way."
One key is honesty. The quarterbacks have to know what a coach really thinks. It can't be about trying to keep everyone happy. 
Another key is making decisions with the best interests of the team in mind. It's clear Martinez and McCaffrey are two of the team's best players regardless of position and therefore should be contributing. Bottom line, they enhance the overall product. 
"I thought they looked much better as a whole," DiNardo said of the Huskers, noting he hadn't studied video of Saturday's game. 
Because of the difficulty of Nebraska's schedule, he said, it'll ultimately be important to gauge progress in Frost's program on areas besides the final win-loss record. The bottom-line fans obviously would disagree, but I guess Gerry has a point.
"It's how they play, how they look, the talent, the competitiveness, the energy," he said. 
"My general feel is they look like a better team — which I expected."
* I'll be keeping George Darlington in my thoughts. The legendary former Nebraska secondary coach is battling cancer, he said. 
He's gone through six batches of chemotherapy and 28 radiation treatments. 
His recent test results have been encouraging, he said.
He sounds great and is feeling well enough to teach his football-for-beginners class. 
That's a blessing. George loves to talk football, and we love to listen to him. 
* Judging by his performance last week against Illinois, Graham Mertz gave Wisconsin something it lacked with 2019 starter Jack Coan.
"Last year when BYU exposed them, Wisconsin threw no pass that went from the line of scrimmage to the receiver's hands deeper than 12 yards," DiNardo said. "BYU just taught everyone how to defend them." 
* Ohio State belongs in the same realm as Alabama, DiNardo said, but he hasn't watched Clemson this season. 
I think the Buckeyes have more to prove, especially on defense and at running back, before I put them on the same level as the top two. 
They're obviously playing with fire if they lean too hard on quarterback Justin Fields in the run game. He rushed 15 times for 54 yards Saturday.
"What you're going to see is Fields carry the ball more against the better teams and not against the teams they feel they can beat with the pass and their present tailback situation," DiNardo said.
* Michigan looks vastly improved offensively, DiNardo said. But can the Wolverines' defense hold up against Ohio State? Doubtful. 
* Nebraska did OSU a favor by breaking strong from the gate, DiNardo said.
"It showed the Buckeyes they can't just show up and play," he said. "They have to be ready to play."
* Lock of the weekend: Michigan will roll up a big number in trouncing Michigan State. 
Sparty's free fall is going to be hard to watch.
What people were saying after the Nebraska-Wisconsin game was canceled