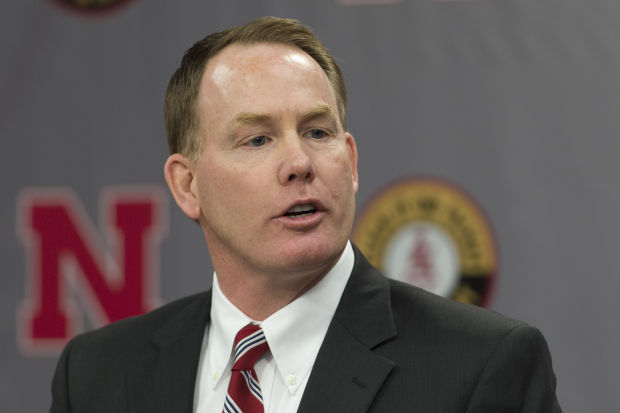 Tom Osborne didn't want to talk much about it.
"I just feel bad for everybody concerned," he told me Sunday, referring to Nebraska football coach Bo Pelini's firing. "I mean, you're talking about 14-15 families involved. It's players. It's staff ...
"I felt bad after Frank (Solich) was fired (in 2003). I felt bad after Bill Callahan (in '07). I've walked in those shoes."
They're big-boy shoes. We still expect big-boy football at Nebraska. Championship-level football. Osborne felt ample heat at times before breaking through. The new guy will feel intense heat, too.
My friends, the big gamble is here.
Heat goes with the Nebraska job, and never mind the college game's changing landscape. You had better win and win big, my man. Everybody deals with the changes, everybody has challenges. That essentially was the message from the boss Sunday, a boss we still are getting to know.
We got to know Shawn Eichorst much better Sunday.
The Nebraska athletic director emerged from the background and explained himself pretty well. He was nervous at first at the podium. Very nervous. By the end of his 34-minute news conference, he wasn't exactly Matthew McConaughey in "A Time To Kill," but he seemed to have settled in rather nicely.
"At the end of the day, I didn't see enough improvement in areas that were important for us to move forward to play championship-caliber football," he said. "We just for whatever reason weren't good enough in the games that mattered against championship-quality-caliber opponents. I didn't see that changing at the end of the day."
The situation was in some ways reminiscent of Steve Pederson's "gravitating toward mediocrity" firing of Solich after his 9-3 season, with at least one difference: Pederson wasn't new on the scene. He's a Nebraskan. We knew him well. At least we thought we did.
Allow me to reintroduce Eichorst. He has a law degree from Marquette and practiced law for a period before taking athletic administrative positions at South Carolina and Wisconsin. He then got his first athletic director gig at Miami before arriving at Nebraska in October 2012.
With the deftness of a trial attorney, he at least twice sidestepped questions about what might have affected his decision to fire Pelini other than wins and losses. Made you wonder.
Perhaps you've heard that Bo can be prickly. Television cameras fixate on him on the sideline. How much it mattered in Eichorst's moment of "crystallization" Saturday night, we'll probably never know.
We do know Pelini is the genuine article. What you see is what you get. He thinks people have trouble handling his blunt outspokenness. He's probably onto something.
This much is certain: He's a hell of a coach and role model. He ran a clean ship. He had the respect of his players to the end. You saw their response to his firing.
"Words can't explain how much all the players appreciate what you did for us. Love you Coach Bo and thanks for everything," Rex Burkhead tweeted.
Pelini spent Sunday afternoon at the movies with his youngest daughter. Friends say he seemed a bit battle-worn last week. One of his coaching friends told me he wouldn't be surprised if Pelini took a year off to rejuvenate.
The Nebraska job can be a monster that devours extremely tough coaches.
Meanwhile, real life was fairly interesting at Memorial Stadium on Sunday, although these firing productions have lost some zip. Some novelty has worn off. Much of the intrigue now is Nebraska putting faith in an AD who has never made a high-profile hire.
Eichorst is going to earn that $1.03 million annual salary.
As Pederson did, he's going it alone. No search committee. No search firm.
You wonder if he already has his man on a hook. Would he make this move if he didn't? Think of the risk. Would he make this move if he weren't confident the next guy could do better than 67-27?
We've discussed the big-stage failures, and Pelini's pros and cons, ad nauseam.
You wonder if Eichorst already has his man because there is no way he can botch his search the way Pederson did after the 2003 season. Pederson stumbled around for 41 days before ending up with Callahan.
Osborne fired Callahan after Nebraska finished 5-7 in 2007. The move was widely anticipated, although agonizing for Tom. Pelini's termination surprised many, especially after Friday's stirring comeback at Iowa. Credit Eichorst for reaching out to Osborne to inform him of the decision to fire Pelini.
At any rate, time for some new blood on Stadium Drive — and if all goes as expected, we'll soon see multiple championships.