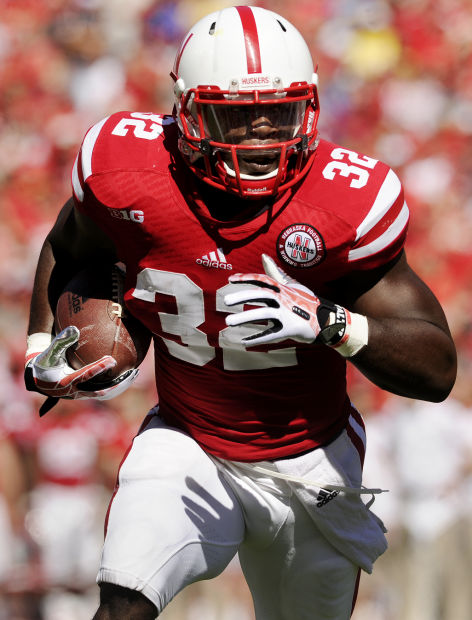 Things I know and think I know:
The maturity of Ameer Abdullah and Imani Cross will help head off any ego-related issues among Nebraska's top four gifted running backs.
Not that heading off such issues is a given.
Cross, the hard-charging junior, gave us a glimpse of the foursome's hotly competitive nature Friday when he admitted, "It's friendly (competition) in the film room. On the field, it's not too friendly."
Great to hear, seriously.
Competition during the week pays dividends on Saturdays.
Cross made it clear that the running backs cheer for each other. They push each other. When one makes a long gain, another wants to do the same. That brings positive energy.
Ah, but the energy can turn negative during the dog days of preseason camp, a 27-practice grind that begins Monday.
"There's a balance," Cross said. "It's never so competitive to where we're not helping each other out, or so competitive that we're starting to disrespect each other.
"We understand what's at stake. We're all grown men. We understand this is business we're trying to take care of. But when we get off the field, it's all friendly advice and strong competition at the same time."
It's difficult not to cheer for Cross, who quietly has paid his dues as a backup while clearly improving his overall game through old-fashioned elbow grease.
Someone pointed out that he and redshirt freshman running back Adam Taylor are roughly the same size.
"Roughly," the 6-foot-1, 230-pound Cross said, smiling.
Both could be effective in short-yardage situations.
However, Cross, who has run for 771 yards and 17 touchdowns the last two seasons (5.5 yards per carry), said he wants to be more than a short-yardage back. He wants to be a three-down back.
"It's OK if you call me a short-yardage back, I don't mind that," he said. "I love being a short-yardage back. If that's the title you choose to use, just don't forget the other titles as well."
The native of Gainesville, Ga., genuinely seems to enjoy practice, even when it becomes a bit repetitive.
Nebraska coach Bo Pelini said last week that the past spring season was full of "a lot of repeat plays, not installing things too quick, running certain plays over and over and over and over and getting really good at certain things."
That modus operandi will carry into Monday.
It's a good plan for an offense that sometimes has seemed to lack a consistent identity — or a sense of direction — under fourth-year offensive coordinator Tim Beck.
The running backs — led by Abdullah, of course — should be the central part of the 2014 offensive identity.
This diverse foursome — don't forget burner Terrell Newby — could soon be making us recall the 1990s heydays, when the running back stable seemingly always was full, and daily competition often was heated.
* Husker sophomore quarterback Tommy Armstrong's two days of picking Brett Favre's brain this summer could pay off handsomely even if Armstrong heeds only one bit of Favre's wisdom.
"He just told me the easiest thing to do is trust in your running backs sometimes instead of trying to force a ball (down the field)," Armstrong said. "When you have a good running back like Ameer, a 5- or 6-yard completion could be turned into 30 or 40 yards."
If Armstrong doubts Favre, he could simply watch video of Sam Keller at Nebraska in 2007. Keller made a living, so to speak, off check-down passes to Marlon Lucky.
* Nebraska sophomore safety LeRoy Alexander's rather bizarre assertion that the Nebraska football team's best five basketball players (Alexander, Greg McMullen, Randy Gregory, Abdullah and Jonathan Rose) could topple Tim Miles' crew drew ample reaction, some of which questioned Alexander's sanity.
In an officiated game, I'd take Miles' team by 30-plus points.
In a playground game, hide the women and children.
* Let's take this basketball discussion a step further: Pelini has said that if his football coaching career ever goes awry, he might enjoy being a high school hoops coach.
Somehow Pelini coaching prep basketball makes sense to me.
* Alexander said senior safety Corey Cooper is the defense's foremost leader, followed by senior linebacker Zaire Anderson. Senior cornerback Josh Mitchell may dispute that. Mitchell is mature, if a bit ornery. He's also very confident. Nice mix for a corner.
* After three years as Journal Star sports editor, Darnell Dickson has moved back home to Provo, Utah, to write about BYU athletics for the Daily Herald. In a business of monster egos and snarky know-it-alls, Dickson's humility and friendly nature are a breath of fresh air. He's also a great family man. We wish him well.