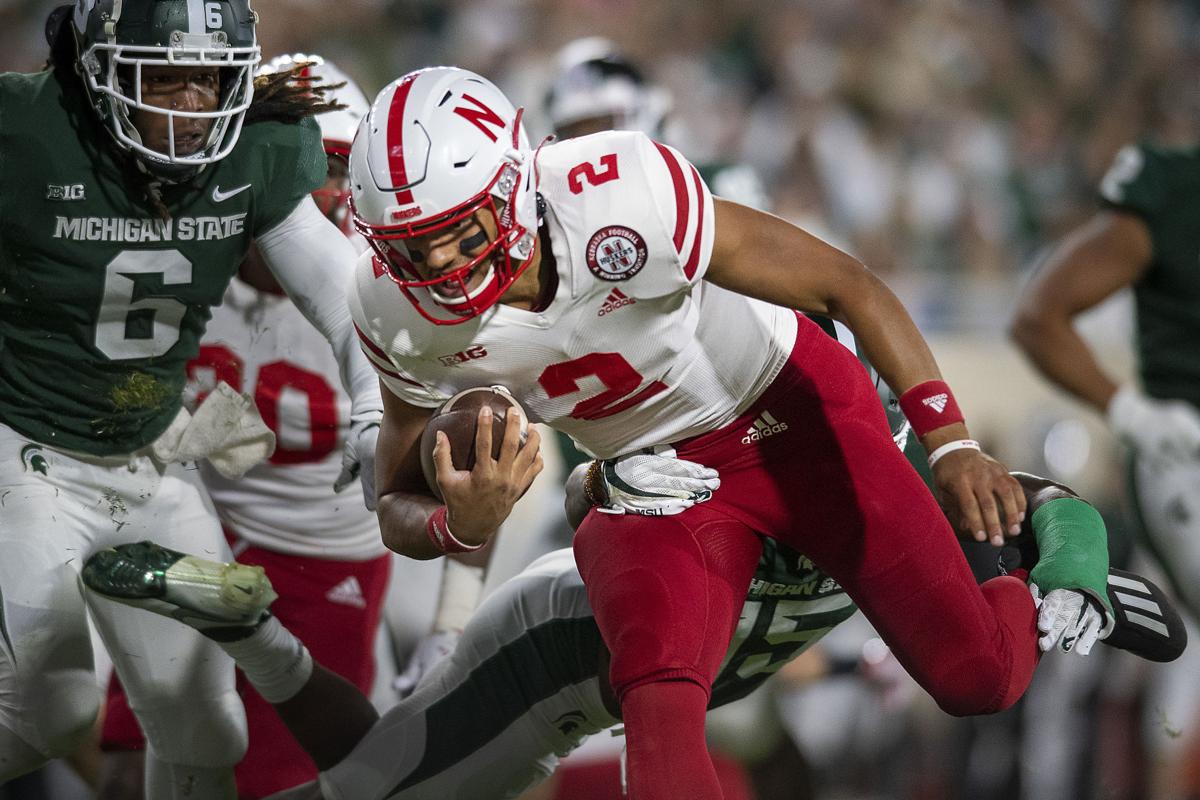 The football term "triple option" can evoke all sorts of images.
A quarterback running a zone read is a triple-option play.
"Then all of a sudden, an RPO (run-pass option), that's the same thing as triple option and (the throw) is the pitch," notes Nebraska inside linebackers coach Barrett Ruud.
An option discussion can get somewhat, well, involved.
There's one element even a novice like myself can understand.
That is, you have to have a quarterback who can run it, someone who won't leave the ball on the ground a lot.
Nebraska junior Adrian Martinez, as a bona fide option threat, gets Tom Osborne's seal of approval, and yeah, Osborne would know.
He called plays on offense under Bob Devaney when Nebraska won national titles in 1970 and 1971, before the Huskers used option plays as a staple of their attack.
Osborne, though, was the head coach and play-caller as Nebraska won national titles in 1994, 1995 and 1997 — when the option was an absolute staple.
"In the 1960s and '70s, our quarterbacks weren't running a lot," Osborne said this week. "We always had a little bit of option. Jerry Tagge (who lettered from 1969-71) was a very good quarterback but was probably a better thrower than runner."
Dave Humm (1972-74) and Vince Ferragamo (1975-76) "could run it some," Osborne said.
"The first guy we had that we actually asked to pretty much be a dual-threat quarterback was Jeff Quinn," Osborne said of the 1978-80 letterman from Ord. "He was the first guy who probably ran the option significantly, then we went on with Turner Gill, Steve Taylor, Tommie Frazier — those kind of guys."
How would Martinez have fared in that world?
"He would stack up very well," Osborne said. "He's got excellent speed. I'd say he's more similar to Turner Gill because Turner was a really good thrower as well as a very good runner. Adrian is not just a runner; he's a good passer, too. Obviously, his mobility has been invaluable because early in the season, he's had to escape the rush a lot. He's been sacked some, but if he wasn't mobile, he would've been sacked a whole lot more.
"Anyway, he's really good."
Martinez told me Nebraska is practicing option plays much more often this year than during his previous three seasons in the program.
"I wouldn't say it's necessarily comparable," he said.
Option football requires ample practice time, Osborne said. 
"Whatever you're going to run in the game, you better get adequate repetition in practice," the Hall of Fame coach said. "Let's say we've got two or three different kinds of option. We don't just run each one of them to the right in practice, then each of them to the left one time and call it good. You better have several reps during practice because there are different situations.
"Maybe the defender you're trying to option comes for the quarterback, maybe he splits sideways, maybe he attacks the mesh point."
He noted the second-quarter play Saturday on which Nebraska's JoJo Domann attacked Northwestern quarterback Ryan Hilinski just as he was handing off to the running back. Hilinski fumbled, Nebraska's Deontre Thomas recovered and a prime Wildcat scoring threat was averted.
"You have to be able to handle that type of thing (as a quarterback)," Osborne said. "And you have to remember that defenses don't always handle the option the same way. So, repetition is critical."
Nebraska fourth-year coach Scott Frost faces a key challenge: He must incorporate option football and its high level of intricacy into the rest of his playbook.
"You can only be real efficient in running only so much offense," Osborne said. "If you're going to run a lot of option, there may be some other things that you have been doing that don't get quite the same repetition. You don't want to lengthen practice by 30 or 40 minutes just to get more repetition. So maybe something gives a little bit."
Why is Nebraska running more option plays this season? Well, some people will tell you that option plays to the perimeter take pressure off an offensive line.
That obviously could be helpful in Nebraska's plight.
"I think it takes some pressure off the line because you don't have to hold your blocks as long," Osborne said.
This is where Osborne shifts the conversation back to the quarterback position. 
"If you put guys like Frazier or Eric Crouch under center, it can be kind of a nightmare for defenses," he said.
Frazier ran the option better than anyone he ever coached, Osborne said.
Dual-threat QBs, in general, tend to be a headache, he said.
"Defensively, we were always much more concerned about a quarterback who could run," Osborne said. "It changes the whole game. If you're going to have a guy who's going to sit in the pocket and throw drop-back passes, or else hand off, and that's pretty much all that quarterback's going to do, it certainly makes life simpler defensively.
"Of course, if he's a great quarterback, he's got great receivers and great pass protection, it still can work really well. But the fact it's simpler for the defense is really why we went to as much option as we did, because we saw how difficult it was to defend."
Especially if there's a talented quarterback running the show.
A quarterback like Martinez.
"I think he certainly handles it well," Osborne said. "Of course, we haven't seen defenses that have geared up for it as much as you will down the road."
That's because Nebraska is showing it more and more.
"It kind of becomes a little bit of a chess match," Osborne said.
Let's see what Michigan's got. Game on.
In this case, it's a game that looks very familiar to old-school Nebraska fans.