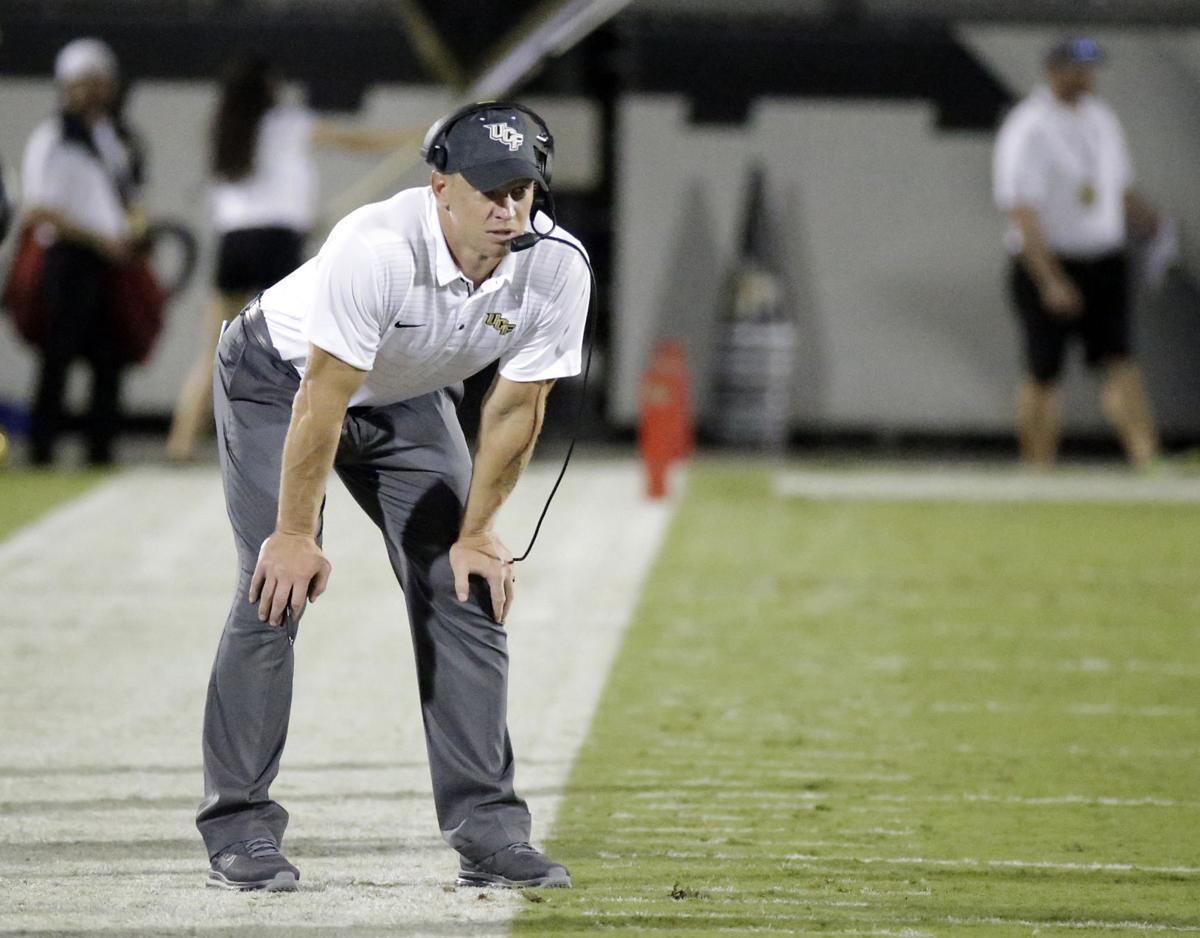 Things I know, and things I think I know:
You know what they say about great minds.
Well, there's one area in which I wonder if John Cook and Scott Frost think alike.
Cook, the iconic Nebraska volleyball coach, recently acknowledged the role Penn State played in the Huskers' immense national success during the past three seasons — two national championships wrapped around a Final Four appearance.
Before that three-year run, Nebraska stalled in three straight Elite Eights. Immediately following a loss to BYU in 2014, Cook made a list of 32 areas where his program needed to improve to get over the proverbial hump.
"Pretty much every decision we made was about, 'OK, how are we going to beat Penn State?'" Cook said. "That's who set the bar in the Big Ten Conference. That's how we looked at things. The list reflected the things we would have to do to beat Penn State."
Don't overthink this discussion. It's mostly about Frost establishing priorities for his Nebraska football program — short-term and long-term. Of course, toppling Ohio State — or whichever team is leading the pack in the loaded Big Ten East Division — is the ultimate objective. If Frost can (eventually) slay the beasts of the East, the Huskers will be in position to play for all the marbles.
That seems daunting at the moment.
In the meantime, Wisconsin clearly is the program to beat in the West. The Badgers have set the bar in the division, winning it three times in its four years of existence, including the last two.
So, perhaps Frost's immediate set of priorities will be geared toward closing the gap on Wisconsin, then eventually overtaking the Badgers on a regular basis — as Cook's program has done against Penn State. The Huskers have beaten the Nittany Lions seven straight times in volleyball.
Let's not get too far ahead of ourselves, though.
If you watched Wisconsin beat Miami in the Orange Bowl, you probably came away thinking Paul Chryst's program is becoming a bit of a bear. The Badgers return every offensive lineman — starters and backups — from a team that finished 13-1. In fact, almost the entire offense returns, including 1,900-yard rusher Jonathan Taylor and a group of receivers that riddled the Hurricanes' secondary.
That's right, Wisconsin suddenly is loaded at the receiver positions, meaning even so-so quarterback Alex Hornibrook could be poised for a big 2018.
Granted, UW loses key personnel on defense. But foes shouldn't count on much of a drop-off because the Badgers return nearly the entire core of the unit — nose tackle Olive Sagapolu, inside linebackers T.J. Edwards and Ryan Connelly and safety D'Cota Dixon.
All four of those players are seniors.
You have free articles remaining.
No wonder BTN.com senior writer Tom Dienhart writes that Wisconsin is "the default pick in the West until proven otherwise." In his early sneak peek of the 2018 division race, Dienhart's predicted order of finish goes Wisconsin, Northwestern, Iowa, Purdue, Nebraska, Minnesota and Illinois.
That's right, the Huskers are fifth. Yes, sobering. But they could make up ground quickly, probably within a couple years, especially if Frost formulates a sound overall plan with well-defined priorities, a la Cook.
* As for Dienhart's (way too early) predicted order for the East, it goes Penn State, Ohio State, Michigan State, Michigan, Maryland, Indiana and Rutgers.
No offense to Tom, but I like the Buckeyes to prevail. They will again be loaded up front. Although I'm intrigued by Frost's emphasis on speed and playing fast (and thinking fast), Nebraska won't win the powerful Big Ten on anything approaching a regular basis unless it prioritizes improved line play.
Quite a revelation, right?
* Nick Saban will get his fifth national championship ring as Alabama's head coach Monday night. Bank on it (figuratively speaking, of course).
It's all about the matchup. When the Crimson Tide struggles, it's usually against mobile quarterbacks.
Georgia freshman Jake Fromm isn't a runner. And he's a freshman.
That doesn't mean it'll be easy for Saban's crew.
"Georgia doesn't run the quarterback, but if you watched Georgia (in the Rose Bowl), those backs are really good," former Tide offensive coordinator Lane Kiffin told ESPN. "Alabama is going to have to stay in the gaps, because it's not like you're going to run these guys down. Normally, Alabama is so fast that they don't give up explosive run plays."
Nick Chubb and Sony Michel will get loose a few times, but not enough times to pull off the upset.
* Please don't tell me Saban simply acquires more talent than everyone else. Yes, he recruits better than anybody. But it's more than that.
Former Husker walk-on Jake Peetz learned that first-hand in 2013 when he worked as an assistant to then-Crimson Tide offensive coordinator Doug Nussmeier.
"People ask me the secret to coach (Nick) Saban," Peetz once told me. "I tell them it's so simple that you're not even going to write it down, and you're going to think I'm hiding something from you. It's this: Everybody has a defined role and expectation, and you're held accountable to that. That's what it is to the nth degree. Your role is defined. You're going to have a very high expectation, and you will be held accountable, and you're going to be given every opportunity to succeed.
"I think I'll look back at that experience, working for Coach Saban, as the defining moment in my learning and my understanding — and being pushed to the limit."
It's what high-level competitors crave, right?