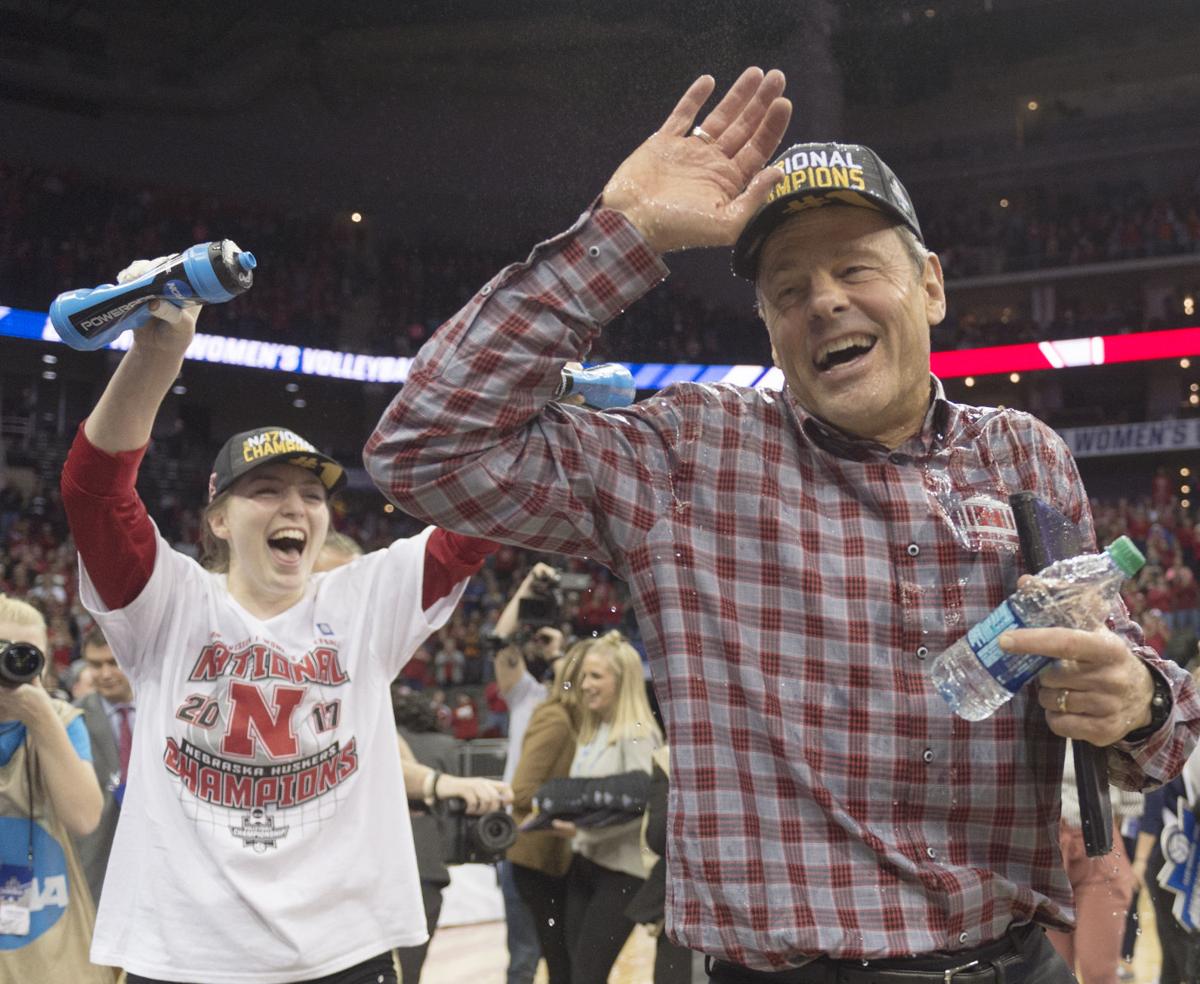 KANSAS CITY, Mo. — There was a lesson of sorts amid all that gold confetti Saturday night.
Never, ever underestimate the power of a list.
Rewind to December 2014 in Seattle. The Nebraska volleyball team had just lost in the Elite Eight of the NCAA Tournament for the third straight season. Not even 12 hours after a loss to BYU, Husker head coach John Cook had a list 32 areas where the program needed to improve to get over the proverbial hump.
Well, well, well. Wonder what the wizard had on that list.
Nebraska won the national championship in 2015, reached the Final Four last season and now this: a 25-22, 25-17, 18-25, 25-16 triumph in the national title match against Florida before 18,516 spectators -- most of them in red and white -- at the Sprint Center.
Yeah, this Cook guy knows what he's doing.
Call him the Coach K of his beautiful sport.
He tops the list of coaches in this world.
In improving to 32-4, Nebraska captured the program's fifth national crown -- four led by Cook. The man's an icon. A giant in his sport. A giant in our state. You want another sort of list? Try this: He became just the fourth coach to win four NCAA volleyball titles, joining Russ Rose, John Dunning and Don Shaw.
Although it might be difficult for Nebraska fans, they can thank Rose, the Penn State coach, for the genesis of Cook's list in late 2014. Keep in mind, the Nittany Lions won all the marbles in both 2013 and 2014.
"To be honest with you, what started the list was I saw what Penn State did, the run they had," Cook said Saturday night. "Pretty much every decision we made was about, 'OK, how are we going to beat Penn State?' That's who set the bar in the Big Ten Conference. That's how we looked at things.
"The list reflected the things we would have to do to beat Penn State."
Check that box. Nebraska has beaten Penn State seven straight times, including in the national semifinals Thursday night.
"One thing we cited was serve, block and defense had to be a priority," Cook said. "If you look at the stats from Penn State over the years, it was the best defensive team. But if you look at the last two years, when we won the Big Ten, we've been the No. 1 defensive team in the conference."
You have free articles remaining.
Since that Elite Eight loss to BYU in 2014, Cook has led Nebraska to a 95-11 record, an .896 winning percentage. From 2012-14, it wasn't like the Huskers were in a downward spiral. Three straight Elite Eights is far from a disaster, nor was the program's 76-24 mark (.760) in that span.
But since then, you might say Nebraska has flown over the proverbial hump with speed and power of a fighter jet, solidifying Cook's iconic status in the sport. He ranks third all-time among Division I coaches in terms of winning percentage at .830 (692-142), trailing only Rose's .863 (1,246-198) and Florida coach Mary Wise's .847 (905-164).
I think we all know who has the leg up in that crowd.
Kelly Hunter, Nebraska's unflappable senior setter, thought back to 2014.
"I think being so close every year made us hungry," she said. "We always say we dream big, and that's what we've been doing the last couple years. We've worked our butts off to get here (the Final Four) three years in a row, and it's great for our program."
If Cook were to make a list in the coming days (or hours), much of the subject matter surely would involve replacing Hunter. It wouldn't do her justice to call her a stabilizing force. She is that, of course. But she's also a force of nature, a cold-blooded competitor who never flinches. Cook last week said she was becoming one of the greatest leaders the program has ever had. Think about that list for a second.
Before the 2016 season, Cook named Hunter the only team captain. It made sense in that she had led Nebraska to the 2015 national championship in her first season as a starter. On the other hand, she was a junior in 2016 on a team with three senior stalwarts -- Kadie Rolfzen, Amber Rolfzen and Justine Wong-Orantes. Still, Cook picked Hunter. He saw something in her. He was right. My heavens, he was right. He's often right.
He also will say goodbye to senior middle blocker Briana Holman. Talk about a force. She sat out the 2015 title season per NCAA transfer rules without her scholarship release from LSU. I remember Cook being careful to avoid placing unwieldy expectations on her. I also remember Amber Rolfzen telling me in August of 2016, "Going against her in practice is scary sometimes."
Holman is a bit more intimidating than, say, senior outside hitter Annika Albrecht. Albrecht plays with a quiet joy. But boy, she came up big this season. Her role was one of the two biggest question marks entering the season (freshman right-side hitter Jazz Sweet answered the other). A defensive specialist for three seasons, Albrecht had only 122 career kills in that period -- but had 377 this year while hitting .260.
She also was third on the team in ace serves. And, man, could Nebraska serve. Sydney Townsend, the senior from Lincoln Pius X, spun 22 aces for the season. You see these Huskers execute driving serves -- foes must feel like a miniature wrecking ball is coming their way. Other times, you see the off-speed stuff -- drop-balls and floaters that confound opponents.
Cook has found the formula: Create discomfort with tough serves and play better defense than anyone. Block and dig like there's no tomorrow. Big-swinging hitters are a given in the top programs. But get those big-time athletes to do the dirty work, with attitude, and watch the titles accumulate.
It's good to see Cook's work appreciated. This was the 60-year-old's 18th season at Nebraska. I could see him going another seven to match Tom Osborne's 25-year head-coaching run at the school. I selfishly hope John goes another seven seasons. I haven't watched this stuff enough and want more. Imagine what our crazy state would be like if Husker football made the final four, or men's basketball.
Cook and his program help you imagine the possibilities.
You know it doesn't happen by magic. Watch Cook closely. He always seems to be thinking about something.
Perhaps something to put on a list.
Photos: Nebraska completes the drive for NCAA volleyball title No. 5
The No. 5 Huskers took down the No. 3 Gators 25-22, 25-17, 18-25, 25-16 for all the NCAA volleyball marbles on Saturday night at the Sprint Center in Kansas City, Missouri. Photos by the Journal Star staff.