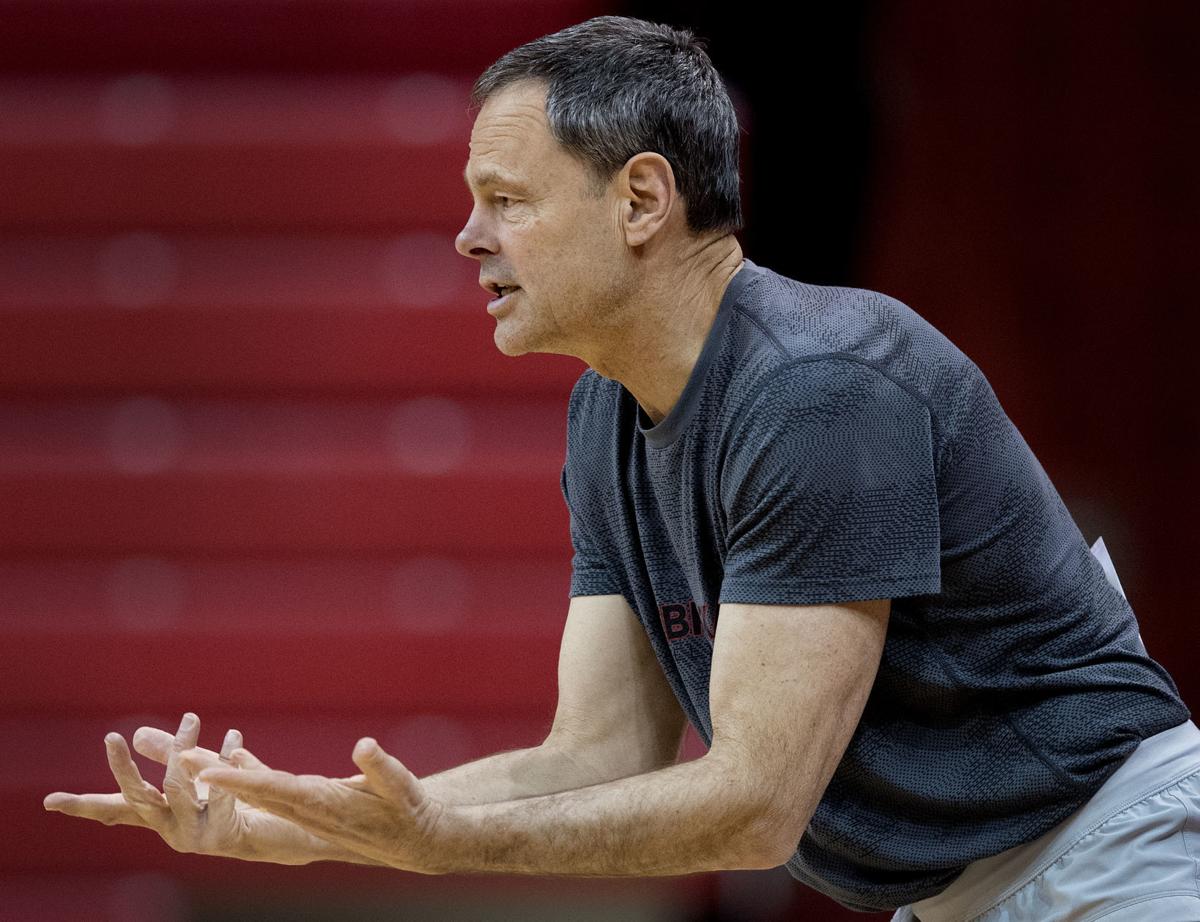 Things I know, and things I think I know (midweek edition):
John Cook's strengths as a head coach are apparent to many folks in the Nebraska volleyball fan base.
But what about his weaknesses? 
The Hall of Fame coach mentioned a couple last week during an extensive interview with the Journal Star, but one in particular captured my imagination. 
"Coaching this generation of players," the 63-year-old said. "I don't want to say I'm learning how to be more empathetic, but I have to be more empathetic and understanding — and be able to adapt and adjust."
Cook's high school football coach in the San Diego area — John was a quarterback — was old-school to his core. Cook is old-school by nature. He identifies with that sort of mentality.
However, "If you approach it that way now, you're going to be a dinosaur," he said. "I can't let myself be a dinosaur. I've got to coach more out of love. In other words, not out of anger, not out of disappointment, not out of fear of failure. I have to coach more out of love. When I do that, that's when I'm at my best.
"But some days I have a hard time doing that."
One thing that tests him these days is what he calls "the video-game syndrome." He notices it in players who participated in a lot of club volleyball. 
"Let's say you and I start playing a video game and you're killing me. I can simply say, 'Reset, let's play again,'" Cook said. "There's no consequence for winning or losing. We just reset and go. 
"Well, these players play so much club (volleyball). They go to these tournaments for three days. They're playing all these matches. So they're just trying to survive and get through the weekend. They get to a point where they don't care whether they win or lose. It's just a reset system." 
"It's really hard. I don't know," he said. "I make mistakes."
It's the offseason — a good time to ponder this stuff, even if you're already a Hall of Famer.
* Cook, in recruiting players, is always trying to identify ferocious competitors. I covered Nebraska All-Americans Allison Weston and Christy Johnson during the 1990s. Their ferocity was evident. Same goes for current Husker Lauren Stivrins, an All-America middle blocker.
It's really beautiful to watch a ferocious competitor in any arena. But it's a tough trait to measure in recruiting. 
"With multi-sport athletes, it's easier to tell," Cook said. "I can go watch them play basketball. If they're getting the sh-- knocked out of them, but they're knocking right back, then you know they're competing. Bottom line, you look for things that will confirm that they're competitors.
"If you're talking about Lauren Stivrins, last year was the first year since her sophomore year in club that she didn't play for a national championship. There's a trend there."
* As Michigan State's search for a head football coach turns into a quagmire, I can't help but think of Nebraska's situation following the firing of Frank Solich in late 2003.
Granted, there are differences. Former Nebraska athletic director Steve Pederson's one-man search lasted 41 days; Michigan State's committee is less than a week into its search. But the Spartans already have been spurned by no fewer than four coaches (Luke Fickell, Pat Narduzzi, Mel Tucker and Robert Saleh). You have to wonder if MSU quietly made a push for Iowa State's Matt Campbell and came up empty on that front, too. That's what I'm hearing from sources. 
In 2003, Pederson kept coming up empty — he reportedly was turned down by Arkansas head coach Houston Nutt, Miami Dolphins head coach Dave Wannstedt, Kansas City Chiefs assistant Al Saunders, Philadelphia Eagles assistant Brad Childress and Dallas Cowboys assistant Mike Zimmer — before settling on Bill Callahan.
Michigan State fans are concerned their football program may return to the dark ages in the wake of Mark Dantonio's surprise resignation last week. Spartan Nation should be concerned. Nebraska serves as an example that a couple of bad head coaching hires can turn into a long-term tailspin. 
* One more bit on Michigan State. The school has been rocked by scandal after scandal in recent years. MSU officials had to know that fallout from the sordid Larry Nassar scandal — the gymnastics coach was a serial predator — wouldn't be merely a short-term issue. The university's reputation has endured serious damage, and the impact is being felt as coaches balk at a lucrative Power Five job.
But it's hard to feel bad for Sparty, all things considered.
* Something Cook told me made me think of recent (invalid) criticism of Nebraska football coach Scott Frost.
With his hire of Tyler Hildebrand as associate head coach, Cook says he likes the fact he's getting an assistant coach that he doesn't have to "coach up" for the role.
Frost received criticism in some quarters in the wake of his recent hires of Matt Lubick and Mike Dawson, assistants with whom Frost has worked extensively. "Ho, hum, he hired his buddies," folks said.
Perhaps Frost felt that after two sub-.500 seasons, this wasn't a great time to hire coaches that he would have to "coach up." 
Remember former Nebraska defensive coordinator Bob Diaco? In 2017, he literally had to teach Husker assistants his 3-4 system.
That worked out real well. 
Trust and familiarity … not a bad thing in a hiring process.
* You want to draw a smile from Bill Moos? Ask the Nebraska athletic director about his recent appearance at the Washington County Cattlemen's Association's get-together in Blair.
"It was elbow-to-elbow," Moos said. "They came out with a porterhouse steak — must have been 18 ounces. My kind of place. My kind of people. Those are real cattlemen."
I'm told he had the crowd in stitches. 
"When I have that kind of crowd, I just go with the ranch stories," said Moos, a genuine cattleman himself.
Remind me to be there next year.
Be the first to know
Get local news delivered to your inbox!