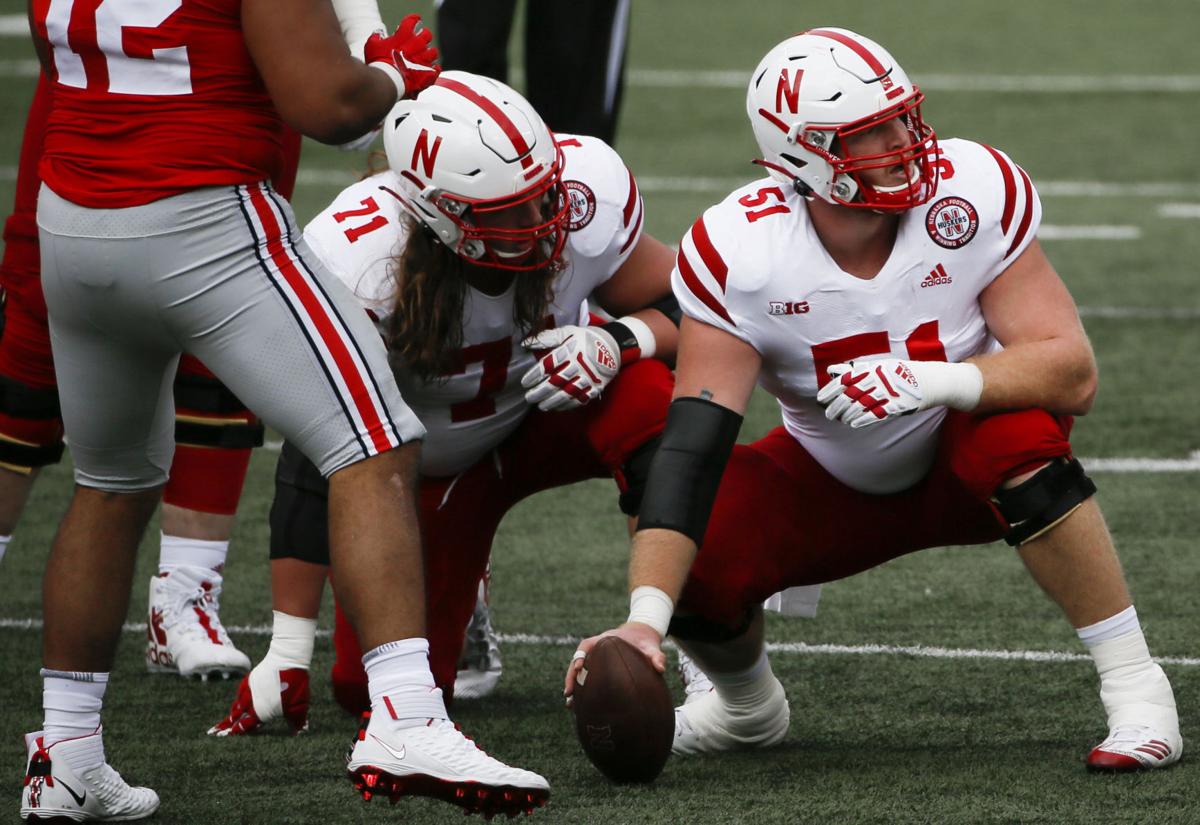 As a former All-America center at Nebraska, Dominic Raiola is sensitive to the plight of centers everywhere, especially at his alma mater.
He tried to stay as positive as possible Friday as current Husker center Cameron Jurgens fired back four errant shotgun snaps during the first half of NU's 26-20 loss at Iowa.
One of the snaps was exceedingly low, another comically high. But, you know, it's really not a laughing matter. 
Let's be clear: Raiola is not piling on Jurgens, a 6-foot-3, 285-pound sophomore with enormous potential. Nobody wants to pile on. It's just that the situation is, well, confusing. 
"That stuff happens sometimes in football, I get it," said Raiola, an All-American in 2000 who was a starting center for the Detroit Lions from 2002-14. 
The man started 203 games in the NFL, and the Lions were in shotgun 60% of the time. So, yeah, I listen closely to him. 
"Four times, man," he said of Nebraska's snap issue at Iowa. "At some level, the kid's confused. I felt bad for him. Give the kid some help on the sideline. I mean, work on it. I'm sure they practice it. It was just really, really confusing to me what was going on out there." 
The 41-year-old Raiola is retired and enjoying family life in Fort Worth, Texas. He has a daughter who plays volleyball for TCU as well as two teenage sons. One of them is a quarterback. 
"I watch high school centers and try to duplicate what they're doing," Raiola said. "I joke around with my son, and it kind of comes off as sounding cocky, but I literally don't know how to throw a bad snap. I just don't know how to do it. It's a feel thing, right? It's only 4 or 5 yards. It's not a deep snap. It should be able to be taught. This kid's probably in his own head. I'm sure they're doing whatever they can to fix it." 
By the way, I admire Nebraska coach Scott Frost's loyalty to Jurgens. The coach clearly believes in the Beatrice native, and probably still thinks he can rise to the level of, say, someone like Raiola. You heard Frost go so far as to essentially accuse the Iowa sideline of intentionally clapping in order to confuse Jurgens into making premature shotgun snaps. 
The matter was brought to the attention of officials at halftime, and Frost said the claps ceased in the second half. 
Iowa coach Kirk Ferentz wasn't thrilled by Frost's assertion. 
"What the hell are we talking about?" Ferentz said at one point. 
Again, I admire Frost for having Jurgens' back. In this instance, though, Frost might have pushed it a bit too far. 
"I think it's football. I think you try to use every advantage you can," he said. "Think about the other side of it. Think if you had 60,000 people at Kinnick Stadium going crazy. Wouldn't you rather have a few guys on the other sideline clapping instead of a full stadium? The smart thing would have been to go to a snap count (by voice). Nobody's in the stands. Why are we doing a solid count? Nobody's in the stands! We know the count. Why wouldn't we just go on the count? I don't get it." 
Rick Kaczenski, who coached the defensive line at both Nebraska (2012-14) and Iowa (2007-11), said he has trouble believing the Hawkeyes' staff would sign off on such a tactic as clapping to intentionally confuse the opposing QB. 
Even if it was happening, "When you have Daviyon Nixon lined up across from you, literally 3 inches from your facemask, if you think you're hearing a clap from the sideline, then your mind is somewhere else, where it probably shouldn't be," Kaczenski said of Jurgens. "You're trying to find a way to snap the ball and get into position so Nixon doesn't drive your ass into the quarterback and running back."
Kaczenski retains an obvious fondness for Nebraska. He watches almost all of the Husker games from his home in South Carolina. He pulls for Frost to succeed. But Kaczenski also has high regard for Ferentz and Iowa defensive coordinator Phil Parker. 
"I worked for those guys," Kaczenski said. "They're not going to do anything cheap to gain an advantage. They're freaking purists." 
Raiola also watches Nebraska's games intently, putting a lot of focus on the offensive line. After all, the Honolulu native claimed the initial Rimington Trophy in 2000 as the best center in the country after a season in which he recorded 10 or more pancake blocks in 10 games. Yes, there was a time in Nebraska football history when pancake blocks were a thing. An important thing. The stat was a source of pride. 
These days, Raiola longs to see Frost's team reflect the head coach's hard-nosed personality when he was a player. Raiola was a true freshman at Nebraska in 1997 when Frost led the Huskers to the national championship as a quarterback who was more than happy to take on linebackers.
This is Frost's third year in charge of the program. Raiola thought he would see the program take on Frost's personality by now. 
"I get it, they're kind of young, but we should start to see some kind of change, some kind of fight — more of it," Raiola said. "But I want to be clear: Scott's the guy for the job. But on some offensive series, it looks like they're going out there to avoid turning the ball over. Some other possessions, it looks like they're actually trying to do something. 
"I think you have to start taking the handcuffs off and letting it go. Playing a close-to-the-vest game, it's not working. You have to put pressure on defenses. I want to see the guy who played the game aggressively and had to go out and rise in the coaching world on his own. He's got to start coaching like that. I mean, this isn't going anywhere. 
"If Scott doesn't get it done, what are we going to do?" 
It's too early for that conversation. That much is clear to me. 
As for the snap (and clap) issues, I'll leave that to the experts.