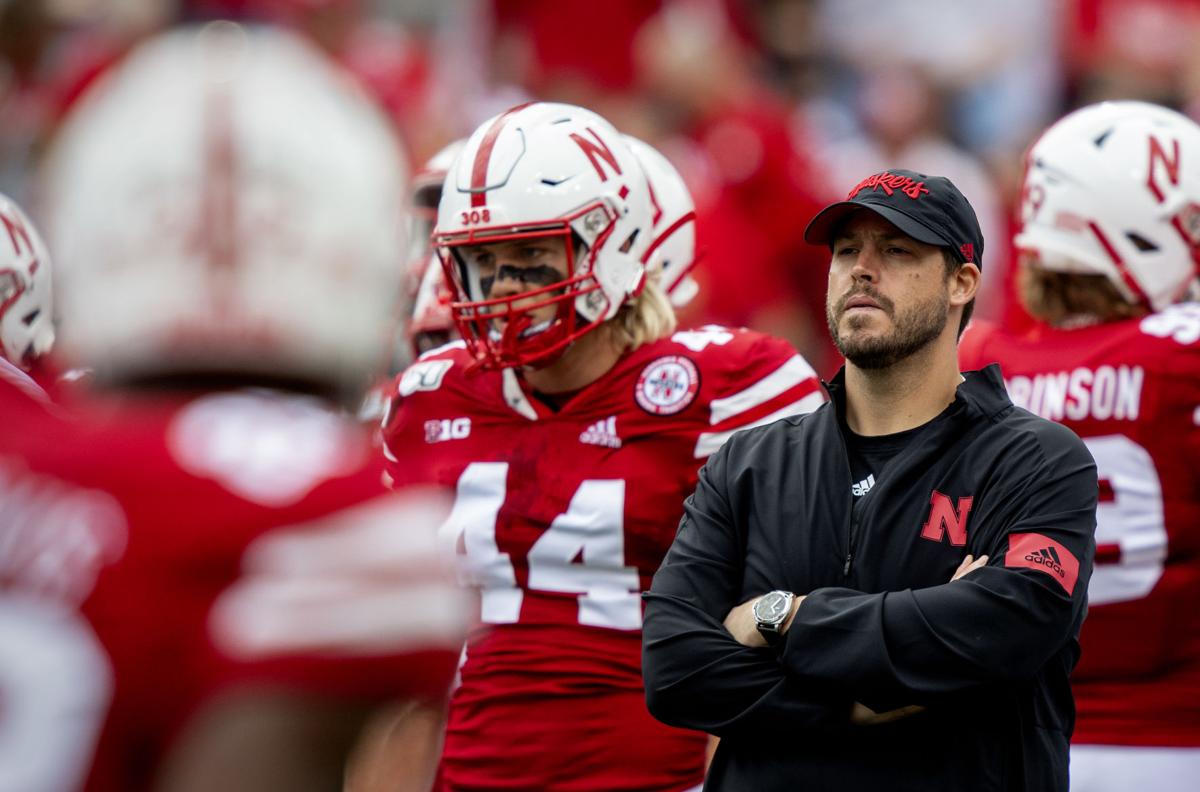 Plenty of mature Nebraska football fans surely appreciated the low-key manner in which Erik Chinander "announced" earlier this week that he had awarded Blackshirts to defenders. 
By the way, he was asked about it; he didn't volunteer the information. 
It was low key in the sense that he didn't even identify the players who received the coveted black practice jerseys. 
My heavens, it was refreshing. 
Get this: There wasn't a slick and overwrought Twitter video with overly dramatic music in the background. Does everything in this world need to be displayed on social media? Do you really care where I'm eating in Iowa City next week? I mean, I don't even care where I'm eating in Iowa City next week. 
But please don't interpret Chinander's low-key approach this week as the Husker defensive coordinator diminishing the Blackshirt tradition. In fact, he said, he respects the tradition more than he respects the need to rush out the recipients to Twitter. What a concept. What a freaking beautiful concept. 
Holy smokes, old-schoolers have to like this guy Chinander. He's a curmudgeon before his time. 
His low-key "announcement" also might have something to do with the fact that Nebraska ranks 84th nationally in total defense and 97th in rushing defense. The unit isn't exactly making Big Red fans forget Grant Wistrom and Jason Peter. That said, I think we can all agree Chinander's group is playing better than last season — it looks faster and more physical, with more defenders around the ball on a consistent basis. 
Here's something else to ponder: The fact we're talking about the manner in which Chinander awarded Blackshirts is a much more pleasant discussion than the one we thought we might be having by this point in the season. I'll go ahead and say it: A lot of people figured there would be heat on Chinander by now. Instead, it's the opposite. It seems pretty clear to people that he's pulled a lot of the right levers this season. 
Bottom line, you see progress. 
You saw Nebraska hold up well in the trenches for 25-plus minutes against powerful Ohio State. Yeah, that was definitely progress.
You saw Nebraska hold Northwestern to 317 yards of total offense, and get some heat on the quarterback.
And, yes, you saw Chinander's group dig in hard at the tail end of two fourth-quarter drives last week by Penn State. The Nittany Lions attempted nine red-zone passes in those two drives, and completed one. 
You don't want to go overboard with praise here. After all, Penn State racked up 501 yards of total offense and converted 8 of 17 third-down opportunities. Nebraska is allowing offenses to convert third downs 50% of the time. The Huskers rank 112th in that area. So, I'll say it again: Chinander low-keying the Blackshirt "announcement" made ample sense. 
You get the feeling Chinander isn't big on the softening of American culture.
You also get the feeling he's developing a tough-minded culture on his side of the ball, which is rather timely because Nebraska head coach Scott Frost's offense isn't exactly vexing Big Ten defenses at the moment. Like Chinander's defense, Frost's offense ranks 84th nationally. But it's a different sort of 84th. There are more questions attached to Frost's offense than Chinander's defense. 
Perhaps Frost's offense can pick up something that resembles sustainable momentum Saturday against an Illinois squad that ranks 105th against the pass and 87th against the run. In a 45-7 loss to Wisconsin to open the season, Lovie Smith's defense often looked like it was using nine players, Badger receivers were so wide open. 
Did I mention Nebraska's offense still has a lot of question marks? 
Has No. 1 running back Dedrick Mills recovered from an apparent knee injury suffered early in last week's game? I'm guessing we'll see plenty of Wan'Dale Robinson at running back against Illinois. That said, I think it would be wise to get true freshman Marvin Scott plenty of carries. Let's see what the rookie looks like if he's allowed to get into a rhythm. 
Another question: In the absence of touted juco wideout Omar Manning, can Nebraska develop a downfield threat? True freshman Marcus Fleming had five catches for 75 yards against Northwestern, then was shut out against Penn State. He may be a little banged up this week. Might transfer Oliver Martin begin to work his way into the rotation?
I could keep going with the questions, but you get the idea. 
Meanwhile, Chinander has come up with answers in interesting ways. For instance, he's used 17 players with regularity in the front seven. What's more, he's frequently used a 4-2-5 look, with his outside linebackers morphing into hand-in-the-dirt defensive ends. It's all about finding ways to use personnel, he says. Credit Frost with giving Chinander plenty of latitude to recruit players and use them as he sees fit. 
Chinander benefits from having seven seniors as regular starters: Ben Stille, JoJo Domann, Will Honas, Collin Miller, Dicaprio Bootle, Marquel Dismuke and Deontai Williams. 
Chinander likes the personality of his group. 
"It's gotten to the point where they don't need a pat on the back every day," he said recently. "They want to get coached hard. They want to get better. They want to know how they can get better, and they just want to play football." 
Sounds like a bunch of Blackshirts to me. 
Be the first to know
Get local news delivered to your inbox!