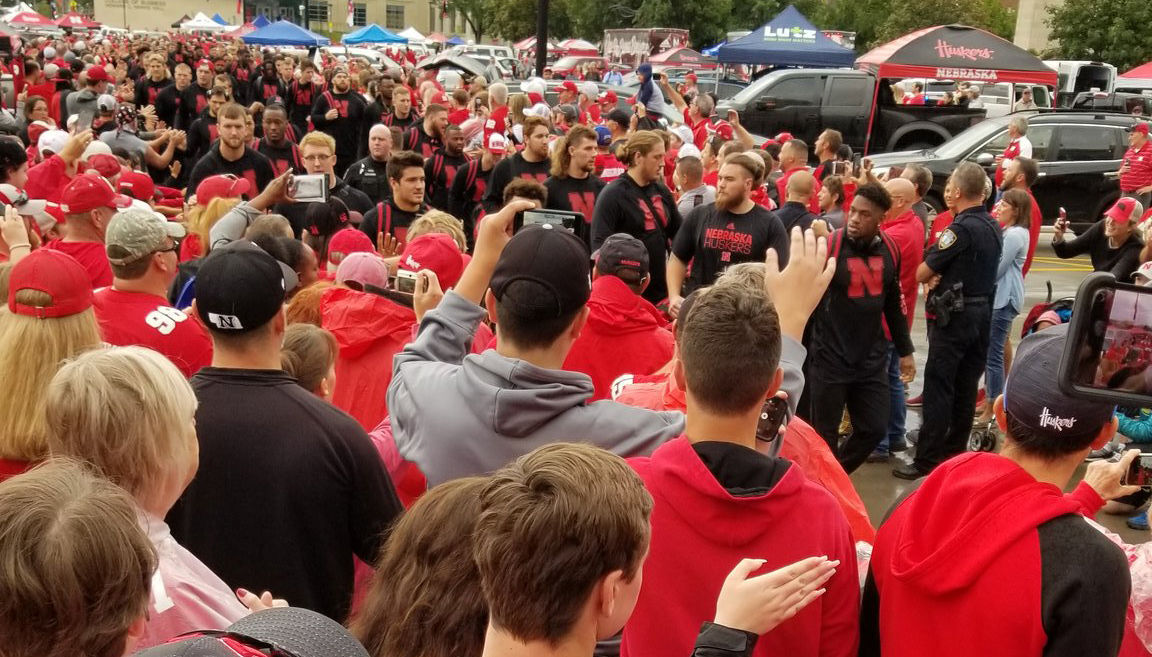 Nebraska junior tight end Austin Allen anticipates ample energy to be flowing Saturday in Memorial Stadium.
Same goes for Ben Stille, the sixth-year senior Husker defensive lineman, who says he's never played in a home game that didn't feel electric.
Some obviously are more electric than others.
What will Saturday's gameday atmosphere feel like? 
"Fans are anxious to get back into the stadium and watch us play football in Memorial Stadium," Allen said as Nebraska (0-1) prepared for its first home game in front of thousands of fans since a loss to Iowa on Nov. 29, 2019. 
Allen envisions a level of energy that approximates the lead-up to the first game of the Scott Frost era.
He means the Akron game in 2018 that was canceled by a lightning storm shortly after the opening kickoff. 
"It was electric," Allen says. "It was fun to be part of, for a kickoff."
Nebraska kicks off its 2021 home schedule at 11 a.m. Saturday against FCS member Fordham (0-0). Some may suggest Allen lives in an alternate reality if he thinks there'll be an exceptional level of energy in the big stadium. 
Again, I ask: What will it feel like? What will it look like? 
After all, these obviously are trying times for the Nebraska program, and trying times for our nation.
A pandemic persists, and a local indoor mask mandate is in place.
For Nebraska players' sake, I hope the scene is indeed electric. I hope Husker fans flood downtown streets and make it feel, well, close to normal. You wonder, though. After all, Nebraska is 9-14 in the past 23 games on its home field. What's more, NU started off this season with a clunker, dropping a 30-22 decision last week at Illinois in which the Huskers were plagued by many of the bugaboos that have defined Frost's tenure.
This much is certain: A sellout crowd will be on hand. Yes, all the tickets are sold, thanks in part to a brilliant idea by Nebraska's athletic administration — specifically, Lawrence Chatters, a senior associate athletic director. NU created a program that'll issue complimentary tickets to underserved young kids around Nebraska.
A couple of generous and community-minded donors paid for those tickets. Bravo. It's absolutely one of the best ideas I've heard in some time. Nebraska's athletic administration essentially created a significant amount of goodwill in the state while simultaneously keeping alive a sellout streak that remains one of the last remaining defining traits of a proud football program.
This is the sort of thoughtfulness that should make Nebraska fans and Nebraskans in general feel proud. The act of creating a lifelong memory for hundreds of kids in itself represents a memorable start to the 2021 home schedule.
Also, kudos to a Nebraska fan base that purchased all but a couple of thousand tickets for the game. Make no mistake, that alone represents a significant show of loyalty and dedication, all things considered, even if some of those fans end up being no-shows. 
Will fans have room to stretch out a little? 
Bottom line, the sellout streak lives for another week — 376 games and counting. Yes, it's important. Yes, it's meaningful. 
It astounds me whenever somebody casually dismisses its importance. Granted, it's felt artificial at times in recent years as boosters purchased tickets to keep it alive. Kudos to those boosters, by the way. If Nebraska gets back on a winning track, concerns about maintaining the sellout streak will diminish or simply vanish. In the meantime, it makes perfect sense to be creative in keeping the streak alive. 
Casual dismissal of the sellout streak reminds me of what transpired at Nebraska in 2004. That's when many Husker fans willfully turned their back on a style of play that largely defined the program. You surely remember the scene at the 2004 Red-White Game featuring Bill Callahan and the West Coast offense. On the first play, fans cheered all the pre-snap motion and then rose to their feet when Joe Dailey heaved a deep ball to Matt Herian. 
It fell incomplete. In hindsight, it's poetic symbolism. 
No, it's not a perfect comparison to the manner in which some fans dismiss the sellout streak's importance. Bottom line, shouldn't there be a level of concern about yet another defining element of Nebraska's program perhaps fading into oblivion? 
The sellout streak has survived cellphones, expanded television coverage, capacity increases and lackluster football. 
It's an enduring piece of the state's very fabric. That doesn't mean anything? Really?
The streak's alive — for this week, at least. That's a good thing. It's now a game-to-game conversation. That's OK, too. 
Nebraska has an incredible fan base, sellout streak or not. I mean, it sold out the stadium during a pandemic for a game pitting a struggling program against an FCS team. 
In fact, it energizes me to ponder a full house Saturday, or even something close to it. 
For one, it would give all those underserved kids a full-blown Memorial Stadium experience. 
Perhaps a new tradition is born as NU officials work diligently to maintain one that dates to 1962.
The work is well worth it. Ask any current player.
They surely will appreciate your electricity.