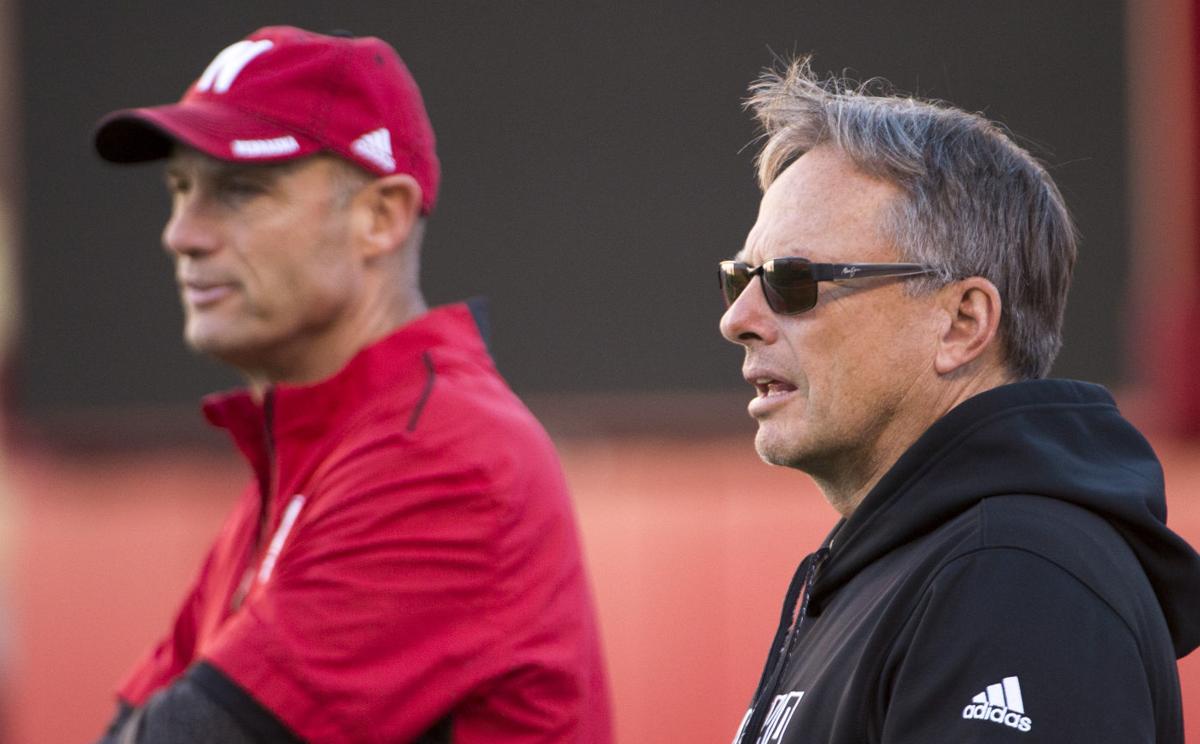 Editor's note: During the past two decades, the Nebraska football team has cycled through dozens of assistant coaches. You tend to lose track of where they've matriculated. In coming weeks, the Journal Star will take readers through a "Where are they now" of some former NU assistants. We continue with Mark Banker.
Drenched in sweat, Mark Banker wanted to make a beeline for the showers in the Washington State football locker room.
It was early March, not long before the coronavirus pandemic shut down most forms of athletics. The 64-year-old Banker, the new Cougars safeties coach, had just put players through a change-of-direction drill, and WSU defensive coordinator Jake Dickert evidently admired Banker's zest.
The former NU assistant underwent a heart transplant last year. The last few days, he's thought a lot about his donor and the donor's family.
"You look like you're having more fun than the players," Dickert told Banker. "How much longer do you want to do this?" 
Maybe it's Banker's (mostly) full head of hair. Or perhaps it's his outgoing personality. But he does seem to have a lot of juice left. 
So, how much longer does the former Nebraska defensive coordinator (2015-16) plan to coach in college?
Ask Banker that question and he'll likely refer to former San Diego Chargers linebackers coach Jim Vechiarella. 
"I'm leaning on Jim's philosophy," Banker told the Journal Star last week. "When the hair on the back of my neck and my arms doesn't stand up on end when they play 'The Star-Spangled Banner' before kickoffs, then I'll stop coaching." 
He still feels that phenomenon.
"Oh, for sure," he said. "I'd like to think my neck is clean and I'm well-groomed. But, c'mon, you know what I'm saying. There's got to be some excitement. There's got to be some anxiety to the point where you're telling yourself, 'Man, this is important, and this is exciting.'
"Once you lose that competitive side, then it's time. But I still love it."
Banker was a refreshing piece of the puzzle at Nebraska during the 2015 and 2016 seasons in part because of his lighthearted sense of humor, but also because of his candid nature. Husker fans perhaps remember his "I bet their practices are like a bloodbath" comment about the Iowa Hawkeyes following NU's 40-10 loss in Iowa City in 2016. Some wondered if Banker was suggesting in a roundabout way that NU needed to practice with more physicality. If that was his message — and I believe that was the case — I think it's pretty clear he was right. 
After he was fired by then-Nebraska head coach Mike Riley (over the phone) in January 2017, Banker sat out the 2017 season before spending 2018 and 2019 as the assistant head coach and inside linebackers coach for Nick Rolovich at Hawaii. The Rainbow Warriors appeared in back-to-back bowl games, including a 10-win 2019 season capped by a Hawaii Bowl win against BYU. 
Banker was among the Hawaii coaches who followed the 41-year-old Rolovich to Pullman, Washington (population 34,000), on the extreme eastern edge of the state. It marks Banker's 11th coaching stop during a 40-year career. Yes, 40 years. He's had his share of ups and downs, as one would expect in such a time span. But after all these years, he still welcomes the grind, he says. Considering the draconian amount of hours that many coaches work, you had better enjoy the job, he says.
Did his experience at Nebraska zap his enthusiasm for the sport, or increase it? 
"I loved everything about being there except for the internal workings," Banker said. "That part zapped me from the standpoint of the person who was my immediate supervisor (Riley), and also from the standpoint of the administration trying to handle the program." 
Former Nebraska athletic director Shawn Eichorst essentially dictated the hiring of Bob Diaco, Banker's replacement. Diaco's defense in 2017 was an utter disaster — it allowed a startling 5.6 yards per carry to rank 124th nationally — and Riley's staff was shown the door after a 4-8 finish. Eichorst himself was fired within days of a mid-September home loss to Northern Illinois. 
"The thing is, I always loved coming in and working as hard as I could to put a great product on the field, for us to hopefully win the Big Ten and eventually get back on the national stage," Banker said. "In the second year, I thought we were moving in that direction. I knew we had to get better personnelwise. But without going into a lot of details, it didn't seem like whatever we were doing was ever good enough. …" 
He sounds ready for his next challenge. He had two good years at Hawaii and now looks forward to being back in the Pac-12, where he coached for several years at Oregon State alongside Riley. All told, Banker spent 12 years as the Beavers' defensive coordinator (2003-14). His 2007 unit led the nation in rushing defense (allowing only 2.1 yards per carry), ranked eighth in total defense, fourth in sacks and sixth in tackles for loss. 
He was interim defensive coordinator for the Chargers in 2001 when they led the NFL in rushing defense. He's proud of those run-stuffing units, as he should be.
By the way, his Nebraska defense in 2016 wasn't all that bad — 30th nationally in average yards allowed.
It's still fun listening to Banker discuss defense, especially what goes into producing a good run-stopping unit.
"The bottom line is, there's an attitude and a culture you establish," he said. "It's a going-through-the-front-door type of culture. It's not finesse. It's doing what's uncomfortable." 
Isn't life (and football) interesting that way? Hardly anything good in this life comes easily.
As Banker discusses run-stopping qualities, it occurs to me that he could talk about this stuff for hours. 
"You always try to produce a little juice and enthusiasm as you're doing your job," he said.
He seemingly has plenty left in the tank.
A look at Steven M. Sipple's latest stories
A look at Steven M. Sipple's latest stories
Miss the latest columns from "Sip"? Check them out here. 
Be the first to know
Get local news delivered to your inbox!