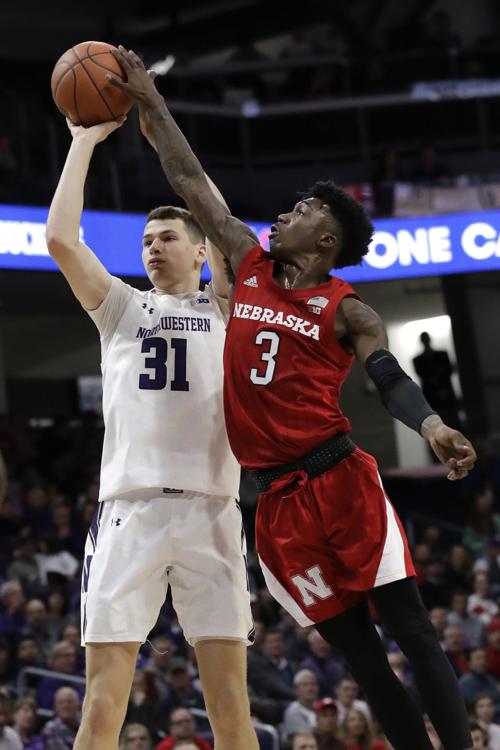 We're seeing something special. That's becoming increasingly clear. But let's not get ahead of ourselves.
I'm mostly talking to myself here.
Cam Mack potentially could become one of the best point guards — if not the best — in Nebraska men's basketball history. He possesses that sort of talent, that sort of skill, that sort of court awareness. 
But let's keep the discussion in check for the time being. Saturday helped in that regard, as Mack turned in an uneven performance in Northwestern's 62-57 victory at Welsh-Ryan Arena in Evanston, Illinois. 
Yeah, let's call it "uneven," even though Mack picked up his fifth double-double of the season with 11 points and 10 rebounds. The cat-quick sophomore also recorded seven assists and now has had at least six in each of the Huskers' five Big Ten games. 
Tell me that watching Mack doesn't make you wonder about his ceiling in terms of potential. Even when he goes 4-for-13 from the floor, as was the case against the Wildcats (6-9, 1-4 Big Ten), he does enough to intrigue you with his unique ability.
"I think from a talent perspective alone, he's got a skillset that I'm not certain we've seen in a Nebraska uniform," says former NU guard Cary Cochran, the program's all-time leading three-point shooter with 268 makes from 1999-2002. 
The 41-year-old Cochran coached at Wyoming and James Madison. He watches Nebraska hoops carefully and clearly likes what he sees in the 6-foot-2, 175-pound Mack, who's averaging 12.7 points and 6.8 assists per game — his assist average placing him among the top 15 nationally.
"I'm not saying his talent exceeds (all Husker point guard greats), but he's definitely unique," Cochran says. 
Mack is on pace to have the most assists per game by a Nebraska player in a season since Brian Carr in 1985-86. The 6-foot Carr was as reliable as the U.S. mail. His assist-to-turnover ratio in 1985-86 was 3.05-to-1. Mack's is 2.45-to-1. But Carr didn't make as many "wow" passes. 
Just 16 games into his Nebraska career, Mack already is the only Husker during the past 30 years to have multiple points-assists double-doubles in the same season, as he has four, including three in Big Ten play. Of course, he also recorded the first triple-double in school history a month ago with 11 points, 10 rebounds and 12 assists in a 70-56 home win against Purdue.
Even so, it's too early to elevate Mack into the same realm as, say, former Nebraska standout Tyronn Lue, a first-round NBA pick in 1998. Thing is, it's not like NU has produced a long line of outstanding point guards. In fact, Lue is the last to earn first-team all-conference recognition. Before Lue earned it in the Big 12, you have to go all the way back to 5-9 Jack Moore, an All-Big Eight choice in 1982. 
Lue was the quickest point guard I've seen at Nebraska. Lue, Carr and Moore were intelligent floor generals. Mack is progressing in that regard and trying to become a consistently strong leader for a Husker team that's 7-9 overall (2-3 Big Ten).
"I would caution throwing too much Mack's way," Cochran says, "because usually elite guards don't let inferior teams beat them. Usually the elite guards control the game to an extent that you don't get beat by UC-Riverside (66-47), you don't get beat by North Dakota (75-74). In the close games, you don't miss free throws at the end. 
"I'm not coming down and dogging on him because I'm very high on him," adds Cochran, saying Mack reminds him of former Texas great T.J. Ford, a first-round draft pick in 2003.
Ford was exceptionally quick. Like Mack, he also changed speeds extremely well. 
"It was almost like he pressed a button and it was a burner, and he was gone," Cochran says. 
But Ford had an intangible quality that sets him apart from Mack.
"Cam has to put the team on his shoulders and not let it lose to teams it shouldn't lose to," Cochran says. "That could elevate his profile." 
That's a lot to ask of any player. But Mack isn't just any player.
How much better can he get? Tell me you aren't intrigued by the question.
Be the first to know
Get local news delivered to your inbox!