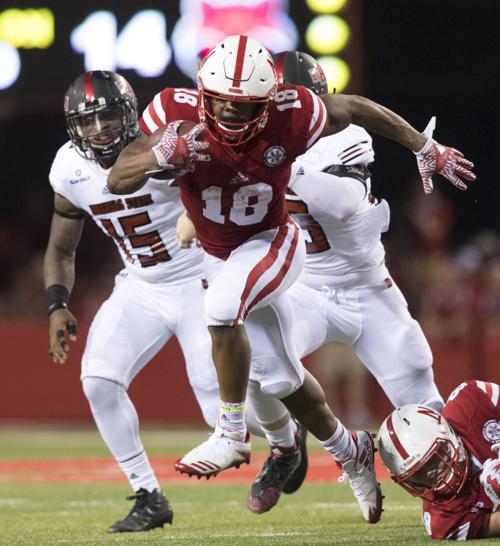 Perhaps someday Tre Bryant's attitude will evolve into more of a Keyshawn Johnson Sr. approach.
You know, "Give me the damn ball."
Bryant, the Nebraska sophomore running back, possesses an endearing mix of confidence and humility. Team-first all the way, he genuinely seems to embrace the Huskers' committee approach at his position, the sort of situation that many other backs abhor because, well, they want the damned ball, all the time.
Saturday night, Bryant was the Nebraska running back with the ball most often by far — not because he demanded it, but because he earned opportunities. He hit holes with decisiveness and broke tackles. He made cuts in tight spaces that would make Ameer Abdullah stand and applaud. 
The 5-foot-11, 200-pound Bryant, of St. Louis, rushed 31 times for 192 yards and a touchdown in a 43-36 win against Arkansas State.
In short, he found rhythm. Give Nebraska coaches credit for sticking with the hot hand, something that too often hasn't been the case the past two seasons as NU favored a committee approach, Husker head coach Mike Riley acknowledged.
So, was Saturday an aberration? Or is Bryant perhaps a star in the making?
"I feel like all our running backs have that ability to go out and do that same thing," Bryant said. "It's just getting into that rhythm. Once you get that confidence and rhythm going, it's hard to stop."
At some point, Nebraska may well have to lean hard on one of two juniors, Mikale Wilbon or Devine Ozigbo. How often does a major college running back get through a season without some sort of injury?
As Riley points out, Bryant experiences occasional swelling in his knee, an ailment that sidelined him for at least a handful of practices in August.
Meanwhile, true freshman Jaylin Bradley continues to make progress.
"The way our offense is set up, there's so much you have to look for as a running back," Bryant said. "He's getting all that mental stuff down. Athletically, he's definitely ready to go. He's getting better each and every day. He's starting to pick up pass-pros better."
In high school, Bryant said, "You're able to just run and be an athlete." On the other hand, Nebraska running backs must learn the game at a level that's "way higher than what the normal person would have to do in high school," he said.
He appreciates the patience and even-keel approach of his position coach, Reggie Davis — who's one of the main reasons Bryant came to Nebraska from Christian Brothers College High School in St. Louis.
Last season, he carried 43 times for 172 yards and a touchdown as one of five Husker true freshmen to see action.
This season, he said, he better recognizes defensive personnel packages. He watches for safety alignments. Are they on the hash marks or off them?
He feels he's making faster and wiser decisions.
"It's knowing how to better set up blocks because I know where my linemen are going on certain plays," he said.
With a stronger grasp of the big picture, "I can be more patient and explode to the hole," he said.
It all starts with the offensive line, he said. It's also a matter of the receivers blocking well downfield. So, yes, there are a lot of moving parts.
Bryant certainly played his part Saturday night after learning during pregame warmups that he would make his first college start.
"All of us (backs) have that mentality to be ready to go," he said.
That goes for Ozigbo, who watched from the bench. 
"We all know we're a unit. One unit," Bryant said. "At any second, Devine could go in there and do the same thing I did. We always have trust in our ability, so there's no bad blood or anything like that. No reason to tell him to keep his head up.
"We're just all ready to roll."
Thumbs up to Luke Gifford. Rewind to mid-March, when I approached the Husker outside linebacker for an interview following a practice. He agreed to it, but expressed reluctance. It's time for action, he said, not words. What a mature response. It becomes even more impressive considering his team-high nine tackles in the opener — one more stop than he had during his previous three years in the program. He hungered to be more than a bit player and made it happen.
Thumbs down to Tony Buzbee, the Texas A&M regent who wrote on Facebook in a 200-word post Sunday night that A&M head coach Kevin Sumlin "can't coach the big games" and should be fired. A prominent Houston attorney, Buzbee was fed up after the Aggies blew a 34-point lead and lost to UCLA. I'm sure Aggie players genuinely appreciate the esteemed, calm and reasonable regent's attempts to help hold together the team after an incredibly gut-wrenching loss.
Number of consecutive passes that Baker Mayfield completed to start Oklahoma's 56-7 win against UTEP last weekend. He ended up 19-for-20 for 329 yards and three touchdowns. Keep those numbers in mind as you ponder the Sooners' visit Saturday to Ohio State, which got awful cornerback play in last week's win at Indiana.
1. Kevin Sumlin, Texas A&M. "Really don't have time to get involved in what things are said about me or about the program …" he said. Yeah, probably a good idea to leave that stuff alone at the moment.
2. Dave Doeren, North Carolina State. You try to argue his program is close to breaking through — it has 18 returning starters, including 11 seniors — then it loses its opener to a middling South Carolina outfit.
3. Rod Carey, Northern Illinois. USA TODAY this summer placed Carey atop its hot-seat list. He's dropped eight of his past 13 games, including a 23-20 loss to Boston College to begin this season. The Huskies travel to Lincoln on Sept. 16.
4. Todd Graham, Arizona State. Coming off back-to-back losing seasons, his contract wasn't extended by his AD. Never a good sign.
5. Jim Mora, UCLA. He escaped against A&M. But he can't escape our list.