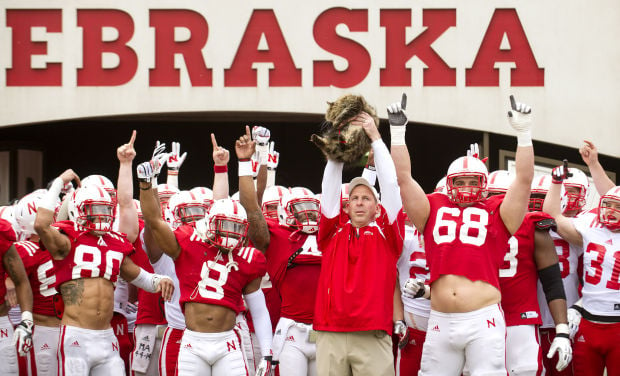 Bo Pelini calmed the cat by rubbing its belly.
You can't make up this stuff.
Pelini likes to say that great leaders "do what they have to do." So, Bo had to do something. After all, a big crowd was on hand. Lots of noise. Lots of strange looks. So, Pelini gently cradled the cat, Anya, as they led the team to the field Saturday. Yes, he gently cradled a cat. He was expressionless. Priceless.
A crowd of 61,772 awaited their emergence from the tunnel. The cat had never seen anything like this. Nor had you. Nor anybody else on the planet.
"The cat was probably a little freaked out, I don't know," the seventh-year Nebraska football coach said after the Red-White Spring Game at Memorial Stadium.
You always learn a few things at these overwrought scrimmages.
We learned Pelini might have a future in animal control. I've heard of cash-strapped metropolitan areas cutting back on animal-control workers. Pit bulls run loose. Wild animals wander into cities. They can't be as fearsome as some Husker fans.
Perhaps Pelini's cat caper was hatched with fan control in mind. You know, get the haters to cool a bit and maybe it will take some heat off the team come fall. Worth a try.
It also helps a coach to show the masses a good product. Nebraska fans generally had to like what they saw, as the Red team (offense) topped the White team (defense) 55-46 in a scrimmage featuring a modified scoring system that would take me too long to explain.
Plus, the Anya angle is more entertaining.
It continued an ongoing joke Pelini has had with popular Twitter poster @FauxPelini, who uses as his avatar a doctored photo of the Husker coach wearing a sweater and holding a cat.
"They tried to get me to put a sweater on, but that wasn't happening," Pelini said of his assistants and players.
We live in a bizarre land, a world where @FauxPelini has more Twitter followers (86,200) than Bo's real account (78,700).
Might as well go with the flow.
We could all learn from the cat caper.
We often regard Nebraska football with extreme seriousness, as if we were analyzing the Pentagon. Sometimes the 365-days-a-year scrutiny becomes a bit much. Which is why I like the balance we saw Saturday.
You saw quality entertainment and quality football, for the most part.
I liked the positive energy in the stadium. I liked the team's energy.
When Nebraska intermittently went into drills, they were crisp and well-executed.
On the other hand, Nebraska's first-unit defense allowed three touchdown drives in a mostly underwhelming performance — for the second straight Saturday. Pelini said he would like to see a couple of linebackers separate from the pack. I'll say this: It's generally not easy to win a Big Ten championship without an all-conference-level linebacker.
As for entertainment, I'll long remember Kenny Bell's celebratory "airplane" sprint — buzzing around the field, arms extended — after he topped Pelini in a contest to see who could hit the crossbar with passes from 30-plus yards.
Former Husker offensive lineman Jeremiah Sirles stepped forward to punt in the punt, pass and kick competition, then decided, "What the heck, I'll go for it." He turned and proposed to his girlfriend, Emma Stevens. The former NU soccer goalkeeper said "yes." 
Ryker Fyfe also was in a go-for-it mood. The 6-foot-2 sophomore walk-on from Grand Island showed some "gunslinger," especially during the 11-play, 70-yard touchdown drive against the first-string defense. Fyfe was 9-for-12 passing for 89 yards and a touchdown. He can scramble. He surprised nobody who watched him all spring. He's a viable backup.
Johnny Stanton also had his moments — perhaps his best ones of the spring. The redshirt freshman has a strong arm and shows power as a runner. He was 8-for-12 passing for 135 yards and two touchdowns.
Pelini couldn't have written a much better QB script. He said Fyfe and Stanton are "pretty much co-No. 2s." But the coach wants them to push projected starter Tommy Armstrong. Tommy saw what the rest of us did from the backups. The Texan needs to keep improving.
Armstrong recovered from a bad interception on the first series of the day — he didn't see safety Nathan Gerry rotate inside — to go 4-for-8 for 97 yards.
The sophomore from Cibolo, Texas, commands hearty respect from teammates. 
"Tommy is very focused," said junior running back Imani Cross, who looked excellent (100 yards on six carries). "He's very mature and understands defenses, understands rotations. When you see it day in and day out — a guy putting his team in the right positions — when you're out there on the playing field, you have that same confidence.
"He comes to practice every day to get better. We all notice that, and it was no different today."
Ah, but the day was different, starting with a cat — the gorgeous Anya, who belongs to an athletic department employee.
"We tried to have a little fun today," Pelini said.
Nothing wrong with that. Nothing at all.