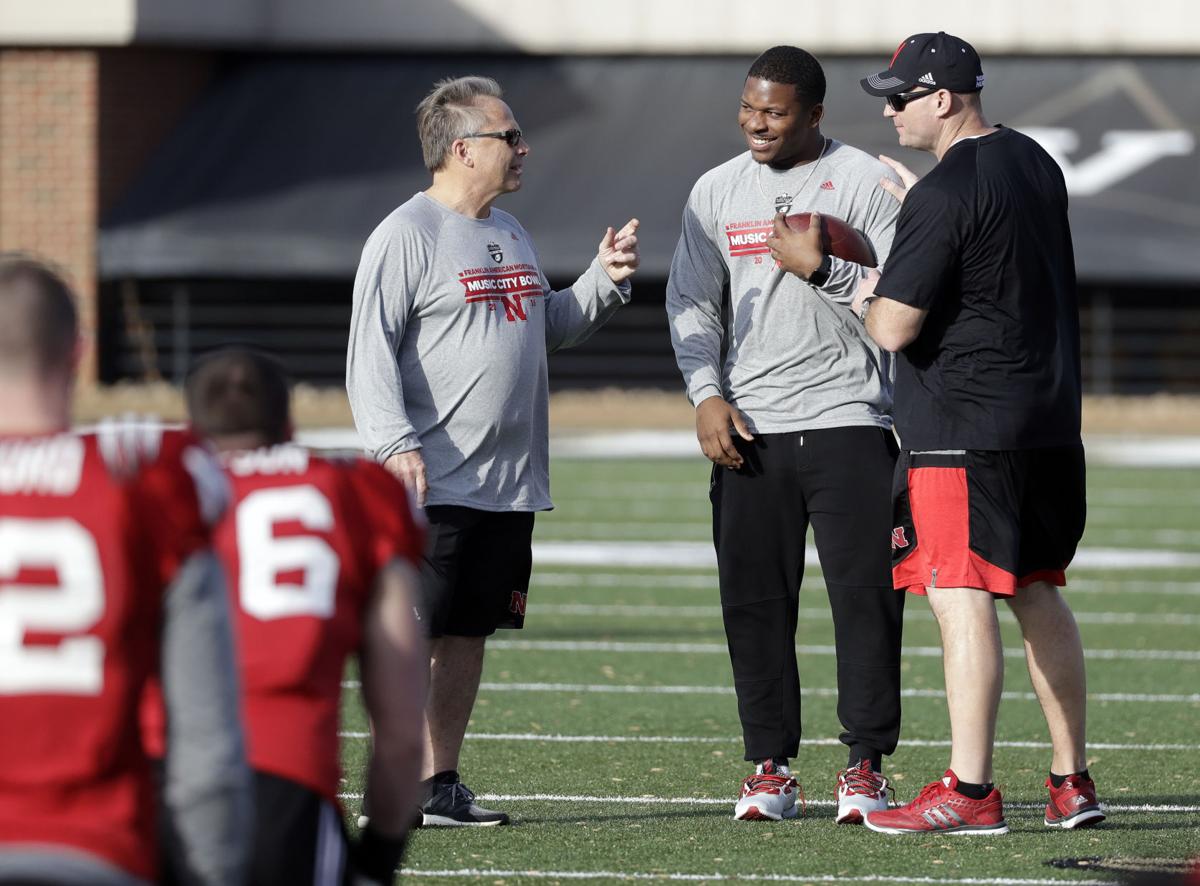 NASHVILLE, Tenn. — In this case, the shoes didn't fit — too big — but Alonzo Moore still wore them.
"I saw them sitting in the locker room, and I put them on," the Nebraska senior receiver said following Monday's bowl practice at Vanderbilt.
The cleats actually belong to senior quarterback Tommy Armstrong. You know where this story is going — not well for Tommy. He's only practiced a handful of times since injuring his hamstring late in the Nov. 12 win against Minnesota. He hasn't taken even a single practice snap this month in advance of the Music City Bowl against Tennessee on Friday at 2:30 p.m. at Nissan Stadium.
Armstrong, a 44-game starter, watched Monday in sweat clothes. There was no reason for a helmet.
So, Moore wore that, too.
"I was thinking about him before coming out here (to the practice field)," Moore said. "I was, like, 'Dang, man, you know he won't ever be able to put on that helmet again.' So, I put it on and just went to practice."
Armstrong didn't do media interviews, but Nebraska coach Mike Riley said Tommy has been "engaged" in practices.
Armstrong hasn't officially been ruled out of playing Friday. But, yeah, you know where this is going.
For No. 4, it's going to end quietly. Too quietly.
"I do think it's hard for him when he's not playing," Riley said. 
I think we can all agree that if you're going into a battle of any sort, Armstrong would be a good person to have at your side. He never backs down.
We also can agree he's not a perfect quarterback. His pass-efficiency rating of 123.9 ranks ninth in the Big Ten. But his explosive ability as a runner is a headache for defensive coordinators, when he's full-go.
Armstrong's hamstring was hurting Nov. 25 against Iowa, and he was largely ineffective in the 40-10 defeat.
"He tried rushing back, and messed it up worse," said Nebraska senior receiver Brandon Reilly.
You have free articles remaining.
You perhaps saw Armstrong's frustration when he jawed with sophomore receiver Stanley Morgan after misfiring on a pass. Be careful reading too much into their heated exchange.
"Sometimes, you just have to get something off your chest," Reilly said. "I know they got after it. But the next drive, they were talking to each other, like, 'Hey, I shouldn't have came at you like that.'
"They were men about it and very mature. But it's a game of high emotion, and sometimes emotions get the best of you."
Moore likes Armstrong's competitiveness — says it rubs off. Armstrong's fiery demeanor is foremost among traits I'll long remember. But some people handle heat better than others.
Meanwhile, backup Ryker Fyfe prefers to lead by example.
"Ryker, to get a word out of him, is very hard," Moore said. "He's not going to yell at ya."
There's something to be said for quiet confidence.
"What I see is this: Ryker is really well-liked and respected," Riley said. "When he goes in to lead the offense, whether it's in practice or when he played against Maryland (a 28-7 triumph Nov. 19), I think the guys all kind of rally to him.
"I think they do that because they respect the work he's put in. And they think he's good."
Moore agreed, mentioning a couple NFL quarterbacks to illustrate his point.
"Ryker likes Aaron Rodgers, but I call him Ryan Tannehill," Moore said. "He reminds me of Tannehill for some reason. His release. His throwing (style). How he sits in the pocket."
The 6-foot-3, 215-pound Fyfe has decent athleticism and functional speed. By functional speed, I mean he looks pretty fast when he's being chased.
Moore, of course, is speedy under any circumstances, even when wearing shoes two sizes too big.
Yes, you know where this is going. Armstrong likely will have to watch his final game as a collegian. Although his shoes aren't easy to fill, that's the cold reality: A quiet and frustrating ending for a big personality, who put up some nice numbers at NU, but no championships.
It feels too quiet, really.