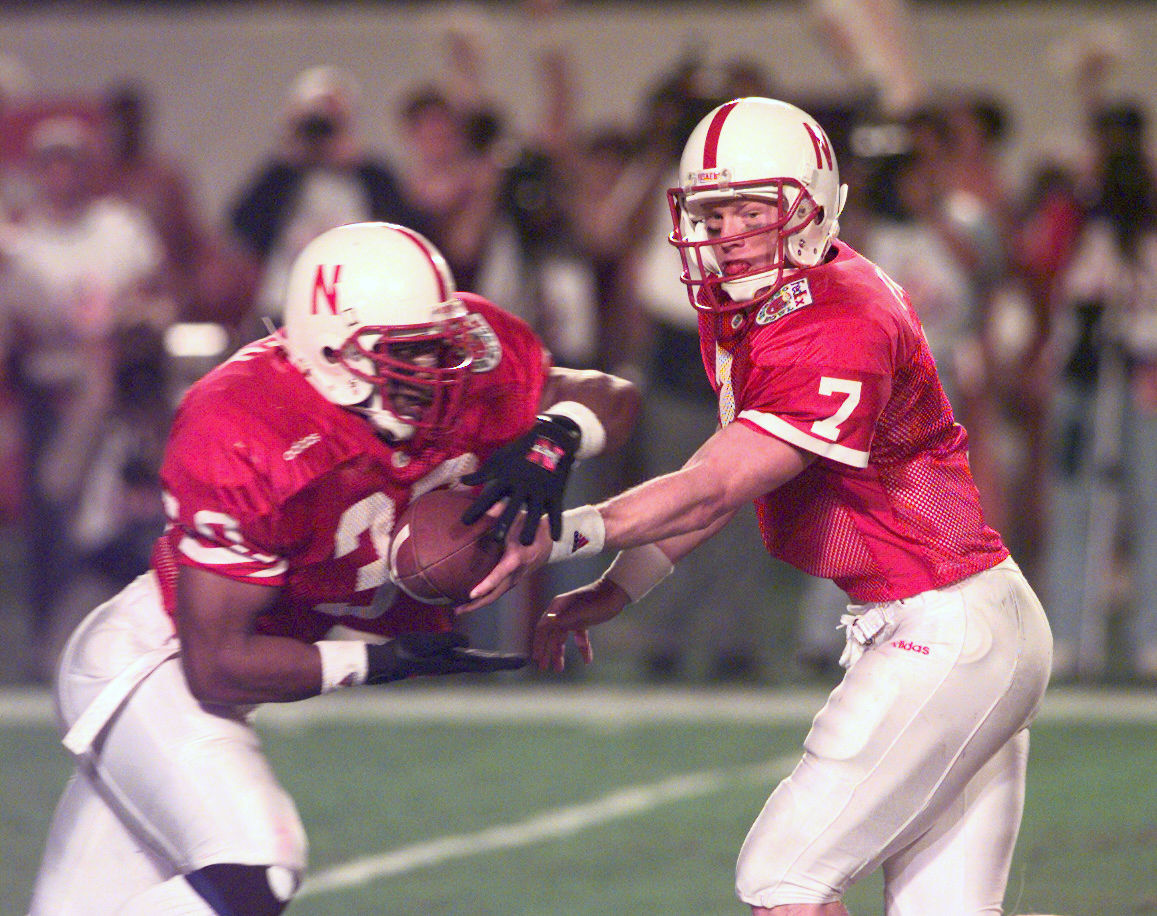 Things I know, and things I think I know:
Ahman Green learned plenty from Frank Solich, although some lessons stood out more than others.
One example: Don't step out of bounds to avoid contact.
Doing that would get Frank really fired up.
Green, who rushed for 3,880 yards and 42 touchdowns in three seasons at Nebraska (1995-97), recalls a 1995 film session involving Solich and all of his running backs. One of the backs, who shall remain nameless, scooted out of bounds ahead of a defender. Uh, oh.
"Frank had a fit," Green said last week from Wisconsin. "He said, 'We initiate contact at Nebraska. We hunt for people.'
"He actually said a lot more than I'm telling you," Green added with a chuckle. "It was quite colorful."
Solich, of course, retired from coaching last month at age 76. Meanwhile, Green, who retired from the NFL in 2009, coaches e-Sports at Lakeland (Wisconsin) University. As we reminisced about Solich last week, the conversation shifted toward Green's future in coaching. He would welcome an opportunity to coach football, or be involved in a program in some capacity.
He makes clear he feels a pull to help his alma mater, if it became an option. As an Omaha sports legend, perhaps he could help in some way. It's just a thought.
Let's be clear: I'm not in the business of telling Nebraska coach Scott Frost how to run his program, nor am I suggesting he needs to make changes on his coaching staff. But having Green, an Omaha Central graduate, involved at some level might make sense, especially in the context of NU's recent recruiting challenges in Omaha.
He's willing to move to Nebraska, even if it doesn't involve an immediate full-time coaching position.
He doesn't mind grunt work. He'll do whatever it takes, he said.
"For sure," he said. "Football is my first love."
Green interviewed for a Nebraska staff position in late 2014 when Mike Riley took over as coach. Green can coach running backs, obviously, but also believes he could coach other positions at a high level. He was an all-metro linebacker at Central in 1994. He's been a coach in Wisconsin at the high school level.
Football still tugs hard at him.
His name still packs a punch with coaches and parents. But what about high school players in Nebraska?
"I've been asked that 1,000 times," he said. "A lot of kids don't know about me. So I have to tell them who I am, and they're going to find out who I am."
Once they find out, he said, they'll understand why he has credibility. No question about that.
What's more, "I'm not just about Omaha," he said. "I have teammates who came from Cozad, who came from Columbus, Scottsbluff, McCook. Those small-town schools are just as important as the Omaha metro schools."
Frost has shown a willingness to involve former Huskers from his era on his staff. I like that picture.
Could Green become part of the equation at some point? It's just something to think about. 
He definitely thinks about it. 
Hope I'm not stepping out of bounds here.
* Nebraska starting quarterback Adrian Martinez certainly doesn't step out of bounds as he roars toward the end zone in one of those slick practice videos that NU's social-media team pumps out regularly.
A video released over the weekend shows the fleet veteran Husker doing what he does best — getting loose on the perimeter and out-running defenders.
No, that's not a dig at his passing ability. He's shown enough as a passer to earn the respect of defenses.
Bottom line, you have to wonder what goes through a defensive coordinator's mind as he watches Martinez fly down the field.
OK, the hype video got me. Guilty.
* In case you're wondering, Martinez tucks the ball away safely as a defender appears to close in. I know you were wondering. 
* You also might be wondering about Martinez's early foray into the name, image and likeness revolution in college sports. 
"I've been lucky enough to work with a couple companies," he said. "It's been fun. It can be a bit time-consuming, and navigating all that can be tricky. But luckily there are companies like (Lincoln-based) Opendorse, and we have some wonderful people here (at the university) who work with us and help us navigate offers, deals, whatever it is." 
All in all, he said, it's been fun. 
"But when the season comes around, you have to put your priorities in order," he said. "Making sure myself and the rest of the guys have that situated is a critical piece right now." 
Based on interviews with a handful of Martinez's teammates, there isn't a lot of NIL activity in the program. That could change quickly, of course. The revolution is literally a month old. 
* The question directed to Martinez was succinct, and his answer was interesting.
Who's a Nebraska wide receiver that he's especially excited to see realize his potential?
"There are a lot of guys," the quarterback said. "But I would say Zavier Betts. He's put in a ton of work this summer." 
The 6-foot-2, 200-pound Betts, a Bellevue West graduate, runs with a fluidity that's a sight to behold. He had 12 receptions for 131 yards and a touchdown last season as a true freshman. He's now competing for a starting role with some excellent players. 
"We've had a decent amount of personal conversations about what he means to this team," Martinez said. "I think he's a difference-maker." 
A little encouragement from the veteran QB can only help.