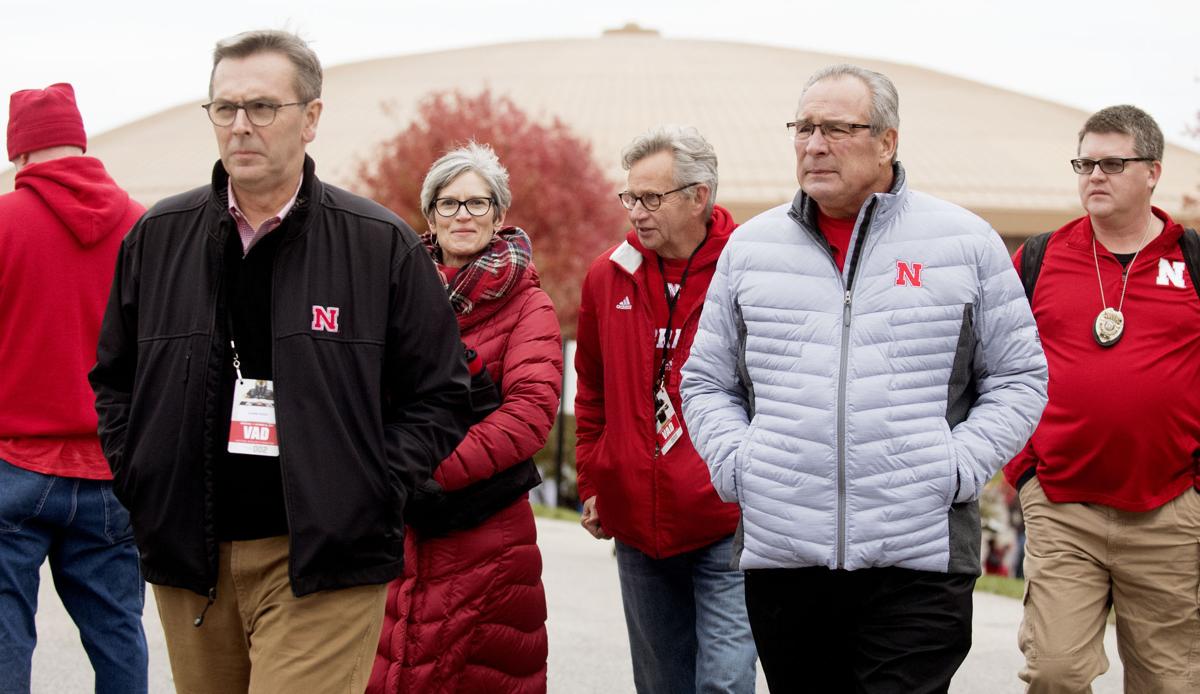 Things I know, and things I think I know:
We heard crickets Sunday, and those crickets brought clarity.
Folks wondered if new Nebraska athletic director Bill Moos might pull the plug on Mike Riley's tenure as Husker football coach, such was the dramatic nature of a 54-21 loss Saturday at Minnesota. Turns out, there was no news conference. We heard only silence. In that silence, a vision became increasingly clear.
Let's think this through logically. I'm told there's no major Nebraska football-related announcements planned for Monday. So, we're getting a good idea how this will all play out. Or maybe it was already predictable. Bottom line, it appears Moos will stay the course and stick to his policy of not dismissing coaches in the middle of a season. He was emphatic about that policy Oct. 15, the day he was introduced to the Big Red masses, saying student-athletes lose focus amid such turmoil.
"You've got to have that focus, be the best you can be, and we'll talk about it when the dust settles," Moos said.
So, thinking logically, it appears Nov. 25 will be a landmark date in Nebraska football history. It's easy to imagine Riley getting his walking papers the day after the Nov. 24 home game against Iowa. After that, you have to think Moos will move very quickly — perhaps in 24 hours — to announce Riley's replacement.
Think about something Moos said Oct. 25 when asked how the early signing period for recruiting, which begins Dec. 20, could affect a search for a new coach.
"If you're contemplating that you might need to make a change, you'd better have your playbook together," he said. "I've seen places that put together 22-person search committees and go get head-hunters and, in the meantime, all the good talent's committed to somewhere else."
Tennessee and Florida come to mind.
So, bet on Moos having a plan that can be executed swiftly. Those who wanted Riley fired Sunday — I've heard from scores of those folks — will have to be patient. If Moos declined to fire Riley following the Minnesota game, why would he do it this week after Nebraska (likely) loses at 14th-ranked Penn State? Under the vision we just presented, it would make no sense.
(If Minnesota's 119th-ranked offense can put 54 on Nebraska, imagine what Penn State might do.)
At any rate, I like that Moos puts student-athletes front and center in this discussion. If Riley had been fired Sunday, Nebraska players would've been peppered with questions regarding the coach's dismissal even as they prepared for a difficult road game. Yes, it would've affected focus.
In my Sunday column, I wondered if Riley still deserves to lead a proud Nebraska program in the wake of his team's wretched performance against Minnesota, not to mention the long list of ugly losses dating to last November's 62-3 debacle at Ohio State. Moos, as well as NU President Hank Bounds and UNL Chancellor Ronnie Green, will hear this week from plenty of people who want them to fire Riley, pronto. An immediate firing would make plenty of folks feel better, but would accomplish little else. At least that seems to be the leaders' thinking.
While it's forever wise to listen to the opinions of stakeholders (fans), it's the leaders of the enterprise who are charged with making prudent (if sometimes unpopular) decisions. Moos, Bounds and Green are thinking this situation through, trying to do what's best for everyone involved.
I'm guessing their thinking goes something like this: Stick to Moos' policy of not making in-season firings while understanding that the two weeks leading to the season-finale against Iowa represent merely a moment in time.
It's a moment in time that would be quickly forgotten by most of the fan base if Nebraska, come Nov. 26 (or thereabouts), seals the deal on hiring Scott Frost.
* How hungry is Nebraska (4-6, 3-4 Big Ten) to play in a bowl game?
"As hungry as it gets," junior offensive guard Jerald Foster said. "This is still a Nebraska team, and we hold that strong. I want everybody to know that we care. We know our fans care. We know our coaches care. As players, we all care. So, going to a bowl is a big thing for us, and for our seniors.
"You know, at Nebraska, you go to bowls every year. For our seniors, we're going to be pushing for it."
You didn't see much of a push for it against Minnesota. But, yeah, playing in a bowl game is important for most any program. Think of it this way: Nebraska has elite training facilities from top to bottom. But if the Huskers fail to qualify for a bowl, those facilities would be mostly idle for a seven-week span from Nov. 25 until the team convenes in mid-January (or so) for winter conditioning.
That's too long of a time for players to be away from an organized team setting.
* We love our recruiting rankings around here, so here goes:
Minnesota's class rankings from 2012-17: 72nd, 61st, 52nd, 52nd, 50th, 56th.
Nebraska's rankings during the same span: 25th, 18th, 32nd, 31st, 24th, 20th.
* You know things are going poorly for Nebraska when Buffalo fares better against common opponents. The Bulls (4-6, 2-4 MAC) lost 14-13 at home to Northern Illinois, a team that won 21-17 in Lincoln. In addition, Buffalo head coach Lance Leipold — a Husker on-campus recruiting coordinator under Frank Solich — saw his squad lose 17-7 at Minnesota Aug. 31 while allowing 408 total yards, 106 fewer than the Huskers allowed.