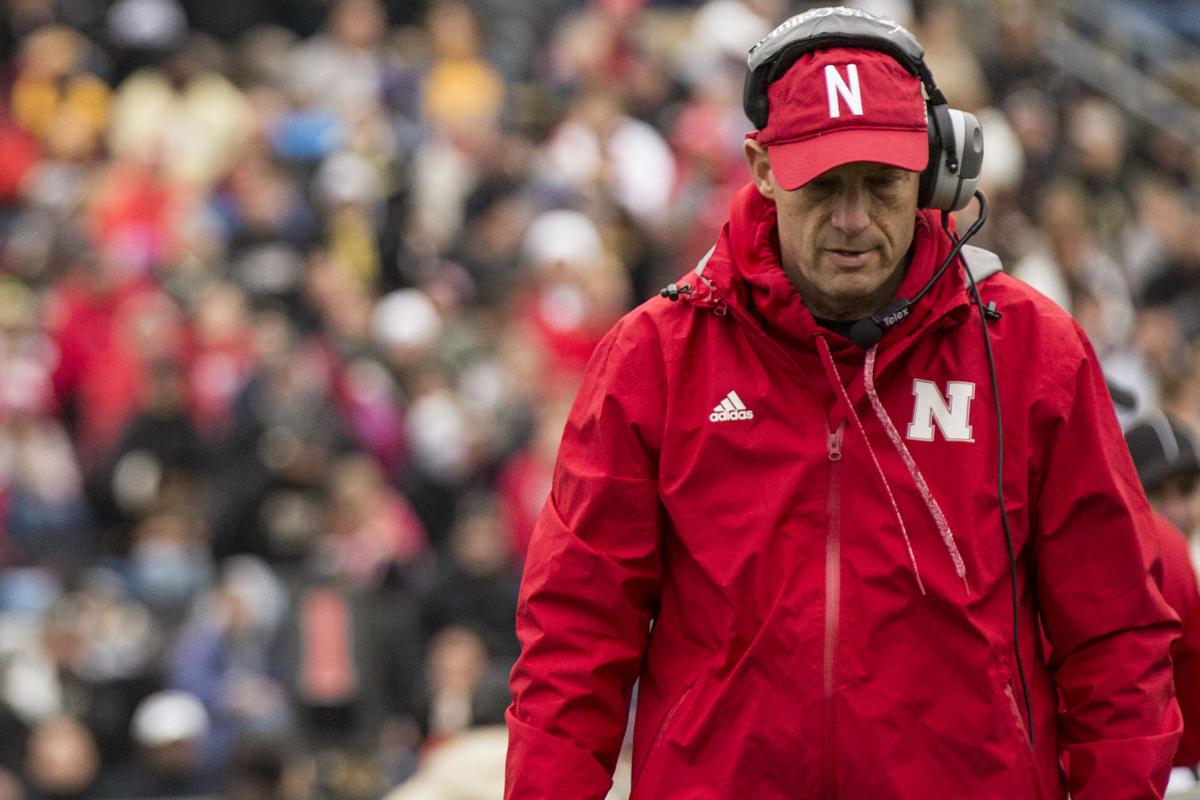 WEST LAFAYETTE, Ind. — Mike Riley often paces the sideline alone.
He paced and looked at the grass at the end of the third quarter Saturday, his Nebraska football team trailing Purdue by 26 points — an obscene number for a litany of reasons.
I watched him for 30 seconds and wondered what he was thinking at that moment.
After Purdue's 55-45 victory was complete, Riley said Husker coaches just need to keep pushing forward.
At the same time, "You'd be naive not to know this is not a good thing," Riley said after his team fell to 3-6 (1-4 Big Ten).
It's an awful thing for Nebraska as a state. It's awful for the university and its proud athletic program. The Husker brand keeps taking hits, in large part because of crunching blow after crunching blow on the gridiron, essentially since late 2001.
A couple of Nebraska regents, Tim Clare and Kent Schroeder, stood on the Husker sideline with grim faces as Purdue applied the finishing touches.
I wish I could've read their minds.
I wish I could read the mind of new Nebraska President Hank Bounds. I talked to him briefly in August at a Husker football scrimmage. It became immediately clear he knows the game. He has a reputation for holding people accountable. Those traits may not bode well for Husker athletic director Shawn Eichorst.
Eichorst, who unilaterally hired Riley, is in a bit of a fix. His key supporter is a lame-duck chancellor, Harvey Perlman, who's not exactly a popular figure with a significant share of the eight-man Board of Regents. Perlman, set to retire June 30, unilaterally hired Eichorst. If push came to shove, and Perlman was asked to fire Eichorst, my guess is he wouldn't.
Which is why I wish I could read Bounds' mind. He has a mess on his hands, it seems.
I'm told Eichorst has very limited support among the upper-level administration, and support continues to wane with each loss. This one was especially damaging, considering Purdue (2-6, 1-3) scored more points against Nebraska than it did in its previous three Big Ten games this season combined.
Darrell Hazell, in his third season as Boilermaker head coach, entered the day with only one win against a conference school.
Purdue's last win in a Big Ten home game had been Nov. 24, 2012, against Indiana.
Nebraska perhaps hit rock bottom. But you wonder.
You also have to wonder what university leadership must be thinking. Let's say Nebraska parted ways with Eichorst in favor of another athletic director (Trev Alberts always comes up in speculation). Such a move essentially would put Riley on the clock, assuming he's not already there.
The instability becomes debilitating.
You don't think other programs have been using Nebraska's general instability against it in recruiting for the past few years? 
I feel for Riley and his crew in that regard. The plight only gets tougher after losses like this, because outside rumblings about major changes are inevitable. Opposing coaches make it inevitable.
University leaders may soon — very soon — have to make a choice: gamble that Eichorst hired the right guy in Riley and ride out the rough waters, with or without Eichorst. Or start over again from scratch — new AD, new coaching staff.
Yes, it's a gamble either way.
The fact we're having this conversation seems almost surreal.
But then again, so did Saturday's loss.
You immediately wondered about Nebraska's resolve when Purdue quarterback David Blough — who never will be confused with Robert Griffin III — sped 56 yards for a first-quarter touchdown with defenders giving halfhearted chase.
Nebraska, playing with backup quarterback Ryker Fyfe, kept giving Purdue prime scoring opportunities with turnovers. The pressure on Fyfe was exacerbated by NU's anemic running game, which netted 55 yards on 19 carries during the first 30 minutes before the Huskers had to play catch-up in the second half. Never mind that the Boilermakers ranked last in the league in rushing defense.
"I'm telling you, we do want to run, that we need to do better, and we will," Riley said.
Were his players, especially on the offensive and defensive lines, fighting as hard as they could?
"I can't sit here and fault the effort," Riley said.
Fyfe's four interceptions largely defined his performance. But he made plays, too. He showed promise as a play-maker. He's savvy. He kept battling. He controlled the huddle well, teammates said. Riley said for the most part, he was proud of Fyfe.
With Fyfe starting his first game, Nebraska now has used 20 different starters on offense. Same goes for the defense. Decision-makers absolutely must take injuries into account.
"We just have to keep going with them (the players)," Riley said. "I think that's what they need the most right now, just some more coaching. We have to see what we have healthy bodywise going forward." 
Going forward and how to proceed. That sounds like a lot to think about right now.