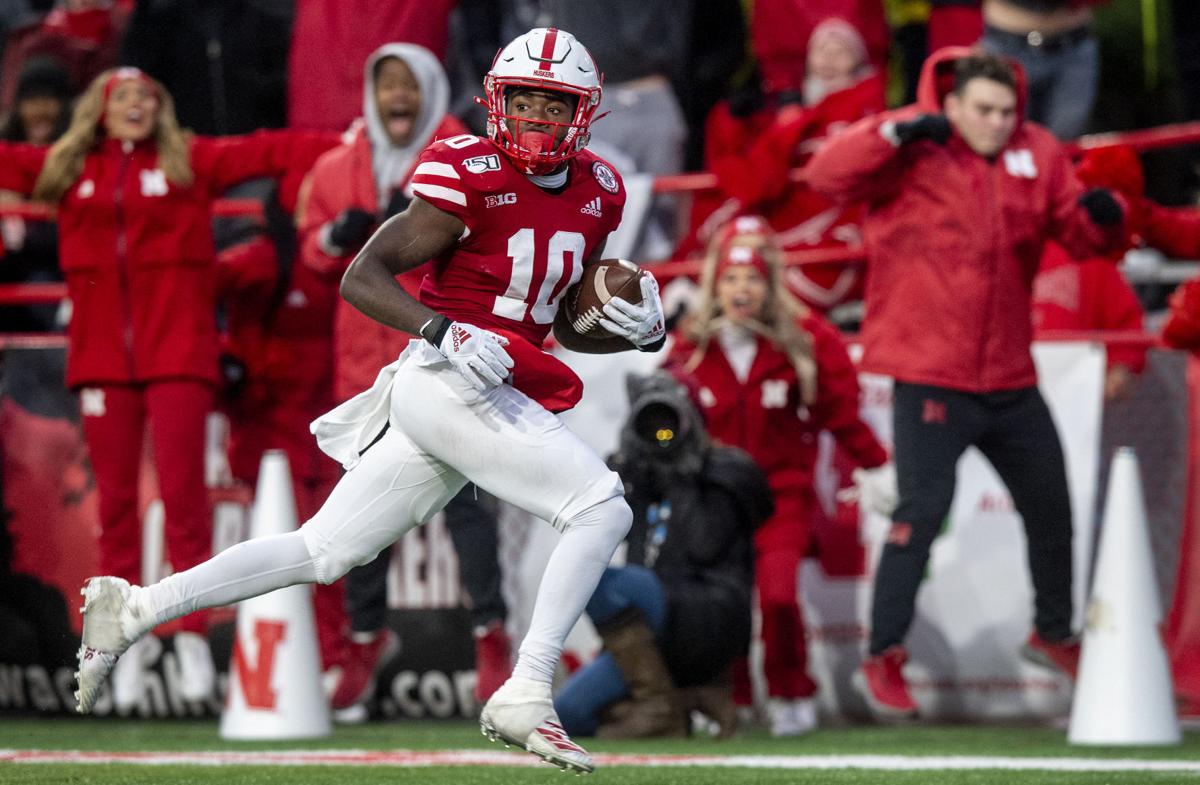 Things I know, and things I think I know (special midweek edition): 
Let's start with a prediction. 
Granted, it's a relatively safe one. But it's a prediction all the same. 
JD Spielman, the former Nebraska standout receiver, will catch at least 40 passes for TCU this season. That, of course, is assuming there is a season. If college football does indeed go forward, the 5-foot-9, 180-pound senior will be in a situation where he can put up excellent numbers.
In order to put up excellent numbers, Spielman obviously will need to be healthy. In this case, we're mostly talking about mental health. In early March, Nebraska officials announced he wouldn't be part of the team in the spring because of a "personal health matter." Spielman left campus in February, never returned to school and recently said on Twitter that he "played all 12 games last year while struggling with depression and anxiety." He said he played 30 pounds below his desired playing weight due to lack of sleep and not eating well. I was always struck by how small he looked in uniform. 
Even so, he started all 12 games and led Nebraska in receptions (49), receiving yards (898) and receiving touchdowns (five) while becoming the first Husker with three 800-yard receiving seasons. The most ardent Husker fans can almost recite his accolades in their sleep. So, they perhaps already know that TCU's top four returning wide receivers from last season had a combined one touchdown catch in 2019. 
Taye Barber, a 5-foot-9, 185-pound junior, led the Horned Frogs last season with 29 receptions for 372 yards and zero TDs. Their top receiver in 2019, Jalen Reagor (43-611, five), was the 21st overall pick in the NFL Draft, by the Philadelphia Eagles. Granted, Spielman's success will depend in part on quarterback Max Duggan making improvement on his disappointing rookie season. He completed 181 of 339 passes (53.4%) for 2,077 yards and 15 touchdowns, with 10 interceptions, as the team finished 5-7.
I'm guessing Duggan, of Council Bluffs, Iowa, was thrilled to see Spielman join the roster.
Meanwhile, Nebraska fans hopefully understand the Nebraska-Spielman parting was a mutual decision. Emphasize "mutual." Based on all I know about the situation, I genuinely believe it was best for both parties. That's probably all that needs to be said in that regard. 
* Transitioning to hoops: Keep an eye on Lat Mayen.
That's the buzz I'm hearing as the Nebraska men's basketball team pushes through the early stages of its return to workouts. The 6-foot-9, 205-pound Mayen, a transfer from Chipola (Florida) College (by way of TCU), apparently has an effective jump shot and enough of an all-around game to crack Fred Hoiberg's starting lineup, if not become the team's best player this coming season. He'll have two seasons of eligibility at NU.
I'm also intrigued by what I'm hearing about Kobe Webster, a 6-foot transfer from Western Illinois, and Teddy Allen, a 6-5 transfer from Western Nebraska Community College. Webster shows up on WIU film as a tough competitor and he's evidently shooting the ball well here. Meanwhile, Allen's game isn't all that pretty, but he's living up to his reputation as an effective scorer. 
* Nebraska junior Adrian Martinez is the best quarterback in the Big Ten West Division. 
It's either Martinez or Tanner Morgan of Minnesota. Granted, Morgan's passing statistics last season were downright gaudy. But put a healthy Martinez in the Gophers' offense and see what his numbers look like. They'd be solid, at minimum, and it's easy to imagine spectacular. 
The 6-foot-2, 215-pound Morgan in 2019 was 210-for-318 passing (66.0%) for 3,253 yards and 30 touchdowns, with seven interceptions. The Gophers' talent and depth at the skill positions were far better than the Huskers in those areas. Morgan played behind a strong offensive line. In short, his teammates took pressure off him. It too often was the opposite for Martinez, right down to NU's early season snap issues. 
Martinez is in another stratosphere than Morgan when it comes to running ability (Morgan is a non-threat). And it isn't like Morgan looks pretty throwing the ball. In fact, Martinez has better arm strength. 
That's right, edge to Martinez. 
* Colin Cowherd, the Fox Sports commentator, was on-target recently in suggesting Nebraska's football struggles in the Big Ten are partly the result of its drop-off in recruiting the state of Texas. 
The Huskers from 2007 to 2011 (their first season in the Big Ten) routinely pulled in anywhere from five to eight scholarship recruits from the Lone Star State. From 2012 to 2016, NU managed to land a total of 10 players from Texas. During that period, the Huskers hit big on Tommy Armstrong, Drew Brown, Josh Kalu and Devine Ozigbo. But that was basically it. 
Nebraska drew a goose egg in the state in 2016 and had only two Texans in the class of 2018 — Maurice Washington and Cam Jones. Neither are in the program at this point.  
You ever miss the Big 12? Just wondering.
Be the first to know
Get local news delivered to your inbox!