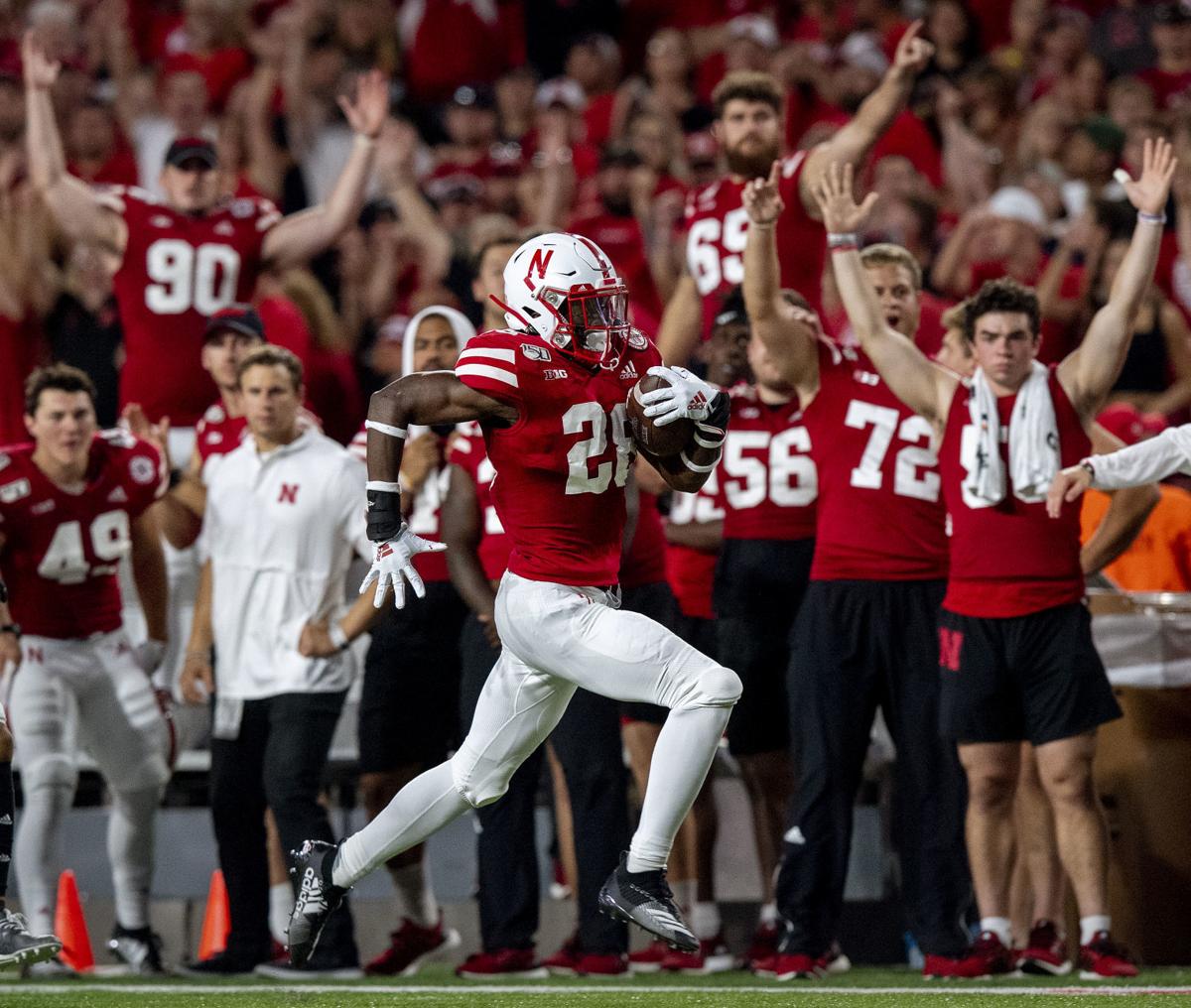 Scott Frost's appearance Monday at the Nebraska football weekly news conference lasted just shy of 12 minutes. That's a very short stay at the podium — one of the shortest I can remember in 25-plus years of covering these events.
The head coach was in no mood for small talk. Hard to blame him, all things considered.
1. Maurice Washington won't be on the team at all much longer. I think that's the most logical takeaway from Frost's comments regarding the sophomore running back.
But I hope I'm wrong. I genuinely hope Washington — "not part of the team right now," Frost said — finds his way back on the depth chart. He's no longer on it, but he's still listed on the roster. The lack of clarity is confounding. It's an awkward situation. And a sad one. I say it all the time: One of the saddest things in life is seeing people with extraordinary talent fail to use that talent to its fullest. It can be gut-wrenching to witness.
The 6-foot-1, 190-pound Washington has rare talents, his recent performances notwithstanding. His speed is exceptional, as is his vision. In fact, his vision is what impresses me most. He quickly sees openings and reacts accordingly. He can be a dangerous weapon on the field when operating at his best. He looked excellent Sept. 21 at Illinois, rushing 10 times for 89 yards while picking up key first downs out of the wildcat formation. But in the past three games, he's rushed 15 times for only 30 yards. He's looked tentative when asked to run between the tackles. He still needs to add weight and strength.
His best days of football are ahead of him. But will those days be at Nebraska? That feels like an extreme long shot at the moment.
As for whether Washington gets everything squared away and ultimately fulfills his potential (perhaps even at NU) ... let's hope that's the case.
2. Toward the end of the news conference, Frost was asked an excellent question: Is there anything he wishes he would've done differently with Washington's situation over the past two years?
It was an excellent question because it led to an answer that provided a window into Frost's way of thinking when it comes to these sort of delicate and relatively complex player-personnel matters. Not surprisingly, Frost referred to Tom Osborne while addressing the question.
"No, I wouldn't do anything different," Frost said. "I wish things would be a little different."
My read is the Washington situation is wearing on Frost. I don't think you have to be Sherlock Holmes to reach that conclusion.
Head football coach Scott Frost talks status updates on players on Oct. 21, 2019
"Listen, Coach Osborne was this way. He wasn't quick to crumple kids up and throw them away," Frost said. "Some of the kids that are in some of these situations, if they're gone and out of this program, that road doesn't lead to very many good places.
"As long as I'm here, I'm going to try to help these young men as much as I can. That's the promise I make to their parents when I sit in their living room and tell them we're going to try to help them no matter what."
But there are certain acts that run against team rules and are non-negotiable. Frost emphasized that. In other words, a wayward player at some point has to help himself while playing by the rules established by program leaders.
In Washington's case, I hope he understands his value to the team. I hope he understands there are 150 other players counting on him to make a difference. It isn't like this team is loaded with skill-position talent. Quite the opposite is true.
Maybe Washington understands. But, yeah, it feels too late.
3. So, let's see what Dedrick Mills can do going forward.
I remain bullish on the 5-foot-11, 220-pound junior. Granted, he's been a bit underwhelming this season, with 76 carries for 350 yards (4.6 ypc) and seven touchdowns. But Mills runs with the sort of physicality that is absolutely necessary in the Big Ten, particularly as the late autumn cold arrives.
Running back Dedrick Mills talks team's progress on Oct. 21, 2019
Mills possesses a high degree of want-to. Because of his own bad decisions during his time at Georgia Tech, he had the game taken away from him for a time. He now operates like a player who doesn't take any practice or game for granted.
I believe Nebraska as a program needs more players who operate with Mills' sense of urgency and obvious love for the sport. He'll definitely do all he can for his teammates.
"I'm just ready to carry the ball, that's all," he said in a burst of beautiful simplicity.
On this day, such a burst was especially welcome.
Be the first to know
Get local news delivered to your inbox!