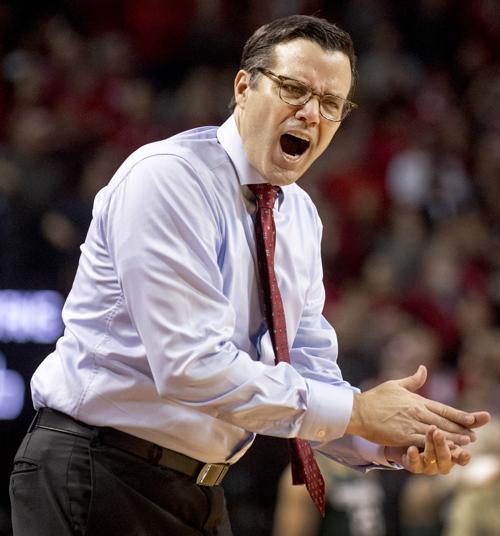 The Nebraska men's basketball team dropped a 76-69 decision Monday night at Rutgers.
1. Let's not sugarcoat this loss. It's discouraging for a loyal fan base. It's awful on a lot of levels for Nebraska, which falls to 13-6 overall and 3-5 in the Big Ten.
We can all agree Tim Miles has put together a highly talented roster. I say it all the time: With great talent comes ample responsibility. The Huskers fell to a Scarlet Knights outfit that is 9-9 and 2-6. In short, Miles' crew failed to fulfill its responsibility.
The better team lost. Yes, that's on Miles.
As a result, a lot of public sentiment will shift against the seventh-year Nebraska head coach. A lot of people who were on the fence -- my sense is there are plenty of those types -- will jump on the bandwagon that believes he's not the right coach to push the program to another level. Plenty of season remains. Best to take a deep breath. But I frankly thought Nebraska could use Monday night to jump-start a five-game winning streak. I'll cool the jets on that talk after watching Rutgers, once down 31-18, finish with a 58-38 surge. Yeah, unacceptable.
You have free articles remaining.
2. My thought was if Nebraska packed its defense for this particular road trip, it would figure out a way to get out of New Jersey with a win.
Rutgers entered the night shooting 40.6 percent from the field on the season, a figure that ranked last in the Big Ten. Nebraska ranked second in the league in field-goal efficiency defense. But the Huskers were so-so at best on defense. It was maddening to watch. The Scarlet Knights attacked the rim repeatedly in the second half (Isaiah Roby and Isaac Copeland were in foul trouble), reminiscent of the way Minnesota and Maryland did against NU earlier this season. Myles Johnson shook loose for a dunk with five minutes left because there was no help on defense from the weak side. Johnson scored again in the paint as Rutgers attacked Nebraska's 1-3-1, pushing the lead to 66-59.
The Huskers eventually tied it 67-67 with 2:02 remaining on James Palmer's free throw -- NU was only 10-for-18 from the stripe -- following his strong move to the rim. But the Scarlet Knights gained control as Palmer, Copeland and Glynn Watson misfired on good looks down the stretch. Make no mistake, though, the Huskers were in that predicament because they failed to play with the sort of urgency on defense one might expect from a veteran team coming off a loss. Again, unacceptable.
3. You've heard Miles describe his veteran players as being a little too casual for his liking. Well, this loss had "casual" written all over it.
It's not impossible to lose at Rutgers. I get that. Then-No. 16 Ohio State dropped a 64-61 decision at Rutgers earlier this month. But Nebraska blew a 13-point first-half lead Monday night by allowing a 15-0 run. The Huskers surged to an eight-point lead (43-35) on Watson's three-pointer with 18:10 remaining in the second half. But the Scarlet Knights responded with an 8-0 burst in the next 1:52.
Where's the killer instinct? Where's the veteran leaders stepping up and saying "Enough's enough?" Again, deep breaths. It's one loss. But the casual nature of this team is perplexing. Up next is a home game at 11 a.m. Saturday against Ohio State (FS1). That's right, a morning tip-off. See you there. After this loss, I'm not sure what to expect from the home team.
I know this, though: Miles should avoid social media this week. It's ugly out there, Coach.