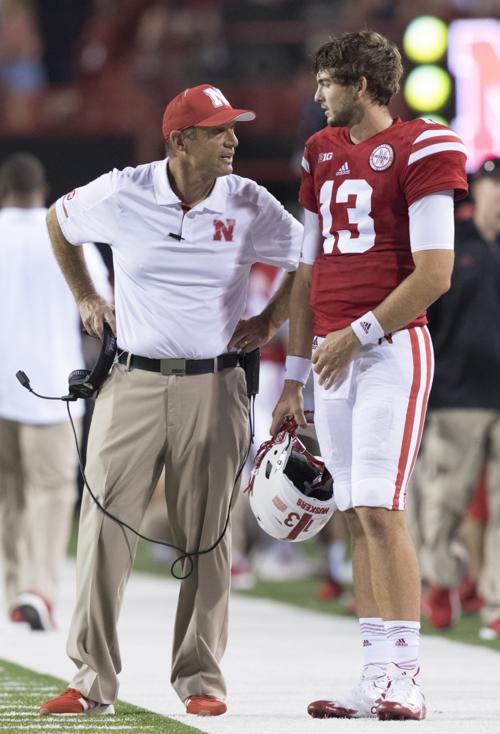 Sophomore Tre Bryant got the starting nod at running back and asserted himself immediately with a 13-yard run on NU's opening drive. He picked up serious steam during the eight-play, 91-yard TD drive in the second quarter, contributing runs of 12, 4 and 24 yards. He clearly has improved his cutting ability in tight space. The safety that Arkansas State's defense recorded in the second quarter, when Bryant was tackled in the end zone, was a black mark for the line.
Tanner Lee's first "wow" moment was his 44-yard touchdown pass to Stanley Morgan — which hit the junior wide receiver in stride in the final moments of the first quarter. Lee was composed and efficient throughout. He seemed to make good decisions. In short, he was pretty much as good as advertised.
Arkansas State's spread offense found creases in Bob Diaco's 3-4 defense. Nebraska needs to tighten up every area of its "D" with Oregon looming. Keep in mind, the Ducks feature NFL-caliber running back Royce Freeman, and the two guys behind him are talented as well.
Arkansas State pushed the tempo, as Justice Hansen repeatedly hit Nebraska with short "smoke" throws to the perimeter, as the Husker corners chose to give the receivers a sizable cushion at the line of scrimmage. Hansen too often found rhythm and made it look easy much of the time in the first half. But give NU credit for tightening the screws a bit in the second half.
Nebraska no doubt was mindful of Blaise Taylor. He entered the game with 781 career punt-return yards, the most in school history. He tacked on 63 more with his first-quarter punt return for a touchdown. Then, in a flash, JD Spielman took the ensuing kickoff back 99 yards for a TD to give the Huskers a 10-7 edge. Meanwhile, Drew Brown consistently boomed kickoffs into the end zone, even after the wind subsided, and Caleb Lightbourn enjoyed a stellar night. NU recovered one onside, but didn't cover the late attempt that nearly led to disaster.
Nebraska was too sloppy for Mike Riley's liking, with too many veterans committing penalties. Junior left tackle Nick Gates' holding penalty put Nebraska in a deep hole in the shadow of its goal line in the first quarter. Morgan and Cole Conrad stalled a drive with penalties. What's more, Carlos Davis hit Hansen a full second after he released the ball on a third-and-10 deep in NU territory, keeping the long TD drive alive. Also, for anyone who questions Riley's fire, note the fury he showed as he called a timeout early in the second half to avoid a delay-of-game penalty.
Nebraska faced fourth-and-2 at the Arkansas State 4-yard line on the opening drive and elected to kick a field goal. Good call. Husker offensive coordinator Danny Langsdorf got into rhythm in the eight-play, 91-yard TD drive early in the second quarter. Langsdorf has his type of QB now. This offense should be fun to watch develop.
Whew! This game will provide the talking heads with plenty of material. NU showed plenty of promise, but has plenty to work on.