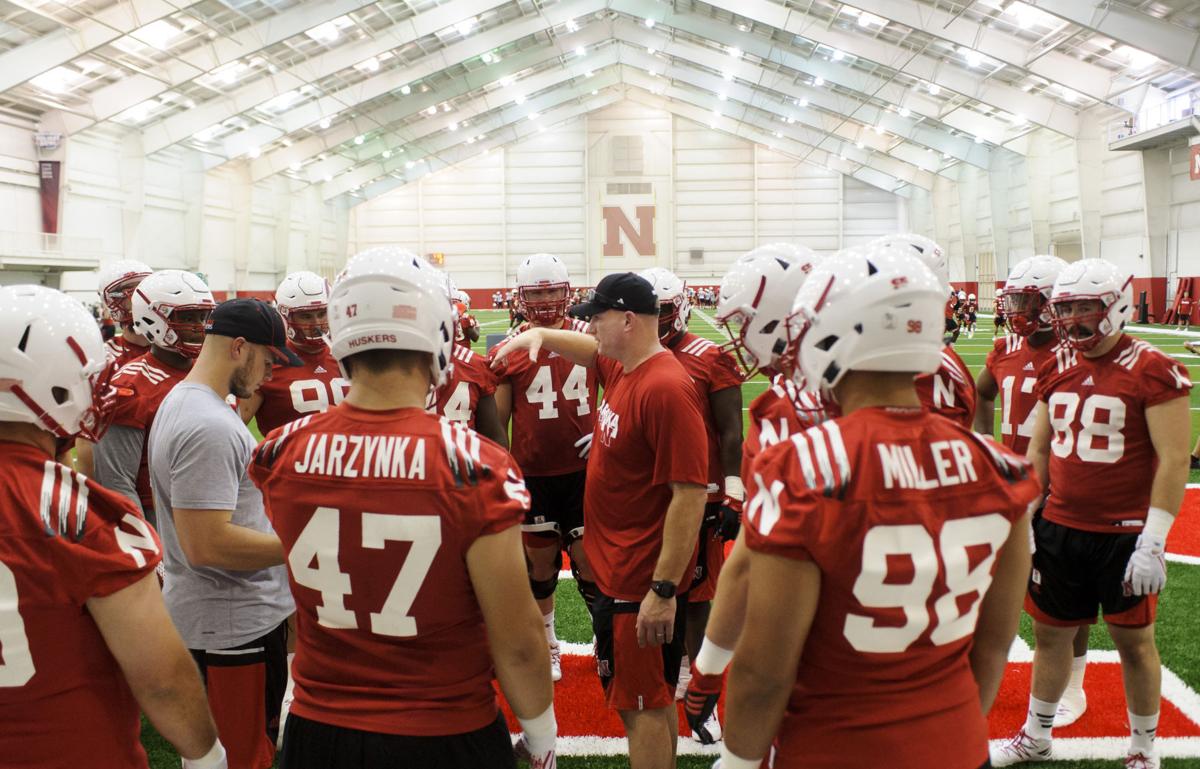 Ross Dzuris says Nebraska's defensive linemen recently took time to reflect on their progress this season.
"We had all that time off this month, so we looked back at some of our old games," the Husker senior end said. "Sometimes it's good to see where you've come from to get where you are."
Dzuris clearly appreciates the work of John Parrella, the first-year Nebraska defensive line coach. Upon arriving from Northern Michigan, Parrella inherited a line that Dzuris admitted had some "poor habits."
What's more, the Huskers suffered significant personnel losses in the trenches from the 2015 squad, with tackles Maliek Collins and Vincent Valentine leaving school a year early for the NFL, and Greg McMullen deciding to retire from the game.
"(Parrella) just kind of slowly fixed things," said Dzuris, who leads the team with 10 tackles for loss and 5½ sacks. "We set higher standards right from the beginning. We've been growing and growing, bit by bit."
All things considered, Parrella seems an excellent choice for the Cram Session's annual Husker Assistant Coach of the Year Award, as decided by yours truly and Husker football writer Brian Christopherson.
"I think we've done a good job," said senior tackle Kevin Maurice, who has four sacks. "There were a lot of questions coming in. But I think we've played our asses off every game. Day in and day out, we go to work at practice."
Maurice said Parrella brought in some new pass-rush techniques.
"Other than that, playing D-line, it's all basically the same," Maurice said. "You put your hand in the dirt, and you attack."
Nebraska's defense improved in the most important statistical categories compared to last season. The Huskers have surrendered 22.8 points (five fewer) and 350.6 yards (50 fewer) entering Friday's Music City Bowl against Tennessee.
The explosive-play numbers for Husker linemen dropped off a bit. For instance, they've combined for 17 sacks this year after recording 20 last season. But you have to keep in mind Collins and Valentine are playing significant roles for the Dallas Cowboys and New England Patriots, respectively.
Parrella emphasizes the importance of his linemen playing hard for teammates. As an All-Big Eight defensive tackle at Nebraska in the early 1990s, Parrella was known for his intensity.
His passion for the Blackshirt tradition rubs off on seemingly everyone in the program.
"I think that's why he enjoys coming here every day and working so hard," Dzuris said. "He was part of the brotherhood, and still is today."
Thumbs up to Nebraska coach Mike Riley's go-for-it approach to Music City Bowl practices. There have been a lot of full-pad workouts, and a lot of action pitting 1s vs. 1s. The overall mood is far from relaxed. "It's more work compared to recent years, but then again, we have a lot of key guys out, so more work needs to be put in all across the board," said senior receiver Brandon Reilly. "The guys aren't complaining. They come to work every day."
You have free articles remaining.
Thumbs down to whatever demons led to former Colorado great Rashaan Salaam's recent suicide at age 42. We should despise those demons because friends and family say Salaam had a giving personality and beaming smile, although they also describe hints of depression. Whatever the case, it's a heartbreaking story. If you ever suspect depression in a loved one, by all means speak up.
In eight SEC games, Tennessee surrendered 4,288 yards, most in program history. That equates to 536 yards per game. The Volunteers are coming off a 45-34 loss at Vanderbilt, which hadn't scored 45 points in a conference game in 45 years. Seems like Nebraska should score at least 30 on Friday — the Huskers may need that many points to overcome a potent Vols offense.
Ranking the top five recent head coaching hires:
1. Lane Kiffin, Florida Atlantic. The 41-year-old has been known to celebrate touchdowns before they happen. Owls fans should be celebrating wins before they happen — because they're gonna happen, often.
2. Tom Herman, Texas. I can't rank him above Kiffin on this list because Herman has only two years of head coaching experience. But I'm thinking his personality could help keep meddlesome boosters in check.
3. Ed Orgeron, LSU. "Fit" is always a key word in this discussion. The 55-year-old Orgeron is a Louisiana native in his dream job. Plus, he's a Grade-A recruiter in a recruiting hotbed.
4. Jeff Brohm, Purdue. When the Boilermakers have won big, it's often been with offensive-minded leaders. The 45-year-old Brohm led a Western Kentucky program that averaged nearly 45 points a game the last two seasons.
5. Jeff Tedford, Fresno State. The intrigue factor is high. A decade ago, Tedford had Cal ranked No. 2 in the nation. The 55-year-old is a highly regarded offensive mind and has clout in California.
Who says sub-.500 programs don't belong in bowl games? These five enjoyed success this season and last: 
1. Mississippi State (5-7 in 2015). Defeated Miami of Ohio 17-16 in this year's St. Petersburg Bowl, although the Bulldogs needed a blocked field goal with 14 seconds left to hold on.
2. Hawaii (6-7). Defeated Middle Tennessee 52-35 in this year's Hawaii Bowl, converting a fake punt with a 10-point lead along the way. Hey, have some fun, right?
3. Nebraska (5-7). Defeated UCLA 37-29 in last year's Foster Farms Bowl, proving once again that so-called "meaningless" bowl games can fuel a fan base.
4. Minnesota (5-7). Defeated Central Michigan 21-14 in last year's Quick Lane Bowl. The Gophers no doubt will remember this year's Holiday Bowl win with more fondness.
5. San Jose State (5-7). Defeated Georgia State 27-16 in last year's Cure Bowl, although chances are you didn't see it. It was relegated to the CBS Sports Network, and only about 9,000 fans were in attendance. The Spartans, though, were thrilled to win.