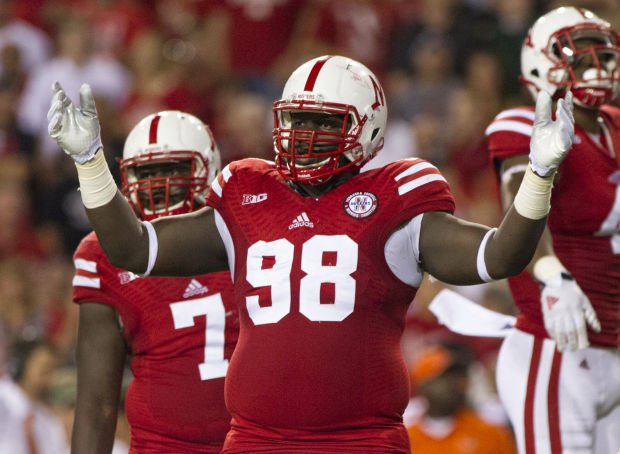 CHULA VISTA, Calif. — They attend college to learn and grow and prepare for the "real world" and all of its wonderful and wicked challenges.
Nebraska football players have learned plenty in the wake of head coach Bo Pelini's dismissal on Nov. 30.
"I learned that, as a football player, it's a business," said sophomore defensive tackle Vincent Valentine.
Not a bad takeaway, all things considered.
The players have learned from adults, seeing good and bad and in between.
"Everybody has their own agenda," Valentine said. "And let's face it, nobody's going to baby you. Nobody's going to wait for you. Whatever. You just have to go out and take it. 
"You have to make sure you have a plan in your head and make sure you know what you want. Because they can get rid of you as quick as they want. I've just learned to keep my head on straight and keep a clear path."
Valentine's teammates would be wise to heed his words. In fact, many adults would be wise to do so. Yes, have a plan and control what you can. We all tell ourselves those things. But can we follow through once adversity hits?
Nebraska players, assistant coaches and extended staff have had to stay with a plan, and control what they can control, as they've prepared for Saturday's Holiday Bowl.
It's been a challenging situation. But it doesn't have to be a completely negative one. Everyone, especially the players, can learn from it. They can learn there always will be administrators making difficult decisions. Business decisions. Personnel decisions. There always will be politics, sometimes agendas. Happens in many areas of life.
The employees at your local Denny's restaurant no doubt experience political strife at times. Stuff happens. It's best to, as Valentine said, keep your head on straight and maintain a clear path.
Nebraska senior cornerback Josh Mitchell made a good point. As individuals, we all face adversity. In the past month, he said, he's learned from watching how a team responds to adversity and dramatic change.
"The show we put on the field is going to be a true testament to the kind of team we have," he predicted.
You have free articles remaining.
If Nebraska (9-3) manages a victory against USC (8-4) at Qualcomm Stadium, it would lend significant credence to the notion that new head coach Mike Riley inherits a team with excellent overall character.
The past month has been awkward for the program in a lot of ways. It's provided Nebraska's assistant coaches with an excellent "teaching moment," one they've seemingly handled very well.
"I coach for the kids," said offensive coordinator Tim Beck. "I do the best that I can every day, as hard as I can every day, for those guys. In the end, you hope you've left a mark with them, that they've learned something from you — it might not even be football-related.
"That's more important than wins, losses, points, and all those types of things."
But the reality is, if your team doesn't score enough and win enough, you'll be a coach looking for a job.
Take it a step further: You might be the best assistant coach in the world. But if your head coach is the central problem, chances are you'll be unemployed at some point.
Beck is philosophical about the current situation. Coaching is his life. Yes, his life has been turned upside-down. But he's trying to stay in the moment — not only for the sake of the players, but also because that's the best approach to take for his family and for his state of mind.
"Being a longtime assistant, you learn from everything you go through, good and bad," he said.
I've heard and detected a sense of relief from the Nebraska assistants. They obviously wanted to make it work at NU and win at a level that pleased everyone. But maybe this "learning experience" — a holiday euphemism for the staff's dismissal — was meant to be.
"In coaching nowadays, longevity doesn't happen much," Beck said. "We live in a microwave society — we want to plug it in, hit 30 seconds and be done. It's the same in coaching."
How true that is. But unless I'm mistaken, Nebraska coaches continue to do as Beck says and put the players' best interests ahead of their own.
The players definitely can learn from that.
"When reality set in (after Pelini was fired), all we could do is tell each other, 'Why not have fun? You're going out with the coaches who brought you in, so why not do it for them? Why not honor them and everything they've done for you over your career?'" Mitchell said.
"We've just been having a great time."
Under the circumstances, there's a lot to be said for that.