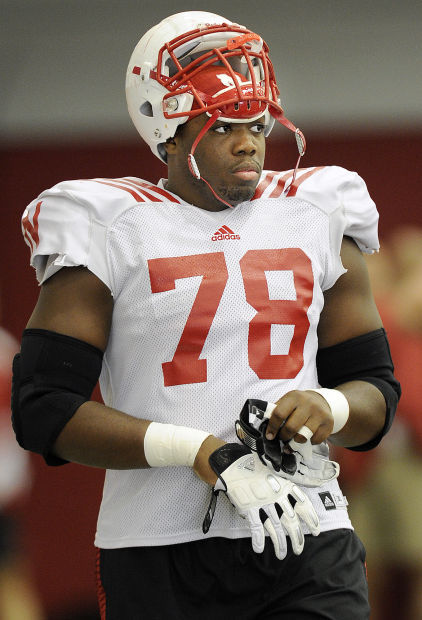 Even if you're a rabid Nebraska football fan, you might not know fourth-year junior Givens Price by sight.
He's never stayed in one spot long enough for folks to get to know him.
He's played left tackle, left guard, right guard, even a little bit of center.
The last few practices, he's played right tackle — with the first string.
"Whether it's at guard or tackle, I'm working to get better every day," the Houston native said. "Anything that helps out the team, that's something I look forward to."
It's a safe bet the 6-foot-4, 310-pound Price will be of big help this season in some capacity. Maybe as a starter. Or perhaps as a top backup.
His versatility certainly helps his chances to contribute.
His situation this month helps illustrate Nebraska's decent depth — made up of program veterans — along the offensive line.
Price is battling fellow juniors Zach Sterup and Matt Finnin for the starting job at right tackle. At right guard, junior Chongo Kondolo's emergence as a challenger to senior Mike Moudy perhaps helped lead to Price's increasing presence at right tackle. At least that's one interpretation.
The left side of the line is more defined, in terms of starting roles, with senior guard Jake Cotton and junior tackle Alex Lewis.
Meanwhile, senior center Mark Pelini is ahead of junior Ryne Reeves, although position battles continue indefinitely. The opener is Aug. 30 against Florida Atlantic.
It seems Price approaches practice competition with as positive an outlook as any coach could want. Same goes for the 6-8, 320-pound Sterup, the Hastings St. Cecilia graduate who seemed to have a leg up at right tackle entering preseason camp last week.
He saw extensive action in the final five games last season as injuries mounted along the line.
"I felt like I should start there, and I did (last week)," Sterup said. "But it's wide-open. We don't have anybody coming back who started there last year. We have good competition every day. We're going against a great D-line. It's fun just competing to see who can earn it."
Sterup said he's more than happy to help Price with his transition.
In fact, "I think Givens should be playing tackle," Sterup said. "He was a good guard for us, but I think he's a more natural tackle."
As for the competition, "That's only going to make me better if he's pushing me and he's getting better," Sterup said.
Listening to these guys, it makes you wonder if Nebraska coaches serve up some sort of serum that diminishes "me-first" thoughts.
"At the end of the day, our goal is to win a Big Ten Championship," Price said. "If that means me playing left side, right side, tackle, guard or even center, I'll do that."
Nebraska coaches actually approached Price earlier this summer about the possible position shift. Be ready to play some right tackle, they told him, although nothing was set in stone.
"I wasn't really sure if it was a for-sure thing until the start of fall camp," he said. "Then they just told me take some sets at it and see how I do. I've been doing pretty well, so they kept me there. Plus, we're stacked at guard."
Price acknowledged he does prefer working on the right side of the line.
The techniques at tackle obviously are slightly different than at guard, he said.
There's at least one other difference.
"The guys you're going against are a little bit faster, a little bit slimmer," Price said.
That may be a bit of an adjustment after spending so much time at guard.
"So far, so good," he said.
Does he have a preference, guard or tackle? He vacillates on his answer. After all, he's spent the past couple of seasons working as a guard. But he played tackle at Alief Taylor High School in Houston.
Bottom line, you do what's best for the team.
"I've seen Jeremiah Sirles do it, A-Rod (Andrew Rodriguez) do it, Brent Qvale do it, even Cole Pensick do it. … I mean, if they did it, why can't I do it?" Price asked, reeling off ex-Huskers. "I'm proud I'm able to do such a thing. I'm having fun doing it.
"I'm building a better chemistry day by day with the offensive line and coaches. It's a good thing so far."
So good that you might jot down No. 78.
That's the number Price wears on his jersey.