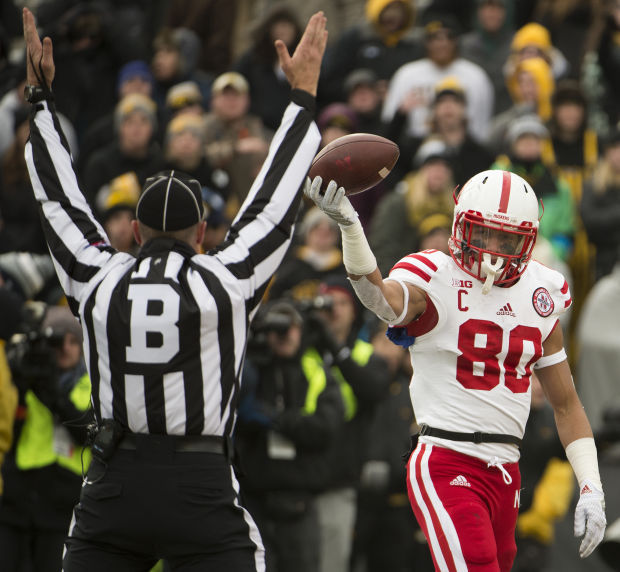 They filed out of the pink-painted visitors' locker room with the sort of tired grins that appear when something good interrupts two weeks you'd like to put in a Dumpster on the other side of town.
Husker junior linebacker Davis Santos is not ashamed that he could have been misunderstood for lacking sanity when Kenny Bell caught that ball in overtime to beat Iowa on Black Friday.
"I was over there freaking out, throwing my helmet, going crazy. … That was a great feeling," Santos said. "I hadn't felt that in awhile."
You can't erase 59-24 and losing at home on Senior Day, but Husker players badly needed the feeling they got Friday, the kind of shot in the arm that comes from rallying from 17 points down to win in overtime.
"A lot of people think they know what's going on in here, but they don't know what goes on within the Nebraska walls," Ameer Abdullah said. "We're solid."
The Husker senior running back was responding to a question about outside noise and speculation about coaches. He said he doesn't focus on it, which means Abdullah had a more productive Saturday than some lying in wait for some kind of announcement.
It was a silent day. Husker coaches showed up at their offices at about 9:30 in the morning. There was no news release from NU's athletic director on the final November Saturday, like last year. Shawn Eichorst did not respond to a Journal Star request for comment on Bo Pelini and the football program.
It's also important to remind that, for whatever speculative talk there's been, it's been driven only by fans and media at this point. Eichorst himself hasn't said anything in interviews about the football program since August.
"We've won a lot of ballgames and we have a lot more ballgames to win," Eichorst said then. "We're entering a really neat era in college football. I think we're stable. We have a seasoned coach who has won a bunch of games. We're resourced the right way. We should be optimistic."
Husker fans would have had to have been the greatest of optimists to have believed Nebraska could pull the about-turn performance it did Friday, responding to 2½ quarters of subpar football with a three-touchdown flurry in less than 5 minutes, finding a 37-34 overtime win on a day when such an outcome at times seemed so unlikely.
Bell said it was an example of how Bo Pelini teams fight.
Junior cornerback Daniel Davie said guys such as Bell, Josh Mitchell and even Randy Gregory and Corey Cooper, who both weren't suited up because of injury, kept voicing support even as Nebraska fell behind 24-7.
"Kenny was running down telling us, 'Just get us the ball back. We're going to make the plays,'" Davie said.
The Huskers were not just motivated by the prospect of winning a ninth game, and avoiding a three-game losing skid for the first time since 2008, but also by getting a victory for their coaches, according to sophomore defensive tackle Vincent Valentine.
"We always want to do it for our coach, especially Kaz, with us on the D-line," said Valentine, a nod to Rick Kaczenski, who coached at Iowa for seven years until 2011. "This was personal for him, and that's how we took it. We wanted to go out and play hard, and especially with the revenge from last year. It came out in our favor."
A few younger players also said they just as much wanted to win for seniors, like Bell, who ended up catching a winning touchdown pass in his final regular-season game as a Husker, then sharing a hug moments later with a man named Suh.
In the postgame, Bell said his outlook about this program hadn't changed any from where it was back in August.
"I love my coaches. I love my teammates. I love this university and everything that's involved in it," he said. "And I was going to go out and enjoy my last time doing it."