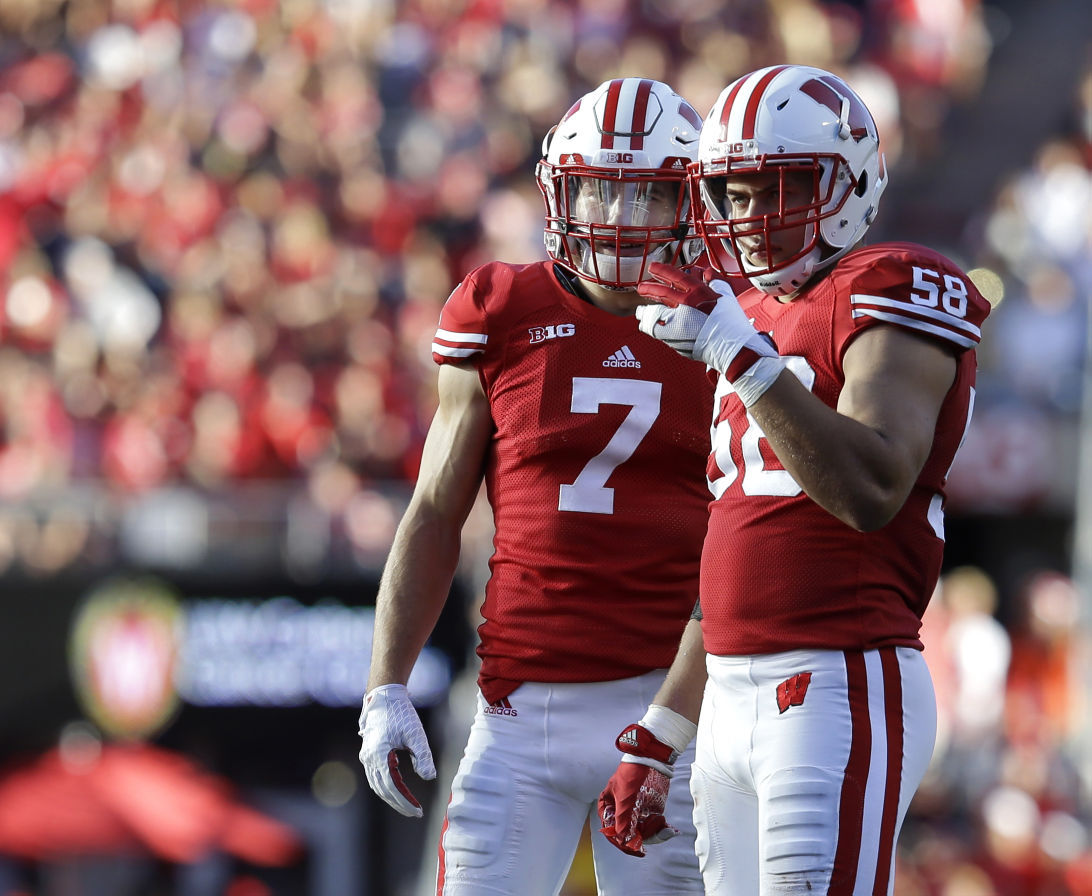 Coach: Paul Chryst (3-2, first season)
Series with Nebraska: Wisconsin leads 5-4
Offensive averages / national rank
Defensive averages / national rank
Special teams averages / national rank
Why you may need the Rolaids
1. This starts and stops with one obvious question: Can Nebraska keep Wisconsin from setting another FBS rushing record? Melvin Gordon broke one last season with his ridiculous 408-yard performance, and Wisconsin has amassed a mind-boggling 1,048 rushing yards in its previous two meetings with Nebraska. Personnel has changed, but Wisconsin will still pound away with its downhill running attack against a defense that seems better-suited to stop it than last year's unit. Key word is seems. Can it? And can the Blackshirts be disciplined in the play-action game and not be confused with Wisconsin's pre-snap motion and shifts?
2. Wisconsin's secondary is good. Really good. "All the tape I've watched," Nebraska receivers coach Keith Williams said, "I haven't seen any weaknesses in their secondary." It's a veteran group led by senior CB Darius Hillary (5), junior CB Sojourn Shelton (8) and senior safeties Michael Caputo (7) and Tanner McEvoy (3). The corners will apply press coverage more than any opponent to date. How will Nebraska's receivers handle such physicality designed to disrupt routes? "It's the difference of the play, potentially," Williams said. "It's going to be a good challenge for us, to see what happens."
3. Moving the football hasn't been easy for Wisconsin's last four opponents, who've combined for 13 points. The only touchdown in that span, by Iowa, was set up by a Wisconsin turnover. In other words, it would behoove Nebraska to avoid long fields. Yet Wisconsin opponents' average starting field position this season has been the 21-yard line, the second-best mark among FBS teams. Teams are averaging a meager 3.4 yards on punt returns vs. Wisconsin. The Huskers may have to find a way to flip the field, be it through special teams or big plays; the Badgers have allowed only five plays of more than 30 yards this season, and four were by Alabama.
1. Gordon is in the NFL. There. Feel any better? What's more, starting running back Corey Clement (6) is sidelined after undergoing sports hernia surgery. Wisconsin has split carries between redshirt freshman Taiwan Deal (28) and junior Dare Ogunbowale (23), who've combined for 658 rushing yards on 136 carries, or 4.8 per carry. Ogunbowale is a converted cornerback. They're running behind a retooled, inexperienced offensive line that isn't exactly vintage Wisconsin.
2. For the first time this season, Nebraska will face an offense that's primarily run-first. No Brad Kaaya, no Nick Mullens. Just Joel Stave (2). That's not as harsh as it sounds. Stave is greatly improved from last season, and is completing 63.3 percent of his passes. Yet he doesn't possess the same arm of those who've helped make Nebraska last in the nation in pass defense. Perhaps that's a confidence-builder for Stave after his four-turnover game against Iowa. But he'll be missing Alex Erickson (86), who has team-leading 26 receptions for 350 yards and a touchdown and is likely out with a concussion.
3. Nebraska is cornered. Times are tough. That's when Wisconsin coach Paul Chryst, who coached with Mike Riley at Oregon State, has seen the first-year Husker coach really dialed-in. "I've been in tough situations with him and, quite honestly, I think that's when he's at his best," Chryst said. If so, it could mean a tough day for Wisconsin, which has lost its last five Big Ten Conference road openers.
Sacks by linebacker Joe Schobert (58), matching the second-most by an FBS player through the first five games of a season since 2000. Clemson's Vic Beasley also had nine in his first five games of 2013. Only Louisville's Elvis Dumervil, who had 15 sacks in 2005, recorded more through five games.
Positions Tanner McEvoy (3) has played this season — safety, wide receiver and quarterback. In fact, he's recorded a reception and an interception in the same game, and has taken at least one snap at quarterback in each of UW's last four games. He can run from the wildcat formation.
Combined tackles for loss by Schobert and linebacker Vince Biegel (47), the most of any pair of linebacker teammates in the nation, and the most of any teammate duo among players of all positions. They've combined for 12 sacks.
Jason Galloway covers Wisconsin football for the Wisconsin State Journal:
1. Wisconsin has been well-known for producing strong offensive lines over the years but had to do some retooling entering this season. How has that gone, and how does this group up front stack up against recent O-lines for the Badgers?
"The offensive line has been shaky this season and enters this game as the position group that may need to make the most improvement. It appeared the line played better in Weeks 3 and 4 before struggling with an impressive Iowa front seven last week. The Badgers have rotated players at right guard and right tackle throughout the season and will likely start three redshirt freshmen on the offensive line against Nebraska."
2. Joel Stave's numbers are improved from last season, yet he's coming off a rough performance against Iowa. What's your analysis of Stave through five games?
"His first four games were quite impressive, and you could tell a full offseason under Paul Chryst did him a lot of good. Last week was one of the worst of his career. The four turnovers aside, he was misfiring on easy completions. Inconsistent offensive line play and the lack of a running game didn't do him any favors, though. I believe he'll go on to have the best year of his career, but he's got to play better this week in order for the Badgers to win."
3. How has Wisconsin's rushing attack looked without Corey Clement, and who will the Badgers turn to the most on running plays Saturday? (Melvin Gordon is not an acceptable answer, thank you).
Wisconsin could really use Gordon now. The running game hasn't been nearly as explosive with Clement out and Gordon gone. Converted cornerback Dare Ogunbowale and redshirt freshman Taiwan Deal are carrying the load in the backfield for now. The Badgers averaged just 2.5 yards per carry against Iowa last week and rushed for a meager 40 yards against Alabama in Week 1, their worst rushing performance since 2012. Much of the blame, though, falls on that inexperienced offensive line.
4. Wisconsin has allowed only one touchdown over its last four games. What's made the Badgers so stout on defense, and who in particular could make life difficult for Nebraska's offense Saturday?
Retaining defensive coordinator Dave Aranda when the coaching change took place allowed Wisconsin's defense to keep progressing after being one of the Big Ten's best units last year. The Badgers have three three-year starters in the secondary and have a talented front seven. Outside linebacker Joe Schobert leads the nation in sacks (9), tackles for loss (13) and forced fumbles (4). He nearly single-handedly won the Iowa game with eight tackles, four tackles for loss, three sacks, five quarterback hurries, two forced fumbles and a fumble recovery.