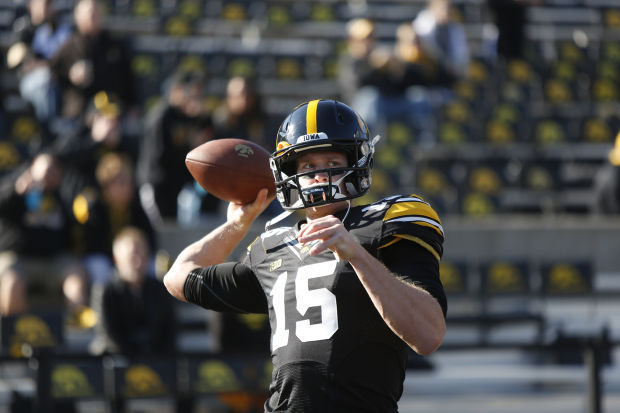 Location: Iowa City, Iowa
Coach: Kirk Ferentz (115-83, 16th season)
Record: 7-4 (4-3 Big Ten)
Series with Nebraska: Nebraska leads 28-13-3
Last game: Lost to Wisconsin 26-24
Only two active Football Bowl Subdivision head coaches have been at their schools longer than Kirk Ferentz has been at Iowa. Ferentz, the dean of Big Ten coaches, is in his 16th season with Iowa, which has had only two head coaches since 1979. Ferentz replaced Hayden Fry in 1999 and has a 115-83 record coaching the Hawkeyes. Only Virginia Tech's Frank Beamer (28 years) and Troy's Larry Blakeney (25 years) have been coaching their schools longer, and Blakeney is retiring after this season.
Iowa has seven players on its roster whose fathers also played for the Hawkeyes. Only FBS schools California and Idaho have more, with eight legacy players on their rosters. Tennessee also has seven. Iowa's seven players are wide receiver Brandon Bishop (Willie, 1984-86); linebacker Andrew Cerney (Tim, 1971-73); offensive lineman Cole Croston (Dave, 1984-86); offensive lineman Mitch Keppy (Myron, 1986-87); long snapper Tyler Kluver (Todd, 1986-87); tight end George Kittle (Bruce, 1977-80); and tight end Peter Pekar (Jim, 1980-81).
Iowa has received the opening kickoff 10 times in 11 games this season, which is nothing unusual in the Ferentz era. In 16 seasons under Ferentz, the Hawkeyes have had possession first in 160 of 198 games. In the 10 games Iowa has taken the opening kickoff this season, the Hawkeyes have scored three touchdowns, had four three-and-outs, an interception, a fumble and one series end on downs. In the one game they didn't receive the opening kickoff, at Maryland, the Hawkeyes took possessions only five seconds into the game anyway, when Giltner native Drew Ott recorded an interception. That led to a touchdown.
No, he's not as physically impressive or daunting as Melvin Gordon or David Cobb, but Iowa senior running back Mark Weisman is steady, workmanlike and dependable. While not a big-play threat — his longest run this season is 38 yards — Weisman can grind out yards and capitalize on yards after contact.
A walk-on transfer from Air Force, Weisman has rushed for 720 yards this season, averaging a steady 4 yards per carry. He's the third player in Iowa history to rush for 30 career touchdowns, and is three shy of tying the school record.
Iowa rushed for a season-high 304 yards at Illinois, and hasn't rushed for more than 400 yards in a game since 1997.
Iowa has settled on Jake Rudock at quarterback after using a two-quarterback system with Rudock and C.J. Beathard midway through the season. Rudock is coming off a 311-yard passing game against Wisconsin, his third 300-yard game this season. He's completing 63.9 percent of his passes, tied for the highest percentage among Big Ten starting quarterbacks, and has thrown only four interceptions.
Four Hawkeyes have at least 32 receptions, including a team-best 43 from Kevonte Martin-Manley. Of those, 23 have resulted in a first down or a touchdown. Martin-Manley has played in every game since 2011 and needs nine catches to break Iowa's all-time receptions record of 173.
Iowa has converted a Big Ten-best 13 fourth downs, on 21 attempts, for a 62 percent conversion rate. Weisman is 7-for-8 on fourth-down conversions.
Offensive averages / national rank
A big question entering the season was how Iowa would replace its experienced trio of linebackers. The answers have been mostly favorable.
Quinton Alston and Bo Bower have started every game, and Josey Jewell has started the last two games in place of injured Travis Perry, who'd been starting in place of Reggie Spearman. Perry is out for the season.
Alston ranks second on the team with 76 tackles, has forced two fumbles and is third on the team with four pass breakups, and Bower has two of Iowa's 10 interceptions. Iowa's linebackers have combined for 15½ tackles for loss, and all five of the aforementioned players have at least one sack.
Senior defensive tackle Louis Trinca-Pasat had started 36 straight games, and his 64 tackles are most among Big Ten defensive linemen. Defensive end Drew Ott, a Giltner native, has a team-best eight sacks and 12 tackles for loss.
Defensive averages / national rank
Hawkeyes on special teams
Junior kicker Marshall Koehn leads the Big Ten and ranks third in the nation in touchback percentage, with touchbacks on 38 of his 57 kickoffs (66.7 percent). He's 10-of-14 on field goals, with his only miss in Big Ten play a 46-yard attempt. Iowa has gone 54 straight games without a blocked or missed PAT, the longest streak in the nation. Iowa is averaging a meager 3.9 yards on punt returns, with its longest return 23 yards by Matt VandeBerg.
Jake Rudock, QB, jr., 6-3, 208 pounds
Rudock is tied for the Big Ten lead in completion percentage, at 63.9 percent, and has thrown just four interceptions, the fewest among Big Ten starting quarterbacks. He's 14-9 in his career as a starter, and has started 23 of Iowa's last 24 games.
Brandon Scherff, LT, sr., 6-5, 320 pounds
A projected first-round NFL Draft pick, Scherff has started 24 consecutive games at left tackle. He's among six semifinalists for the Outland Trophy and was named Iowa's most valuable player on offense last season.
Drew Ott, DE, jr., 6-4, 270
A native of Giltner, Ott leads Iowa with eight sacks and 12 tackles for loss. He's started 23 of Iowa's last 24 games at defensive end, including all 11 this season. Ott also recorded his first career interception Oct. 18 against Maryland, a game in which he had 2½ sacks.