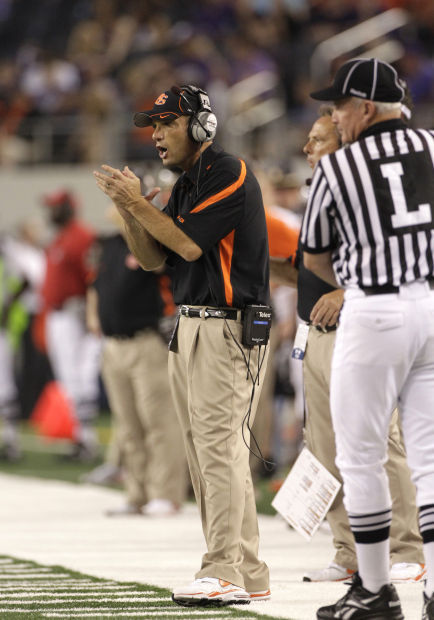 Shane Morales describes Mike Riley as many of the coach's former players seem to, calling him one of the nicest men you'll meet. He has seen how quickly Riley builds trust in people.
That always matters in recruiting. It really matters in weeks like these, when Nebraska's new head coach and a short-handed staff are traveling across the country trying to keep the Husker recruiting class together while also looking for pieces to add.
Not easy. But get Riley in the living room of a recruit and his family members and Morales likes the coach's chances.
"I got a firsthand look at it," said Morales, a former wide receiver and graduate assistant for Riley at Oregon State. "What Riley is really good at is connecting with families. Because parents, they want their kids to play football, yeah, but the moms want to know: 'Is my kid going to be safe? Is he going to be successful at school?' Riley is very personable. He just connects with parents very well."
So it'd be no surprise to Morales to learn that before Riley had an in-home visit with two of Nebraska's biggest recruits, defensive tackles and twin brothers Khalil and Carlos Davis, the coach first reached out to their uncle, former Husker Lorenzo Hicks.
The gesture was not lost on the Davis twins, who, while still not locks for this Husker recruiting class, remained committed to NU after Riley's visit.
It was hardly the only first-week victory for Riley, who also cemented the commitments of three defensive backs — Eric Lee, Avery Anderson and Aaron Williams — who plan to enroll in January.
Williams was considering taking a visit to Notre Dame this weekend. But after Riley spent about 90 minutes with the safety from Atlanta on Wednesday, that idea was no more.
"I thought that he was pretty laid-back and calm," Williams told BigRedReport.com. "I really liked him. He's a real people person. That's the right type of coach for me."
Stanley Morgan, a wide receiver from New Orleans, got a similar vibe after a phone call with "Coach Mike" earlier this week.
"I think he's pretty a pretty cool coach," Morgan said Friday afternoon. "We got along on the phone really good. … Right now, I love Nebraska, and I think that's the school for me."
Morgan was getting prepared to meet Riley in person Friday night. It wasn't the only significant visit for the head coach. He was also planning to check in on top-100 recruit Kendall Bussey, the running back from New Orleans who also is being pursued by Texas A&M and Tennessee.
You have free articles remaining.
"It's always difficult when you have change, but the main thing right now is finding a place where he fits in an offense," Kendall Bussey Sr. told HuskersIllustrated.com prior to the visit. "I'll be relieved when I see what exactly Coach Riley's offensive plans are, because it's kind of hard when he doesn't have his whole staff intact. When you're a 17-, 18-year-old kid, the position coach is who he's going to be around for the next four or five years."
As of now, Riley is recruiting with just four known assistants by his side — defensive coaches Mark Banker and Trent Bray, offensive line coach Mike Cavanaugh and special-teams coach Bruce Read.
It's a whirlwind week, but Riley's staff is looking not only to keep what it has with 14 commitments, but also add to it.
Four official visitors are expected in Lincoln this weekend, including four-star offensive lineman Jalin Barnett (Lawton, Oklahoma), defensive back Adrienne Talan (Pembroke Pines, Florida), tight end Matt Snyder (San Ramon, California) and linebacker Nick Thomas (IMG Academy in Bradenton, Florida).
Thomas committed to Wisconsin but is re-evaluating his options after news that Gary Andersen was leaving to take over Riley's job at Oregon State. And Snyder? Committed to Oregon State. But one of his lead recruiters, Read, is now on Nebraska's staff.
Nebraska already has flipped one Oregon State recruit since Riley took over, with linebacker Tyrin Ferguson (New Orleans) deciding to follow the staff to Lincoln.
As the week has moved along, Riley has kept fans and recruits abreast of his whereabouts through posts on Twitter.
"Great visit with Aaron Williams in ATL, now it's on for 2 big ones in NOLA! Finish strong!" he tweeted Thursday night.
The small touch of specifically naming Williams also seemed a savvy one. He did the same with Lee and Anderson, something allowed under NCAA rules since all three had previously signed financial-aid paperwork with Nebraska.
Attention to the small things can help reel in the big fish.
James Rodgers can tell you a thing or two about how Riley pays notice to the details. Riley recruited Rodgers out of Richmond, Texas, back in 2007. At the time, as best Rodgers can remember, there were hardly any, if any, recruits from Texas playing at Oregon State.
Rodgers, who now plays for the Montreal Alouettes of the CFL, went on to set a school record with 6,377 all-purpose yards. His younger brother, Jacquizz, was one of those recruits from Texas who came to Oregon State. Jacquizz is now playing for the Atlanta Falcons.
What was Riley like in the living room?
"I just remember talking to him and how upfront he was about everything, which is what a lot of players love," James Rodgers said. "The first thing I asked him: Will I be redshirting?' He just told me to come in ready to play. And another thing, he's a man of his word. I asked him, 'Will you be recruiting any other guys from Texas?' And he did."