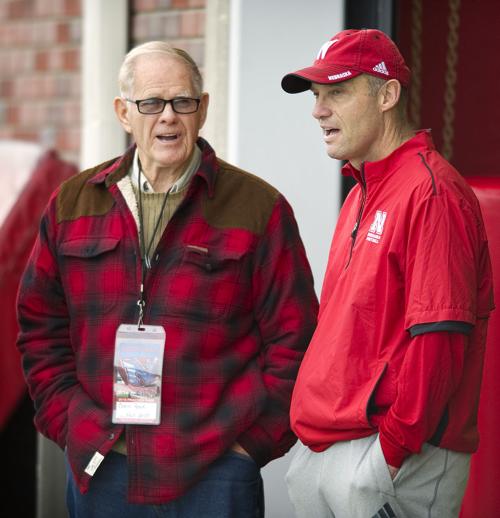 Mike Riley knows all about the Bay Area. It was 40 years ago when he made a road trip there to begin his first coaching job as a graduate assistant at California.
"I drove from Tuscaloosa, Alabama, to Berkeley, California, and that was my big transition in a lot of ways," the Husker head coach said this week. "Had a great year here with Cal. Great staff. Many guys to this day that I've maintained friendships with were on that staff."
So the place will hardly be unfamiliar to Riley when the Huskers arrive in the Bay Area on Dec. 21, five days before their Foster Farms Bowl game against UCLA. He also knows it well from having recruited California hard for many years while at Oregon State.
Being in a fertile recruiting state for a week during bowl season is never a bad thing.
Nebraska already has three committed players from California in this class: quarterback Patrick O'Brien, safety Marquel Dismuke and wide receiver Derrion Grim.
Riley wants to make sure the Huskers keep getting recruiting results out of the state.
"We want to recruit California and we want to recruit Florida. We're going to have to go coast to coast," Riley said. "So everywhere we go, it's important. And California would be a very good example of that. And, yes, we have ties out there. But I don't want to make California recruiting any more important than the rest of the world.
"But I've got a vision about how this recruiting could work, and if we could get two or three guys a year from California, and keep that connection growing, that's what I want to do."
* SPEED TEAM: What jumps out first about bowl foe UCLA to Riley?
"Our first impressions are speed," he said. "They've had some productive defensive linemen. They have a productive runner. They have a terrific young passer. The guy's a good quarterback. At a young age. He doesn't play young. He looked poised. … It's a challenge all the way around. It's a speed team."
That poised quarterback he is referencing is true freshman Josh Rosen.
Did Riley try to recruit Rosen to Oregon State while the coach was there?
Not aggressively. Mostly because Riley knew it would be a tough fight to beat out Jim Mora and UCLA for the quarterback from Manhattan Beach, California.
"We knew about him," Riley said, but added jokingly, "He's a neighbor of Jim's. It's not even fair."
As for that Bruin speed, Husker junior wide receiver Jordan Westerkamp brings it up, too.
But he also doesn't expect the test to be all that much different from some of the Big Ten teams the Huskers have seen.
"It's just football," Westerkamp said. "There are only so many coverages you can play. … It kind of reminds me of Minnesota's defensive backs. Just quicker guys. We'll be ready for it."
* HANGING WITH MORA: Riley has only coached one college game against Mora. It was 2012. His Oregon State Beavers knocked off UCLA 27-20 at the Rose Bowl.
But Riley got a good look as a fellow Pac-12 coach at how Mora has positively turned around the UCLA program since taking over in 2012.
After going 6-8 in 2011, UCLA is 37-15 the past four years under Mora, including two wins against Nebraska.
"I really respect what he has done at UCLA, because he changed the team," Riley said. "The team was better, different, soon after he arrived. He was a good football coach, good guy, and he's done a good job out there."
Riley spent most of Thursday running around San Francisco, along with Mora, talking to media in the area as part of their bowl responsibilities.
While the Bay Area won't be new to Riley, it will be to some of his players, such as junior defensive tackle Kevin Maurice.
All he really knows about the place is that the Golden State Warriors are from there. He's excited to visit.
"But ultimately everything leads to UCLA," Maurice said.
* BUSY WEEK AHEAD: There is a balancing act that always occurs in December during bowl preparation, with players also trying to finish their work in the classroom on a strong note.
Next week, as the Huskers continue to get ready for UCLA, is finals week.
"It's a good lesson for them as we go even into traveling for a bowl game," Riley said. "At this time of year, you have to compartmentalize really well. When you're doing this, you do it well. And when you're doing this, you do it well. Not make too many gray areas in there.
"We have to change practice times almost day-to-day because of the blocks we can get to have practice. Like Monday, we will meet at 8 in the morning and practice at 10. Then I think Tuesday we start our meetings at 1 and practice at 3. But that's exactly what's happening next week during finals, is we have to be pretty flexible."
* QUOTABLE: "We need to win. … We need all parts engaged." — Riley
Be the first to know
Get local news delivered to your inbox!