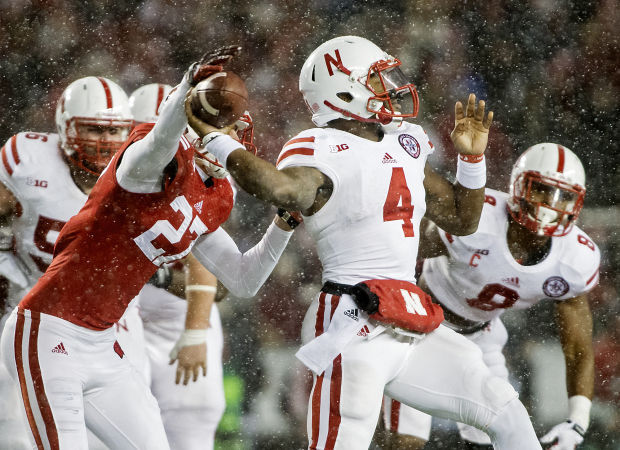 MADISON, Wis.— Twelve yards. That was the extent of Nebraska's passing game in the first half of Saturday's embarrassing loss to Wisconsin.
It wasn't just that quarterback Tommy Armstrong struggled, targeting throws in the 59-24 loss. Husker receivers often failed to get much separation from Wisconsin defensive backs, a matchup some thought NU might be able to exploit.
Armstrong threw 10 passes in the first half. He completed one. The sophomore quarterback's frustration level was easily visible to his offensive coordinator.
"Extremely high," Tim Beck said.
It carried over to the third quarter. The Huskers had the ball to start the half, only down seven points, and maybe with a little life after Armstrong completed a 26-yard screen pass to Ameer Abdullah to get the ball to the NU 48-yard line.
Then protection broke down, Armstrong scrambled, thought he had Kenny Bell open and let the ball go. Wisconsin safety Peniel Jean waited for the pick like a center fielder playing a routine pop-up.
"He didn't see the free (safety)," Beck said. "He got flushed out. … He didn't see him. He scrambled out. He said, 'All I saw was Kenny.'"
It was an across-the-board problem, with the Huskers also giving up four sacks.
"Protection issues," Beck said. "They were bringing a lot of people, twisting … had to max protect. We also felt like early in the game, we were running the ball. I wanted to be careful that I didn't get away from that. … So I kept thinking to myself, 'Let's be patient. Let's keep running the rock. Maybe get a chance to spring something here or there.'"
And for a quarter it did indeed look like the Huskers might be able to gash the Badgers on the ground. Abdullah had 42 of his 69 rushing yards in the first quarter, and Armstrong had 32.
But the run success just as quickly disappeared, and NU's passing game was in no condition to rescue the Huskers. Armstrong finished 6-of-18 for 62 yards.
It was the second consecutive game NU looked out-of-sync in the passing game. Armstrong is just 14-of-39 (35.8 percent) with three interceptions in those two games. Some of it has been on him. Some on his receivers. Two of his interceptions against Purdue were said by coaches to be because teammates ran the wrong routes.
"It was everybody," Beck said. "It was a bad pass, it was falling down. It was just a bunch of different things that took place."
"Through the course of the game? They lost something," Beck said. "Mojo. I don't know what you want to call it. The intensity level, the drive. Somewhere along the game, we didn't have the same crispness we did early."
As Wisconsin gained momentum, Beck said he was trying to get his offense back to the basics.
"Let's just run a simple run play. And then we cut a guy loose, Ameer gets hit and we fumble," Beck said, referring to an early third-quarter turnover after NU took over at the Wisconsin 38 with a chance to tie the game. "I'm like, 'Oh, my gosh.' You can't get any simpler than that. I mean, I don't have the answer why early we blocked them and later we don't block them."
* TRYING TO RALLY: Senior left guard Jake Cotton believes the Huskers still have something in the tank for the final two regular-season games.
But he knows everybody has to stick together.
"It's time to circle the wagons, it's time to rally," the co-captain said. "We can't let this get us down. We can't start pointing fingers. We can't listen to the noise.
"We have to stay within the complex, so to speak, and don't let our approach change, don't let anything change week to week. Just get back to work, and prepare for Minnesota."
Cotton said he doesn't think confidence is diminished on the offensive side of the ball despite the recent struggles.
"I don't think it does, because this was our 10th game," Cotton said. "We've probably practiced 150 times with this group. We know what we can do. Everybody knows what each other can do. We just have to make plays. And we didn't make plays today."
* HUSKERS TUMBLE IN POLLS: Nebraska dropped eight spots to No. 19 in the USA Today coaches' poll and 10 spots to No. 21 in the Associated Press rankings. 
33: Nebraska's new rank in total offense, tumbling 15 spots after gaining a season-low 180 yards.
42: Nebraska's new rank in total defense, tumbling 17 spots after giving up 627 yards.
135: Yards per game Minnesota running back David Cobb averages. He may not quite be Melvin Gordon, but he's seventh in the country in rushing and has 1,350 yards this year.
484: Yards Abdullah remains behind Mike Rozier on NU's career rushing chart as Abdullah heads into Senior Day. With only 70 yards in the past two games, Abdullah would have to average 161.3 yards the rest of the season, assuming Nebraska has three games left. Abdullah needs 300 all-purpose yards to become the 11th player in NCAA history with at least 7,000 career all-purpose yards.
"Nobody was sitting there on the sideline putting their heads down. We started every drive saying, 'Let's go attack. Let's go play. Let's get hats on people.' We just didn't execute." — Jake Cotton
"A lot of who we are as a program, as coaches and players, is going to be revealed in how we play against Minnesota." — John Papuchis