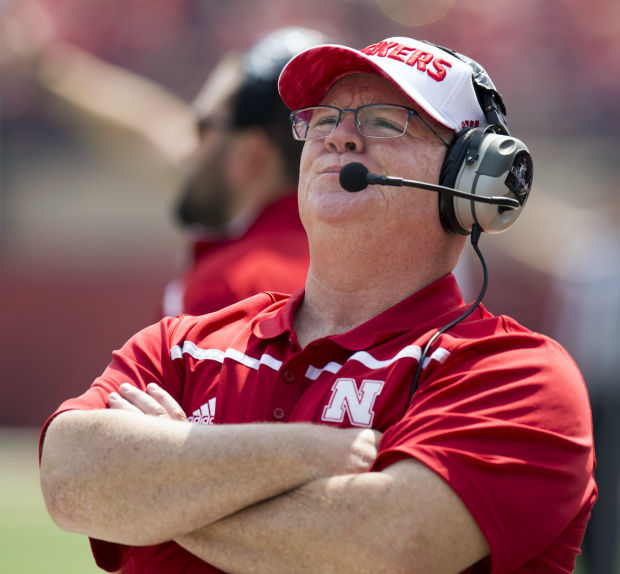 Husker coaches aren't ready to name their starting offensive line, but the picture seems to be clearing on who the top candidates are for the five spots.
"I think we're getting there," offensive coordinator Danny Langsdorf said after Monday morning's practice. "We've had some issues in protection at times, but I think for the most part it's been a solid group. I think we've run the ball pretty well. I think we're physical. We've got to take care of some of the protection issues, especially against pressure.
"But I think we're starting to narrow down that group of the top five, so that they can get some camaraderie there, be a cohesive unit with those five guys."
In Saturday's scrimmage, most top-unit reps went to Alex Lewis (left tackle), Dylan Utter (left guard), Ryne Reeves (center), Chongo Kondolo (right guard) and Nick Gates (right tackle).
The redshirt freshman Gates has made his push at a position where senior Zach Sterup is also vying for time. Sterup had a couple of tough practices last week, offensive line coach Mike Cavanaugh said, but has bounced back the last two practices.
At center, where Paul Thurston is also competing, Reeves has impressed Cavanaugh as a "smart guy (who) understands everything and makes great calls."
And Kondolo has followed up "a great spring" with a good start to camp. "He just has to trust what he does going up against Maliek (Collins)."
As for if he's found his top five, the coach said: "Well, it could be a five. We'll see what happens. We haven't solidified anything."
That'll happen, he said, "when the head coach says."
* DETAILS, DETAILS: Langsdorf saw positives from the offense in Saturday's scrimmage of more than 100 plays, but believes his side of the ball needs to improve on the procedural stuff.
One big thing: Breaking huddle quicker so that the offense has more time to examine the defense and get into the best possible play.
"Just getting a signal, calling a play, breaking a huddle, people lining up probably. Now is really the focus on detail work," Langsdorf said. "We've got our plays in. Now we've got to really detail how to run the play ... proper alignments, techniques, everything that kind of goes into successful plays is big this week."
For whatever wrinkles that might need ironing, Langsdorf said his offense is in the neighborhood of where he thought it would be with the passing game right now.
He also said that whatever passing inconsistencies there have been are shared responsibility of the entire offense, and not just the quarterback.
"Incompletions and interceptions, they can easily be pointed at the quarterback, but there are tons of times where the ball is thrown correctly, the receiver is wrong, it's a tipped ball," Langsdorf said. "I really focus on each play of what really happened here. Was this the quarterback? Was this the protection? Was this the receiver? I like where we're at. I think we've got a long way to go.
"But I thought on Saturday we were in a pretty good position to make some plays in the passing game. And I liked what we did (Monday). I thought we bounced back, especially in the red-zone throws."
* LEARNING CURVE: Brandon Reilly said there was some uneven play from the wide receivers Monday as they adjust to some new concepts.
"You guys (the media) weren't here today, but we struggled a little," Reilly said. "We don't like those DBs talking trash like they always do."
Reilly said receivers have to step up their play and not be satisfied thinking they've locked down a position — especially not with newcomers such as Stanley Morgan making waves.
"When Stanley steps up like that, we all push ourselves up to the next level," Reilly said, "or a true freshman might be starting the first game."
* READY TO PLAY?: Speaking of Morgan, is the true freshman a safe bet to avoid a redshirt and play this season?
"Not there yet, but he is for sure in the conversation," Langsdorf said.
The receiver has had a very strong start to camp, receiving high praise for his efforts from head coach Mike Riley after Saturday's scrimmage, when he caught three touchdowns.
"He's a guy that hardly even knows what he's doing and he's making plays," Langsdorf said. "I thought that showed up again. He needs some help on getting lined up, but when he knows what to do on the play, he does it hard and fast, and he's tough.
"He makes tough catches in traffic. He had some contested practice in the (scrimmage). Released great on a fade for a touchdown. He had a wonderful catch coming across the middle on one. I just like the fact that he's tough, in there all the time, and he's making plays."
* TAKING PRECAUTIONS: Reilly said he's feeling "pretty good" despite sitting out practice again Monday.
His issue is a tight hamstring, and after last season, Reilly is cautious, not rushing his return.
A year ago, Reilly tried coming back too soon from a hamstring injury, re-injured it, and he missed the first six games.
"I learned the hard way last year," he said. "I'm kind of playing a little smart right now."
— Brian Christopherson and Brian Rosenthal