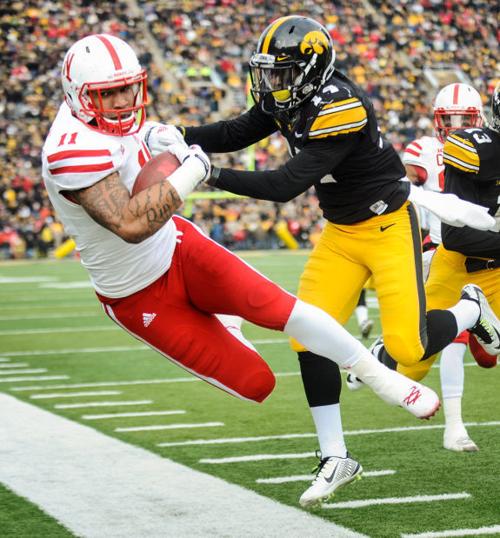 The Huskers have limited options at tight end for yet another week, as coach Mike Riley announced after Thursday's practice that junior tight end Cethan Carter is the player who faces suspension for a second straight game.
In delivering the news, Riley said Carter is "hopefully the last suspended player" for this 2015 season. Carter was also one of the five players who sat out the 33-28 opening loss to BYU for undisclosed reasons.
Nebraska is already without tight end David Sutton, who suffered a severe ankle sprain on a low hit in the opener against BYU, and junior Trey Foster "is kind of on the fence" after gutting it out with his own ankle issues.
"We are thin," Riley said. "Sam Cotton has done a nice job this week getting ready to play. Andy Janovich is that pseudo H-back/fullback, so it gives us a little versatility."
Riley still hopes Foster can play Saturday night even though the Lincoln Southeast graduate has had "very limited, if at all, any practice this week."
The coach said Foster told him he felt pretty good Thursday. "So I'm hopeful (Friday) he's able to do some stuff and show that he's capable of playing Saturday night."
* PUNTER TRYOUT: Riley hasn't closed the door that Sam Foltz could still punt in Saturday's game. It would be a fast recovery after Nebraska's standout junior punter was carted off the field with an ankle injury in the third quarter.
"Sam, we're going to let biology work for another day and see where he is," Riley said. "He was in a boot earlier, and he was out of the boot, and walking pretty well today. So I'm not ready to say yes or no. We'll just give it one more day and see what he can do (Friday)."
Senior walk-on Tyson Broekemeier, who punted twice in the fourth quarter and averaged 40 yards a punt with the wind behind him, is the lead option if Foltz can't go. Kicker Spencer Lindsay also has been taking his turn with punts.
Broekemeier showed good poise in the game Saturday, Riley said: "He's an athlete, so we've got a lot of faith in him."
You have free articles remaining.
In addition, there was a campus tryout held for punters this week. "Actually found a guy," Riley said. "Don't know that we'll have him ready to go for prime time on Saturday night."
Riley couldn't name the student now because he wasn't sure that he was officially on the team and guessed he might be able to practice Monday if declared eligible. "He's local," the coach said.
There were three or four guys who tried out, according to Riley. "We looked at one of the managers yesterday."
* PIERSON-EL UPDATE: De'Mornay Pierson-El is free of a boot and crutches and seems to be on pace with his recovery from a fractured foot injury that was initially suggested would keep him out at least four games.
It's still too early for Riley to say when the sophomore receiver/returner might be able to play again. Riley said from the beginning he was hesitant to put any timeline on an injury like that.
"I think it's all going right on track," the coach said. "Painwise, he doesn't have any. But that doesn't mean anything (right now). That is another thing that's really biology where they can see the X-ray the healing and all that. It will still be some time, but it's good to know he's pain-free and progressing well."
* DEFENSIVE END ROTATION: Riley confirmed redshirt freshman Freedom Akinmoladun will start in place of the injured Jack Gangwish at the end spot opposite Greg McMullen. Ross Dzuris will also play.
"We should have maybe not quite the rotation we did last week, but at least we'll have three for sure going in there," Riley said.
Part of the way to work around losing an end is to go to a three-man front on obvious passing downs. "You maybe don't get the pass rusher in there, but then you do get in a way the versatility with the defense. Because you have a variety of blitzers, a variety of coverers that way."
* QUOTABLE: Riley isn't taking South Alabama lightly at all.
"Our general staff outlook if you ask anybody on our staff what this team looks like, they look like a fast team," he said. "They've recruited well there. They've picked up some good (transfer) players from UAB, including a quarterback. And they are well-coached. They know exactly what they're doing. … That's the initial message. But then it becomes about us and how we play."