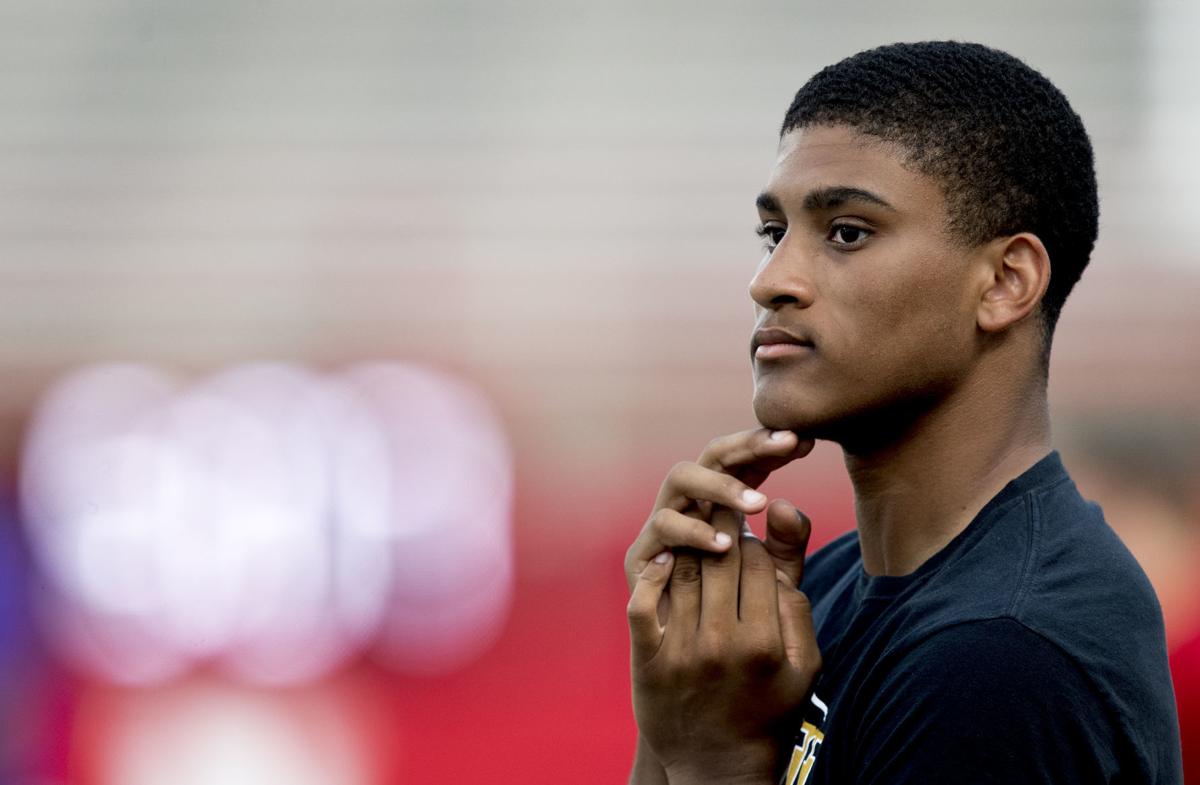 Omaha Burke standout Xavier Watts, the second-ranked football player in Nebraska, intends to play for an out-of-state collegiate program.
The three-star receiver on Friday gave his non-binding verbal commitment to Notre Dame. He announced in late May that he had narrowed his final list to Nebraska, Notre Dame, Michigan, Wisconsin, Tennessee and Iowa State.
He made only one official recruiting visit, to Notre Dame on the weekend of June 21, although he had visited Nebraska unofficially.
Asked why the Irish emerged atop the fray, he told the Journal Star, "Because it's too hard to pass up on the balance between football and education."
Burke head coach Paul Limongi said Notre Dame is getting "a high-character, humble kid."
"He's an honor student — one of the best students at Burke. He's well-spoken, big heart, just a fantastic kid," Limongi said. "On the football field, he's absolutely one of the best I've ever coached. He's tough, he's a gamer, always strives to get better. He's a once-in-a-lifetime type of kid that you get an opportunity to coach. I'm just glad to coach him one more year."
As for Watts' decision to attend Notre Dame, "It's not really surprising to us because we knew academics was first," Limongi said. "Football was second. He just wanted to go somewhere where he was really going to be challenged academically. That was a big part of his decision. It was way more than just football. There were others factors involved.
"He wanted something that would fit all his needs for him and his family. We support his decision 100 percent."
You have free articles remaining.
Watts, the Lincoln Journal Star boys high school athlete of the year, was a major reason why Burke went 13-0 last season and won its first Class A state title. He caught 67 passes for 1,093 yards and 14 touchdowns, but was also a factor defensively with 58 tackles (five for loss) and five interceptions from his safety position.
The 6-foot-1, 190-pound Watts was at his best when the game was on the line in the state championship contest, helping Burke overcome an 11-point halftime deficit against Grand Island with touchdown receptions of 62 and 37 yards in the third quarter. He then helped seal the Bulldogs' 24-20 win with a 12-yard reception on fourth-and-5 from the Islanders' 29-yard line with just more than a minute left.
He's the third Burke football player to get major Power Five conference recruiting interest in the past two years. Nebraska landed a pair of 2018 Bulldog Super-Staters in linebacker Nick Henrich and tight end Chris Hickman, beating out numerous national powers for their services.
"Nick (Henrich) has told me to take my time and have fun with it (the recruiting process)," Watts said in May. "He says there's no need to rush anything or feel any pressure with it. Just enjoy it."
Nebraska had been on a bit of a roll in recruiting, reeling in verbal commitments from four players in the past two weeks, capped by Carroll (Iowa) outside linebacker Blaise Gunnerson's pledge Tuesday.
Watts' decision to attend Notre Dame represents a departure in the context of Nebraska in-state recruiting coordinator Barrett Ruud's resounding success in the class of 2019. Ruud batted 1.000 as the Huskers offered scholarships to five players and got five signatures. In addition to Henrich and Hickman, NU landed Garrett Snodgrass of York, Garrett Nelson of Scottsbluff and Ethan Piper of Norfolk.
In the class of 2020, Nebraska has a verbal commitment from four-star receiver Zavier Betts of Bellevue West, the top-rated player in the state. The 6-foot-2, 195-pound Betts told 247Sports earlier this week that Watts seemed to be favoring the Irish. Turns out, Betts was dead-on.
In choosing Notre Dame, Watts joins a sizable group of top in-state players who have picked the Irish over the Huskers in the past 30 years. Others include Trevor Robinson of Elkhorn (2008), Tim Ridder of Creighton Prep (1995), Ty Goode of Lincoln Southeast (1994) and Junior Bryant of Prep (1990). In addition, former NU recruiting staff member Aaryn Kearney is Notre Dame's director of recruiting.