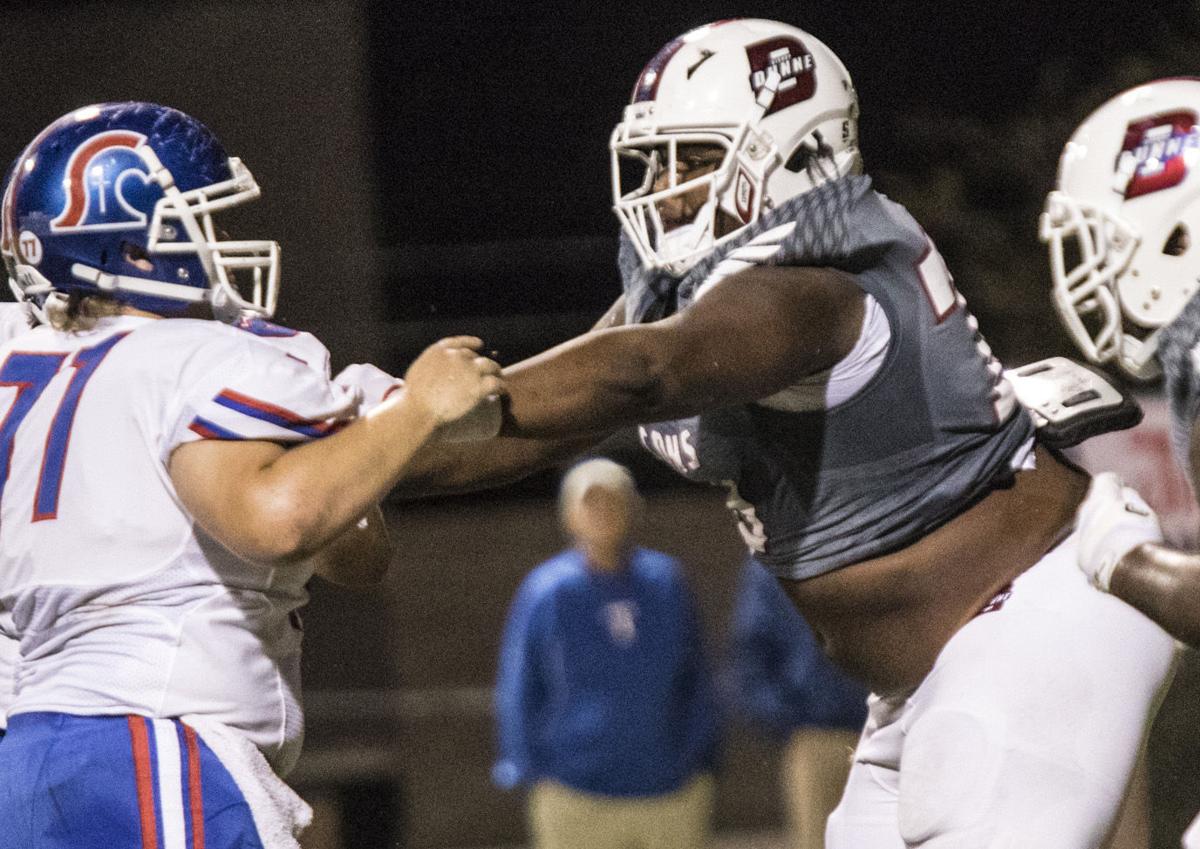 When it was said on Wednesday by Guy Thomas' high school coach, Tim Harris, that even he didn't know where the defensive end was going until the final hour, the mind wandered to what someone like John Parrella was thinking the night before.
Try to put yourself in a coach's polo shirt in that situation. You build a connection with a recruit, dine with him, maybe already have nicknames for each other. You have had him on your commitment list since Aug. 7. And now, there's a haze. Good luck finding sleep.
But as Nebraska head coach Mike Riley pointed out at his National Signing Day press conference, Parrella wasn't doubting Thomas. He was counting on the relationship he'd built. The same way a year ago Mike Cavanaugh banked on it when Nebraska beat out Iowa for offensive tackle Matt Farniok.
"We did not know for sure what was going to happen, but John was confident," Riley said. "John did what I think is probably the most important thing in recruiting — he built up a great deal of trust with Guy. They talked pretty openly and John felt confident, made us all feel good about it, and Guy ended up signing."
Beating out Pitt and Louisville for the D-end from Miami was just the first of Parrella's scores on a day in which he would emerge as one of Nebraska's star recruiters despite being less than a year on the job as D-line coach.
Later came the signing of 310ish-pound defensive tackle Damion Daniels of Bishop Dunne High School in Dallas. And soon after that came the announcement from Central City's Jordan Paup that he was choosing to walk on to Nebraska instead of take a scholarship from South Dakota State.
The 6-foot-3, 230-pound Paup had 13 sacks his senior year. He is the type of solid in-state kid NU has lost in years past to nearby FCS schools for understandable reasons. But Paup mentioned that he was "really able to connect with Parrella" and he changed his mind last week.
If D-line recruiting labored at Nebraska a year ago, there seemed no such negative reviews of Parrella's work to be found Wednesday night.
Daniels may have just pledged to the Huskers, but NU coaches had worked on him a long time. One person in the program said Daniels' signing was expected for about two months.
He's listed at 310 by Nebraska, but his high school coach Michael Johnson describes the big man as "330 (pounds) that can move without a hitch."
"He's a dominating force that wants to be the best," Johnson added. "Competition is what he thrives on. What you're going to get in Damion, you're going to get a fierce competitor. When the brights get lighter, that's when he's going to step up and be his best."
Johnson remembers the first play of the second half in a game this past fall. Daniels busted through, drilled the running back 5 yards in the backfield and forced a fumble.
"That's just his playmaking ability. I'd say, 'Damion, I need this play,' and he's going to go make it. That's the type of competitor he is. If you tell him to do something, he's going to do it."
Give Husker defensive coordinator Bob Diaco some credit, too, for helping seal the deal on the recruit. Johnson said Diaco came down to Dallas for a visit after he was hired at NU and explained to Daniels his vision for him in the defense.
But the separating factor that really made Daniels' decision comes back to one word, Johnson thinks: relationship.
"I think that Coach Parrella built a great relationship with Damion, and not just with Damion, but with his family as well," Johnson said. "A lot of it has to with trust."
Thomas playing for more
It's worth recalling there's so much more beyond the surface of each recruit's decision that should always be considered before popping off whenever a kid decommits or considers doing so.
In the case of Guy Thomas, his mother passed away just two years ago. And it makes sense he'd seek advice from his brother Matthew on his recruiting situation, since Matthew was a highly recruited linebacker who experienced all the oddities that come with recruiting before he ultimately ended up at Florida State.
In an interview with Guy the day he committed to Nebraska, we talked about his late mother and how determined he was to carry on her legacy wherever he played college football.
"I know that my mom would tell me to keep working hard and push myself to my limit," he said. "She doesn't like lazy people and I'm not a lazy person. She wanted me to be successful, and that's exactly what I'm going to do."
His coach said when it came down to the final hour, Nebraska still just felt like the best fit.
Listed at 6-3, 200 pounds, some might believe Thomas is built to excel as an outside backer in a 3-4 scheme. Heck, Riley mentioned it unsolicited on Wednesday.
"With the 3-4 defense, a guy like Guy Thomas might be that short side of the field outside backer that is that tweener guy between a 4-3 defensive end and an outside linebacker who can rush the passer and do a little pass coverage," Riley said.
A pretty nice chess piece to have.
In-state representation
Can't let that in-state talent get away. You hear that phrase a lot.
In the case of this year's class, four in-state scholarship recruits makes up 20 percent of the group. Riley pointed out the emphasis of his staff in that regard.
"And it's a sign that everybody can take note of that we are going to do our diligence in our home state as we are in the radius and we want to make sure we do it justice," Riley said.
And even though the offer to Lincoln East lineman Chris Walker didn't come until January, the coach pointed out NU coaches had been watching the prospect closely all along.
"We had a lot of eyes on him through his senior year," Riley said. "We wanted a senior year evaluation on it, and when we felt we were right that he would be a great addition to this group, we went on it and we were fortunate to get it."
Two number 1s
This is nothing official, but a couple of recruits were talking about what numbers they would wear at Nebraska on Twitter.
Elijah Blades and Tyjon Lindsey, two headliners in the class, both tweeted they'd be wearing No. 1. That's possible since one is on offense and another on defense.
But, wait, what about Lamar Jackson? He was wearing No. 1 last fall as a freshman. Jackson responded and said he would now be wearing No. 21 in memory of a fallen friend.