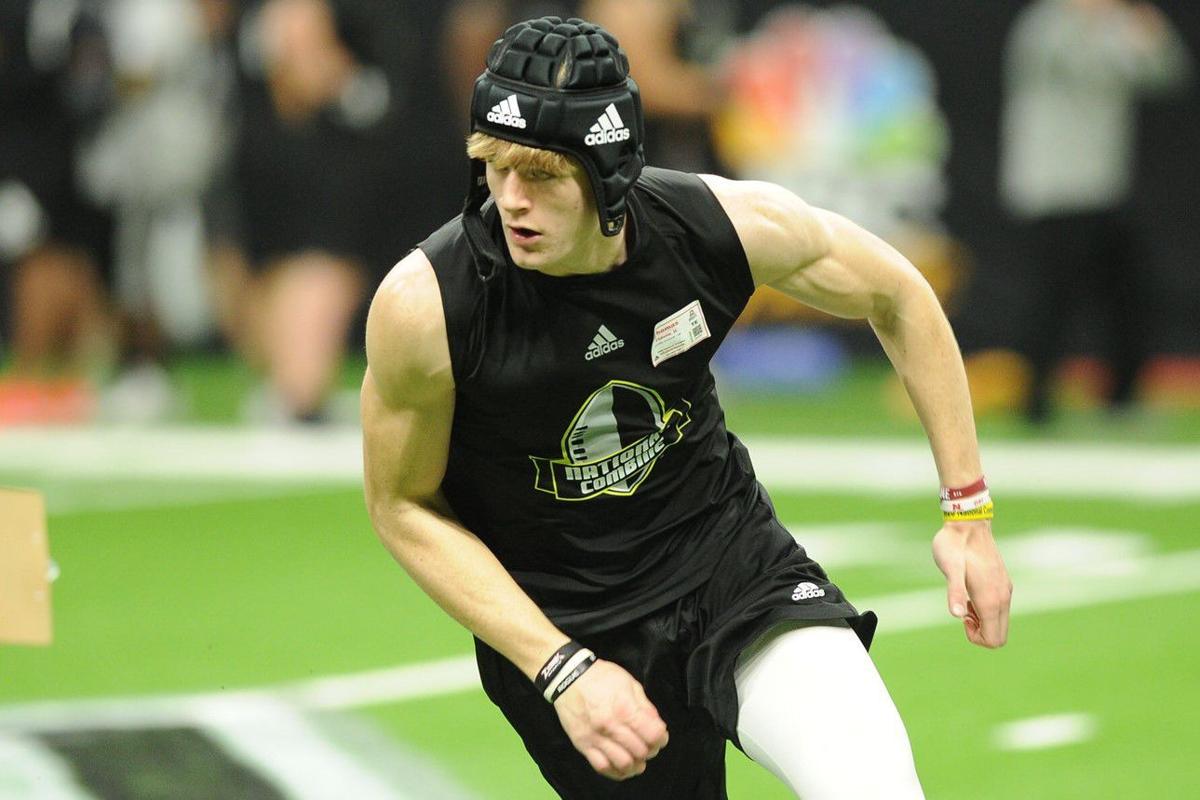 Nebraska landed a verbal commitment from four-star tight end Thomas Fidone out of Council Bluffs, Iowa, on Wednesday night.
Here are three observations in the wake of Fidone's decision:
1. Perhaps more than anything, what stands out about Fidone is the combination of wow factor and work ethic.
Highly ranked recruits obviously carry high expectations with them, and sometimes that can lead to skepticism about whether a player is really that good.
Fidone, though, catches your attention and doesn't let go. At the Warren Academy's Top Prospect Showcase in late July, Fidone put on a show that regularly drew oohs and ahhs from everybody in attendance, from fellow recruits to reporters to coaches and parents watching from a distance. He does the same on the basketball court, where he regularly makes plays above the rim.
He's not all flash, though.
"For me, the biggest attribute he has is his will to compete," former Nebraska defensive lineman and Warren Academy founder Steve Warren said. "It's a want to compete. There's a lot of great athletes out there, there's not a lot of great competitors. He's a competitor."
Fidone, for example, absolutely did not have to take part in the showcase in late July. He already had offers from all around the country. Teams already have more than enough to go on. They didn't need him to run 4.63 seconds in the 40-yard dash or show off a 37-inch vertical jump. But he showed up and went through every drill, just because the drills were there to do.
"Competition breeds excellence and that's just how I was raised," Fidone told the Journal Star. "I know (Lewis Central head coach Justin) Kammrad wants to see me compete and I want to compete. I want to do well and if I don't, that's OK. I want to learn from my mistakes.
"There's no substitute for competition."
Fidone combines measurable and athleticism, but his hands also have to count among his most impressive attributes. He catches everything thrown in his area, makes one-handed grabs look routine and envelopes the ball with strong technique when it's within reach.
"They're huge, too, his hands are humongous," Warren said. "He catches everything within his radius and that just makes him more special."
2. Nebraska has been in strong position for Fidone for some time and had some factors working in its favor, but don't discount the effort it took to land him.
It would be easy enough to write it off in some ways — he grew up a Nebraska fan and his family is full of diehards; he lives just over an hour from NU's campus; the coronavirus pandemic kept him from being able to take a few official visits that he had hoped to take this summer or fall — but that would gloss over a simple reality: Fidone didn't have to pick Nebraska and he didn't have to do it now.
Just about every major college football program in the country wanted Fidone. He could have jumped on any of those offers at any time. He could have waited out the fall to see if official visits would get the green light at some point. He could have made his way to a couple of those campuses on his own dime. But he didn't. Nebraska convinced him of his role as an offensive focal point in the future and held off an army of major players in the process.
That's a big win, even if the Huskers had some built-in advantages along the way.
3. Fidone is the starting point for Nebraska's tight end class in 2021, but he's certainly not the end of the conversation.
In fact, the Huskers might just be getting going on tight ends in the current class. Creighton Prep standout A.J. Rollins could make his decision as soon as this week as the regular season arrives for the Junior Jays on Thursday night.
The three-star prospect is listed at 6-foot-6 and 220 pounds and has held a Nebraska scholarship offer for more than a year.
The wild card is Norris three-star James Carnie, who does not yet have a scholarship offer but has been consistently communicating with Husker coaches and impressed at the Warren Academy by running 4.6 in the 40 and logging a 33-inch vertical jump at 6-5 and 220 pounds.
As the tight end position comes to further clarity for NU, so, too, does the 2021 class in terms of skill talent. NU has quarterback Heinrich Haarberg, running back Gabe Ervin and a trio of wide receivers committed in Kamonte Grimes (Naples, Florida), Latrell Neville (Missouri City, Texas) and Shawn Hardy III (Kingsland, Georgia).