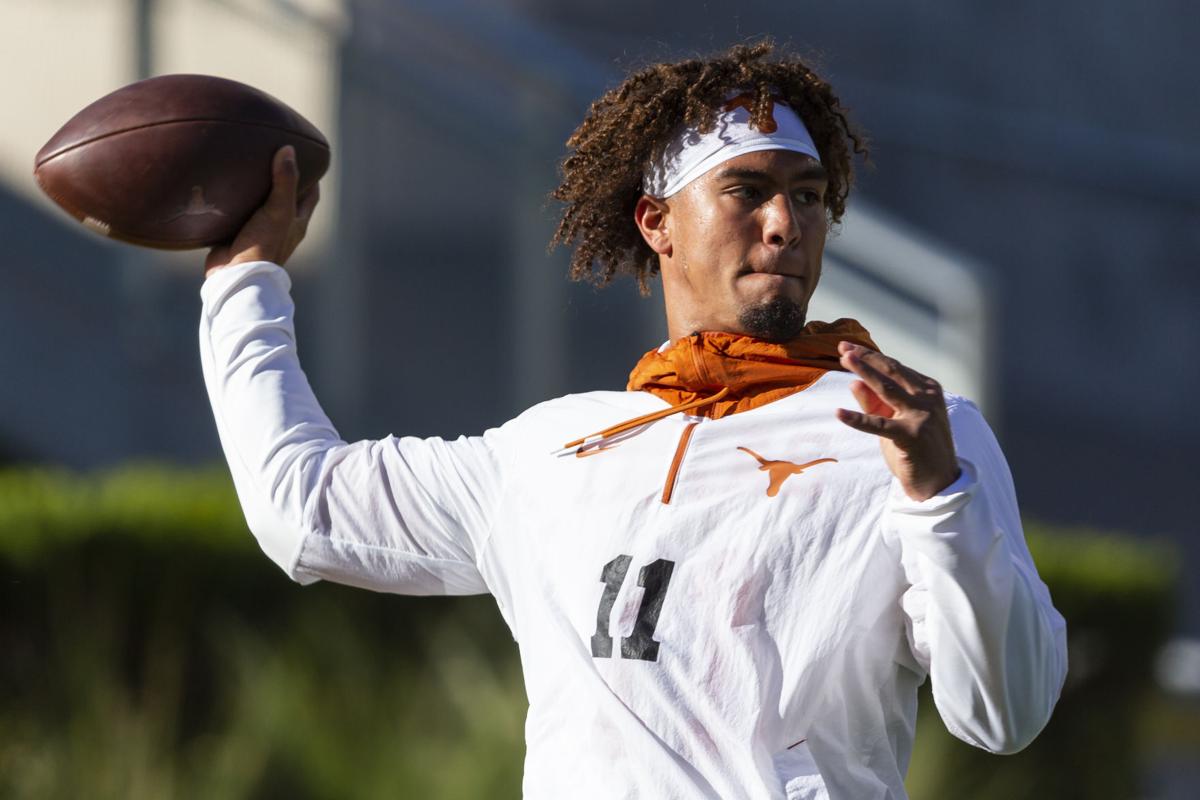 1. It probably felt like a long wait for Nebraska coaches and fans, but the timing worked out just fine in the end.
Even before the 2021 season ended and before four-year starter Adrian Martinez entered the transfer portal, it was clear the Huskers were going to be looking for a transfer quarterback this offseason.
Logan Smothers started against Iowa six weeks ago and the wait likely felt like a long one, but in the end, the timing in landing Thompson worked out just fine for Nebraska.
The Huskers reconvene on Monday to begin winter conditioning and the spring semester at UNL begins Jan. 18, meaning Thompson will have essentially the full offseason at Nebraska. He'll get rolling with winter conditioning and then go through spring ball like normal.
The road to this point had a few twists and turns. The Huskers recruited LSU's Myles Brennan and USC's Kedon Slovis and kicked the tires on several others. In the end, they decided they liked Thompson better than Missouri transfer Connor Bazelak, who verbally committed to Indiana on Thursday, and perhaps a couple of other options.
In Thompson, Nebraska found a veteran quarterback with Power Five starting experience — at a school with a pressure-cooker reputation akin to NU, no less — to help try to give the best possible chance of a relatively smooth transition under first-year offensive coordinator away from Martinez in what will be a make-or-break year for coach Scott Frost. 
2. Thompson has seen the ups and downs that come with competing for a starting quarterback job and then holding — and briefly losing — one.
The fifth-year senior redshirted in 2018 and then sat behind veteran Sam Ehlinger for two years in Austin. Then, when Steve Sarkisian arrived as the coach after the 2020 season, Thompson found himself No. 2 on the depth chart behind Hudson Card.
When Thompson found his way into the lineup after a couple of games this fall, though, he flourished. He also got hurt, injuring the thumb on his throwing hand in the midst of a five-touchdown performance in a wild, walk-off 56-49 loss to Oklahoma.
Thompson remained in the starting lineup until late in the season, when Card swapped back in as he struggled against Iowa State.
Thomson said of his thumb injury in November that it would not require surgery, but, "Thumb sprains, whether it's ligament damage, partial tears, joint pain, usually it takes three to six weeks for what I was told. That was six weeks ago. And today we're sitting here, and it's still not feeling very well."
Thompson appeared in every game for the Longhorns and started 10.
3. Thompson's presence will help set, if not entirely dictate, the course as Mark Whipple, Frost and the Husker offensive staff try to figure out what they're going to hang their hat on in 2022.
Much of the conversation last month was about what, exactly, NU's offense will look like with a new coordinator mixed with Frost's influence. Whipple has more than 40 years of coaching experience and said some of the exact ins and outs will depend on what his quarterbacks do well.
"I don't need yes men. I need you to tell me the truth, what do you like and don't?" Whipple said Dec. 15. "I have enough stuff. Scott has enough stuff. So we want to gear it to those guys so when the play comes in, they feel confident and they can exude that to their other 10 teammates on the field. There's a relationship to build between the play-caller and the quarterback and the time that you spend afterwards. The time you spend with the starter is different than the second and the third, but in this day and age it just seems like guys get hurt more. The game is much faster, so you've got to get more than one guy ready.
"That's from the top, in the NFL down and that's what we'll do here."
While Thompson will have to win the job over Smothers, Heinrich Haarberg, Richard Torres and perhaps another transfer (such as Florida State freshman Chubba Purdy, who is slated to visit Lincoln next weekend), Whipple and company today have a better idea of what the skill sets in the group look like.
No doubt he's got ideas about what he thinks Thompson can do well in addition to what he considers the strengths of the other guys in the room.
Now, the competition begins.