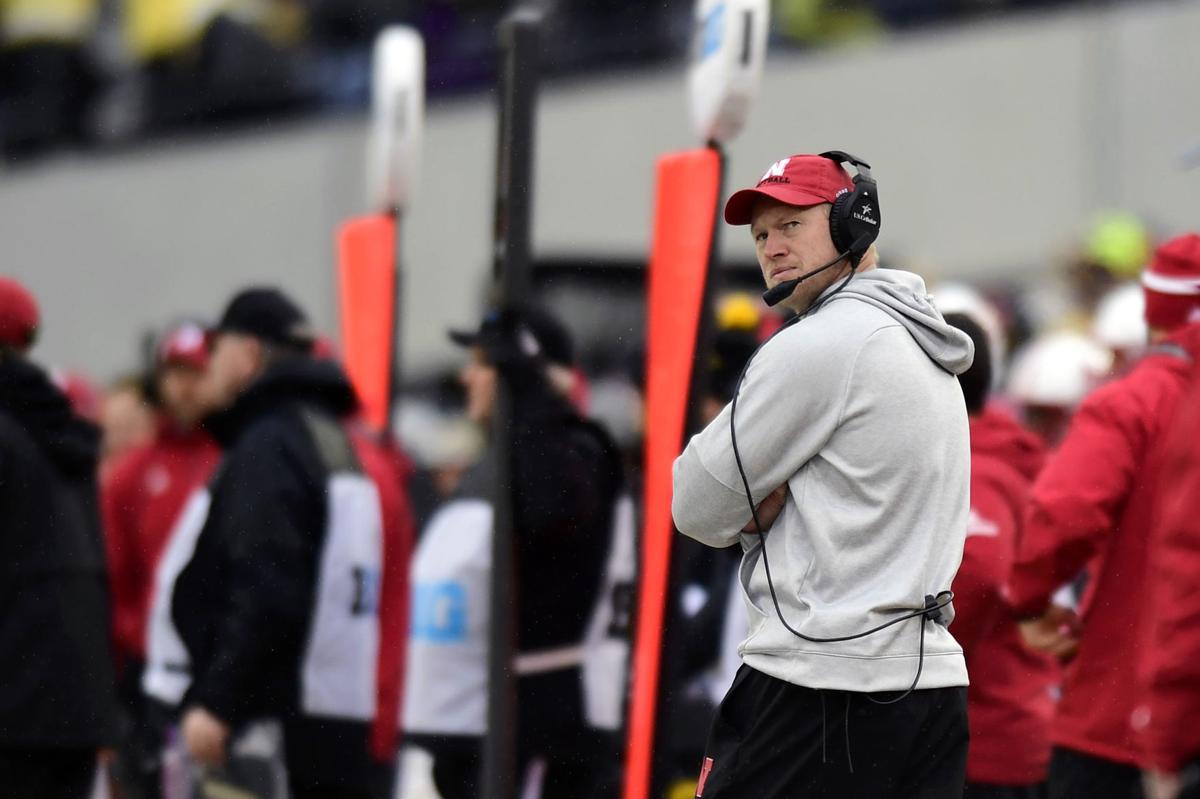 On Monday night, Nebraska's football coaching staff made a group visit to verbal commit all-purpose back Wandale Robinson. 
On Tuesday, the caravan moved south. 
The Huskers hit the Tampa area en masse and made a point of visiting Lakeland, Florida. 
That's the home of four-star pass-rusher Lloyd Summerall, a prospect NU would very much like to land this cycle. 
Summerall on the surface looks like a long shot for the Huskers even despite the attention from the staff. He officially visited Florida this past weekend and is also being pursued heavily by Miami. 
The 6-foot-6 outside linebacker has already officially visited Nebraska, doing so for NU's memorable Senior Day win against Michigan State last month. 
You have free articles remaining.
This will be the last time NU's coaches will be able to see Summerall before next week's National Signing Day, so they went big by bringing literally every coach. 
Lakeland is rich in talent in its own right, so the stop wasn't just about Summerall. The Dreadnaughts last weekend won Florida's Class 7A state title with a win over St. Thomas Aquinas. 
Handling business in Tampa today with the staff.....then off to NJ tomorrow. The N is a national brand 💯 #GBR🔴🌽 #BigRedRevival

— Troy Walters® (@CoachWalters1) December 11, 2018
Summerall finished the season with 83 tackles, a whopping 27 for loss, and 11½ sacks to go along with four interceptions in 14 games, per MaxPreps. 
Week shaping up: Walters referenced that he's headed to New Jersey next, which of course is where running back commit Rahmir Johnson's school is located. The Huskers also recently offered 6-5 receiver Charles Njoku (Wayne, New Jersey). 
Frost, meanwhile, is set to be back in Lincoln late Tuesday night. That's because the Huskers are expected to host junior college defensive end Datona Jackson on an official visit in the middle of the week. 
Most prospects visit on weekends, but the calendar gets crunched this time of year and Jackson's slate was filling up. He visited Colorado over the summer and then, per his 247Sports profile, is jamming in UCLA, USC, Nebraska and Florida in a span of 15 days before the early signing date. 
| Name | Pos. | Ht. | Wt. | Hometown (School) | Stars |
| --- | --- | --- | --- | --- | --- |
| Matthew Anderson | OT | 6-7 | 250 | Leesville, La. | *** |
| Brant Banks | DL | 6-8 | 285 | Houston (Westbury Christian) | *** |
| Bryce Benhart | OT | 6-9 | 305 | Lakeville, Minn. (North) | **** |
| Desmond Bland | OL | 6-4 | 300 | Flossmoor, Ill. (Arizona Western C.C.) | **** |
| Darien Chase | WR | 6-1 | 175 | Vancouver, Wash. (Union) | **** |
| Myles Farmer | DB | 6-3 | 180 | Atlanta (Westlake) | *** |
| Jimmy Fritzsche | OL | 6-7 | 250 | Greenville, S.C. | *** |
| Jamin Graham | OLB | 6-6 | 240 | Attalla, Ala. (Etowah) | *** |
| Jackson Hannah | ILB | 6-3 | 220 | Nashville, Tenn. (Montgomery Bell) | **** |
| Nick Henrich | ILB | 6-4 | 210 | Omaha (Burke) | **** |
| Chris Hickman | TE | 6-5 | 220 | Omaha (Burke) | *** |
| Rahmir Johnson | RB | 5-10 | 170 | Oradell, N.J. (Bergen Catholic) | **** |
| Michael Lynn | OT | 6-7 | 300 | Englewood, Colo. (Cherry Creek) | *** |
| Luke McCaffrey | QB | 6-3 | 185 | Littleton, Colo. (Valor Christian) | *** |
| Dedrick Mills | RB | 5-10 | 227 | Waycross, Ga. (Garden City C.C.) | *** |
| Jamie Nance | WR | 6-0 | 170 | Blanchard, Okla. | *** |
| Garrett Nelson | OLB | 6-3 | 235 | Scottsbluff | *** |
| Mosai Newsom | DE | 6-5 | 260 | Waverly, Iowa (Waverly-Shell Rock) | *** |
| Quinton Newsome | DB | 6-2 | 180 | Suwanee, Ga. (North Gwinnett) | *** |
| Ethan Piper | DL | 6-4 | 275 | Norfolk (Catholic) | *** |
| Ty Robinson | DE | 6-6 | 285 | Gilbert, Ariz. (Higley) | **** |
| Wandale Robinson | RB | 5-9 | 180 | Frankfort, Ky. (Western Hills) | **** |
| Garrett Snodgrass | ATH | 6-3 | 225 | York | *** |
| Ronald Thompkins | RB | 6-0 | 203 | Loganville, Ga. (Grayson) | *** |
| Javin Wright | DB | 6-3 | 195 | Chandler, Ariz. (Hamilton) | *** |